BJJ Globetrotters is full of fantastic people around the world, and we are always looking to support and give back to the community as much as possible. Now and then, we run into people, who are truly representing and living the lifestyle and philosophy we are trying to put forward, and we'll be trying to help them as much as possible in spreading the message. While we do appreciate people getting touch about sponsorships, please note that we do not sponsor competitors.
***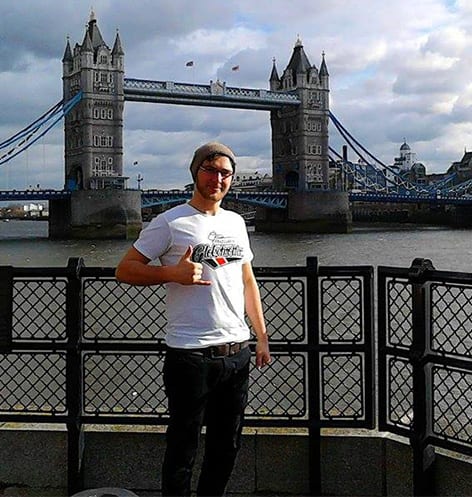 Maximilian Gimm
Hometown: Jena, Germany
On a five month trip to train and Matsurf his way to the 2016 BJJ Globetrotters UK Camp in Bournemouth! We're making sure he's well dressed both during the trip and when he arrives at the camp :)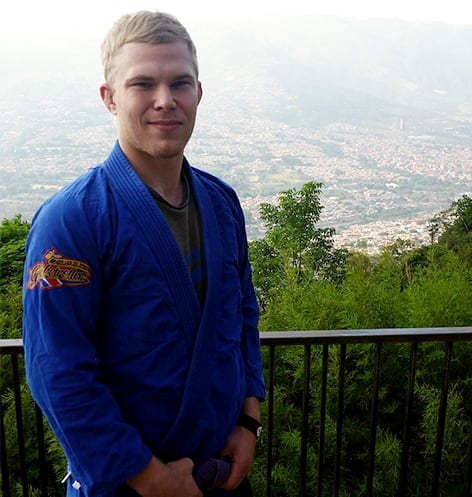 Mikko Alho
Hometown: Veikkola, Finland
Mikko is traveling around the world with a few of our travel gis in the backpack!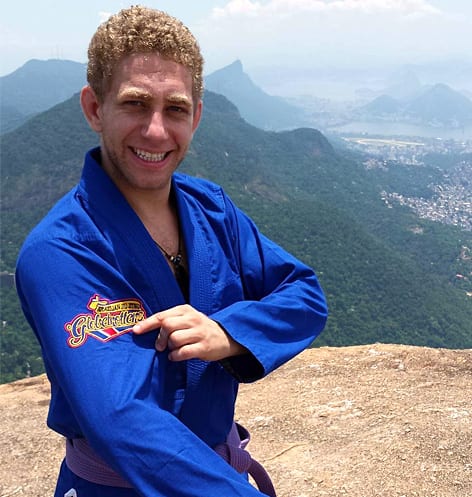 Severin Zemp
Hometown: Zürich, Switzerland
Severin is on, as he calls it himself, "a little training trip for six months". Final destination Brasil!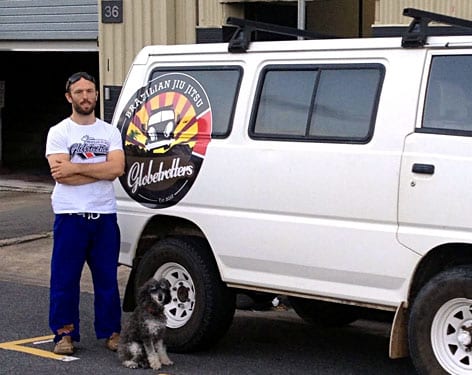 Damien Thompson
"I have quit my job, sold my house, bought a camper van and now prepping for my departure in September. Going to travel Australia for 5 months initially."
That's the email we got from Damien. If that's not a great reason to sponsor someone, we don't know what is! :)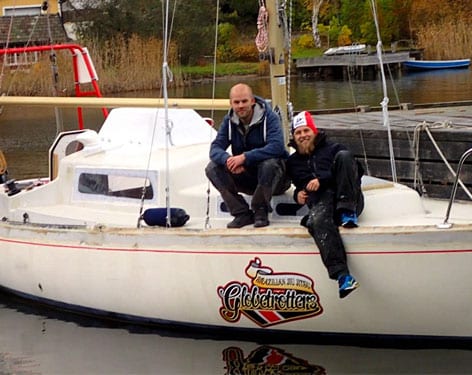 The BJJ Globetrotters boat
Hometown: Stockholm, Sweden
With viking blood in their veins calling for exploration of the world, Viktor and Dan from Sweden decided to buy a 1969 boat for $3000, fix it up, quit their normal lives and sail around the world. They have no fixed route, no cellphone, no Facebook and no watches.
On their journey, they are looking for people to meet, train BJJ and sail with. BJJ Globetrotters are providing the training gear and the community to connect them with people along the way.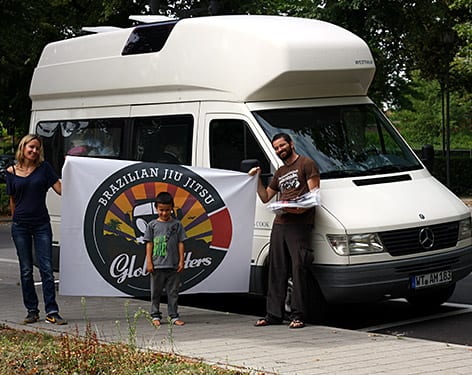 Björn Schneckenburger
Hometown: Görwihl, Germany
Björn, his girlfriend and their six year old son have sold everything they own and moved into a camper van to travel around for approximately a year.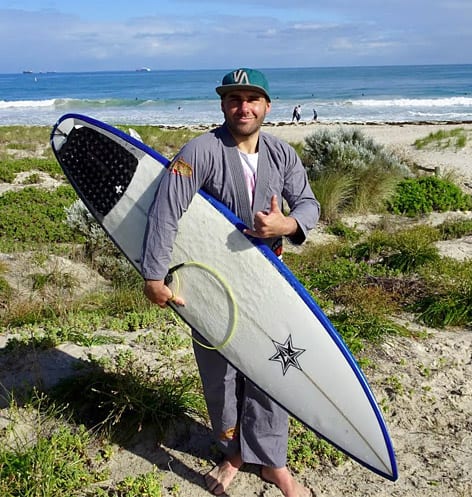 Luke Vesey
Hometown: Fremantle, Australia
Luke is on an ambitious trip going all the way around the world, starting September 2015. Follow his journey on www.runningonstoke.com!
Maddi Astell
Rank: Blue belt
Hometown: London, England
"8 months ago I was mindlessly browsing the Internet and stumbled across a link to a Brazilian Jiu Jitsu camp in the Austrian Alps. This was something I'd always wanted to do so I decided to use my student loan to book a flight, a few people in my life weren't very happy about it at the time but I had a good feeling about it and I put my trust in it. Fast forward to this morning, lying on a beach in Thailand writing in my travel book, I've visited 14 different countries, met hundreds of amazing new people and I'm the happiest I've ever been. I love the @bjjglobetrotters team for all the incredible adventures, connections and memories I've made so far. If you make one investment in yourself this year, go try one of the camps. Come back next year and tell me it hasn't changed your life ;)"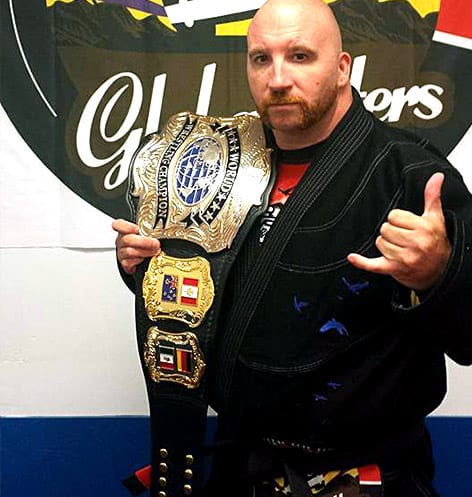 Jeremy Elliot
Hometown: Niagara Falls, Canada
Not our usual sponsorship, as Jeremy is traveling around as a professional wrester whose character is a BJJ/MMA guy. Best dressed guy of the show!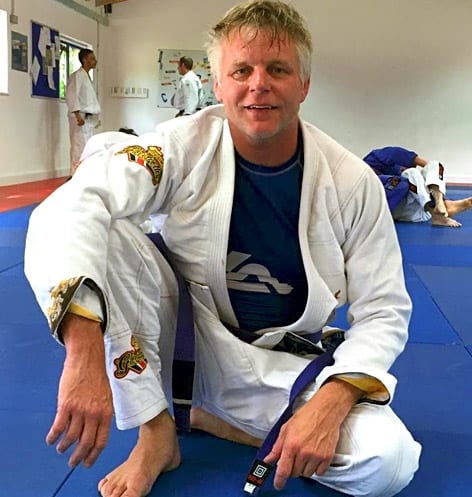 Marcus Greatwood
Rank: Blue
Hometown: London, England
Professional freediver traveling to dive sites around the world to shoot a TV series and combining it with visiting as many Jiu Jitsu academies as he can find time for along the way.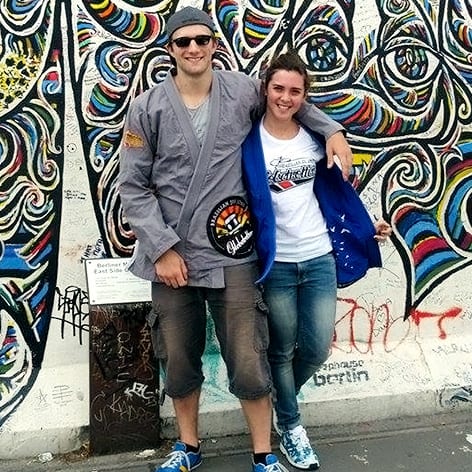 Around the Ju
Rank: White belt
Hometown: Strasbourg, France & Messina, Italy
This is as close to a BJJ Globetrotters fairy tale as it gets. Jonas Scherer and Gloria Coccoli got in touch after Jonas featured in our newsletter. They ended up falling in love and in the summer of 2015, they are going on a hectic BJJ trip around Europe together. Follow their adventure on Facebook.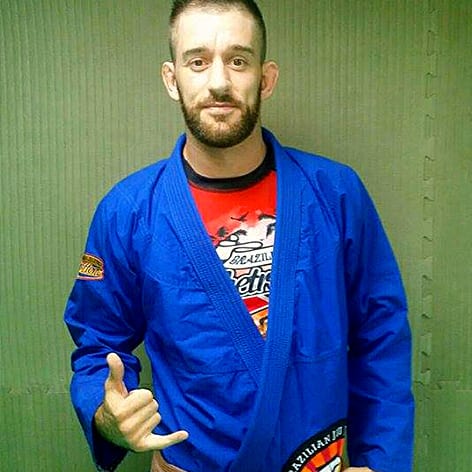 Daniel Reid
Rank: Brown belt
Hometown: Kaohsiung, Taiwan
Originally starring in the BJJ Globetrotter book, Dan has been traveling the world extensively for BJJ since. Leaving his home in Scotland, he has now settled in Taiwan, where he has opened two successful academies and is teaching and competing all over South East Asia.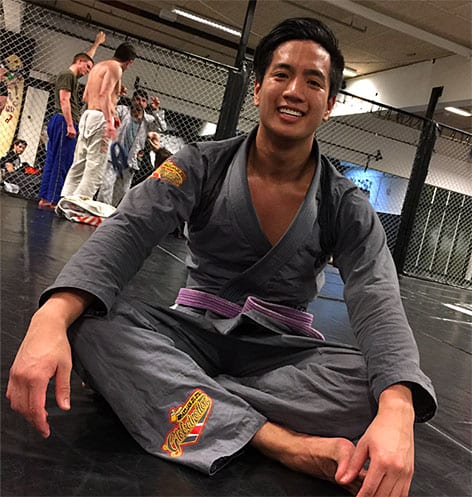 Jamie Do
Rank: Purple belt
Hometown: Melbourne, Australia
A dentist taking a career break and backpacking with his gi around Europe for a full year.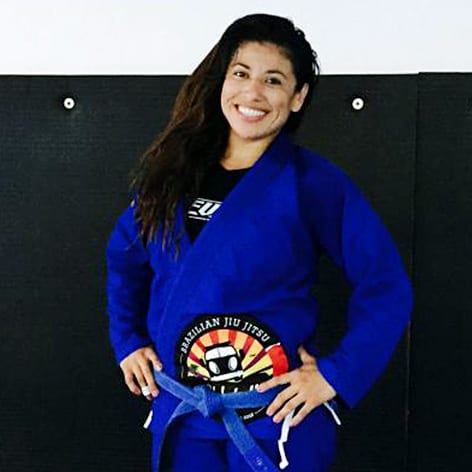 Jennifer Perez
Rank: Blue belt
Hometown: Denver, Colorado
This girl is constantly on the road and managed to train in 50 different academies around the world in just one year. Check out this interview with her from BJJ Legends.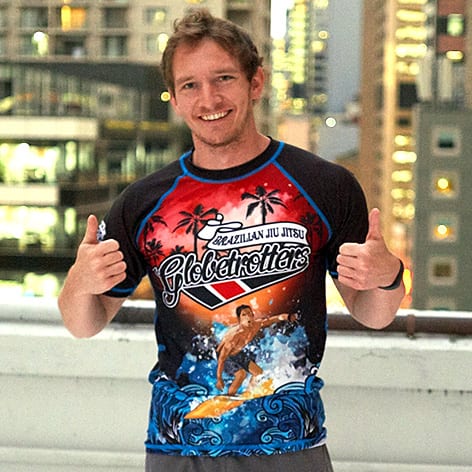 Whitebeltabroad.com
Rank: Guess! ;)
Hometown: Manchester, United Kingdom
Craig Mcloughlin has packed up his white belt and is traveling around the world for a year to take on all the Jiu Jitsu academies he can find.
Follow his journey on Whitebeltabroad.com and read our interview with him in our newsletter.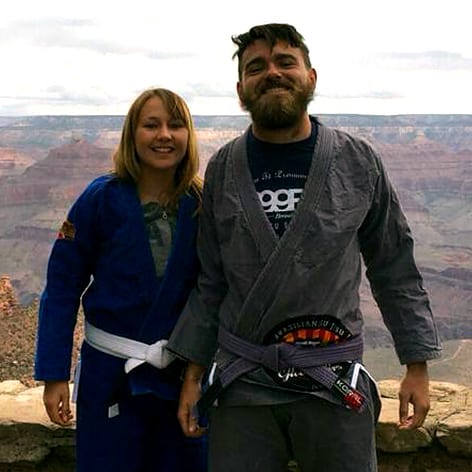 Dan Dwyer & Toyah Newman
Hometown: Adelaide, Australia
On an epic trip all around the world for more than a year, hitting more academies than you can count. Check out their interview in our newsletter.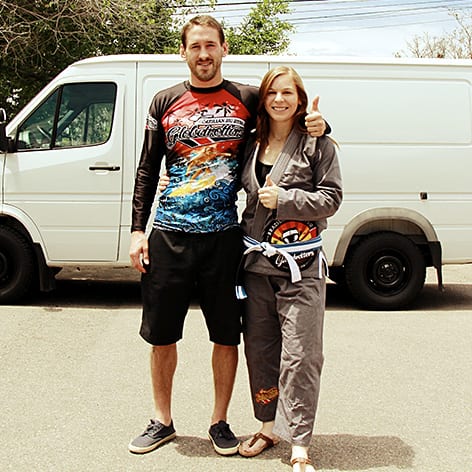 BJJvanlife.com
Hometown: Anywhere their van will take them
Getting rid of almost everything in their lives (including debt), Haley Padgett and Tony Nicola are moving into a van to travel permanently across the United States and train in as many BJJ academies as possible.
Follow their trip on bjjvanlife.com!
Kabaddi National Team of Denmark
Hometown: Copenhagen, Denmark
The BJJ Globetrotters are proud sponsors of the Kabaddi National Team of Denmark, who are participating in the 2014 World Cup in India. A relatively unknown sport in the western world, they compete in front of 20,000-30,000 spectators per match on average and are treated like super stars in the media. The Danish team consists of many top profiles from the local Brazillian Jiu Jitsu community and they train hard to go kick some ass in that dusty stadium.
BJJ Globetrotters are sponsoring the team uniforms and makes sure that they are dressed to impress for the World Cup!
"I see this sport as a great opportunity for open-minded people from the BJJ community to try a new and fun way to use their skills. Last, but not least it's a great way to experience some new, wacky, fun and inspiring adventures – that for me is a big part of the spirit of the BJJ Globetrotters."
Read more about Kabaddi and the team in the December 2014 newsletter.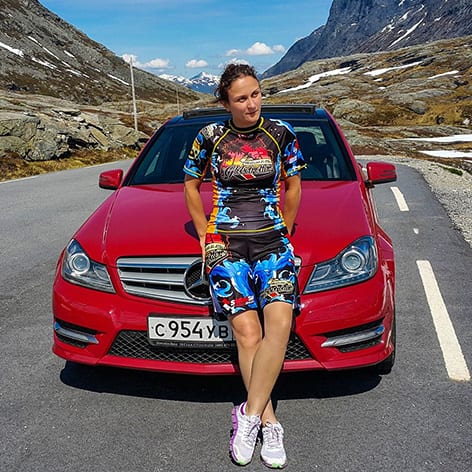 Oksana Bench
Rank: Blue belt
Hometown: Moscow, Russia
oksana is traveling intensively to seek out training and competitions in virtually all corners of the world. There does not seem to be a seminar, camp or competition, where she is not to be found on the mats. The most impressive part of this is, that she speaks no English, just Russian. While many might be afraid to travel out in the world on their own without being able to communicate with people, Oksana doesn't care and goes everywhere by herself.
She spent two weeks at the Beach Camp in El Salvador and communicated with everyone only through Google Translate. In return, a few guys at the camp created a translated movie trailer for her.
"If you want to learn, to achieve something in BJJ, the first thing you should do is to rise from the sofa and go to the mats. The language you speak does not matter there. On the mats everybody keeps silent! But these are your body, your legs and arms that speak for you! To learn this art you just need to want it!"
Read our interview with Oksana from our newsletter.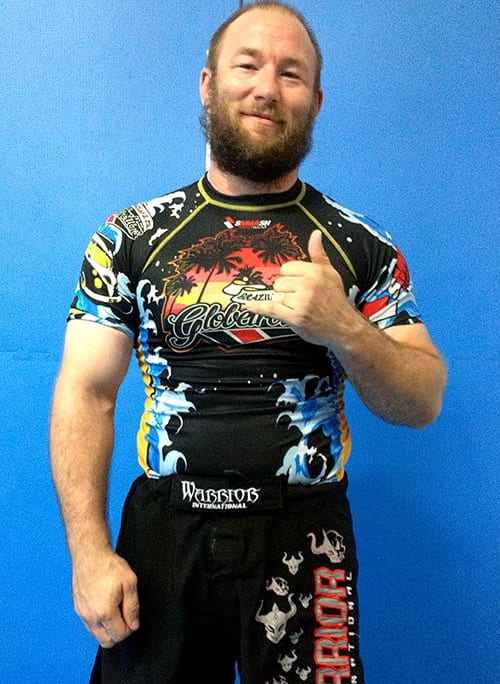 Eric Bydairk
Rank: Purple belt
Hometown: Athens, Pennsylvania, USA
Eric started out in wrestling in 1989. After graduating college from Lock Haven University he continued to study submission wrestling. In 2010 he started his pursuit of BJJ in Hawaii. After attending the BJJ Globetrotters Summercamp and reading The BJJ Globetrotter, he decided to ply his trade traveling around the globe teaching wrestling.
Just like the rest of us… some guy who loves his sport and loves to teach it. Things you'll hear him say all the time: "Wrestling is easy" and "when in doubt, double leg"!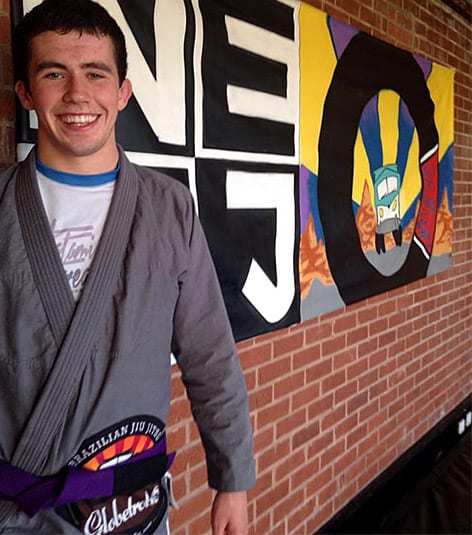 Ellis Younger
Rank: Purple belt
Hometown: Durham, England
Starting out with MMA in 2010, Ellis slowly, but surely got sucked into BJJ. After attending the 2013 BJJ Globetrotters Summer Camp, he decided to go all in and train full time. He has been traveling extensively for training and competition, and is constantly planning and pushing himself in direction of new adventures and experiences.
When people talk about how much he is traveling, a common thing to hear is that "he must have won the lottery or something". In reality, the key to what he is doing is simple – as he puts it himself: "I just don't spend money on shit".
Check out our interview with Ellis from our newsletter.