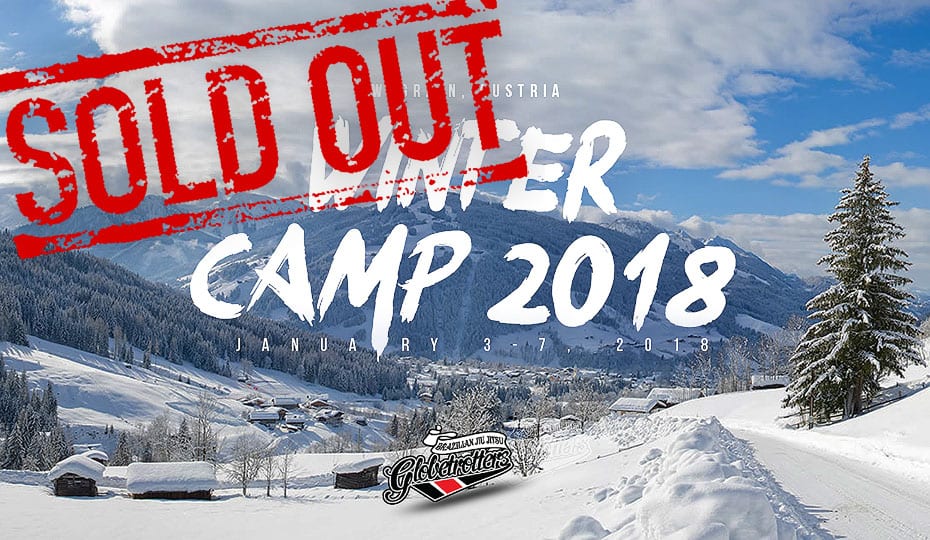 WELCOME
What's a Winter Camp without snow?? Come join us in January for the fourth BJJ Globetrotters Winter Camp in the beautiful Austrian Alps! We've added an extra day to the camp this year so prepare yourself for five super intensive days of Brazilian Jiu Jitsu, ski sports, party and lots of new friends!
We are looking forward to see you there :)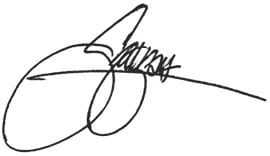 LOCATION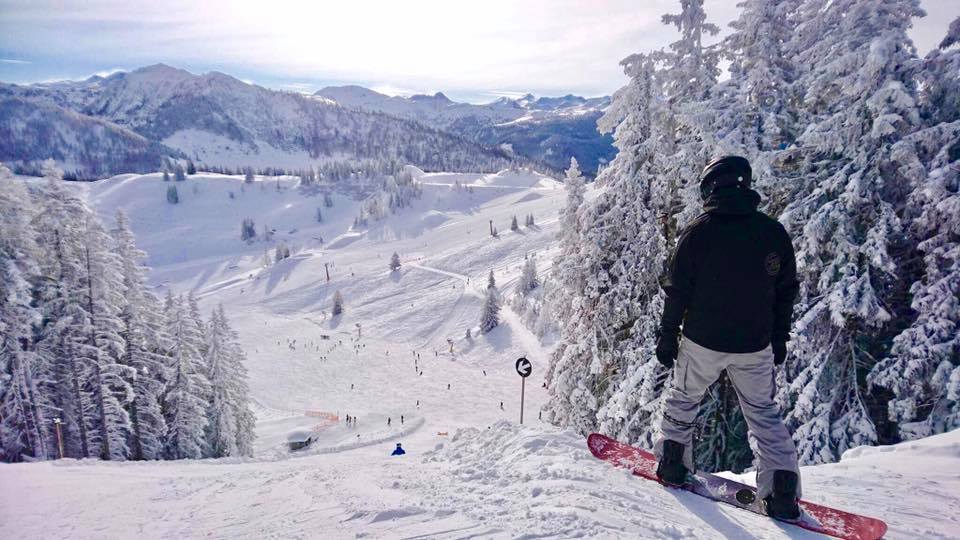 Less than an hours drive from Salzburg airport and nested in between the gorgeous, Austrian alps, is the small town of Wagrain with a population of just 3,000 people. The area around it is full of world class ski slopes and romantic, little towns with old buildings. Here, we will once again host the BJJ Globetrotters Winter Camp, and we can't wait to arrive there and have a fantastic experience together with other Globetrotters from around the world.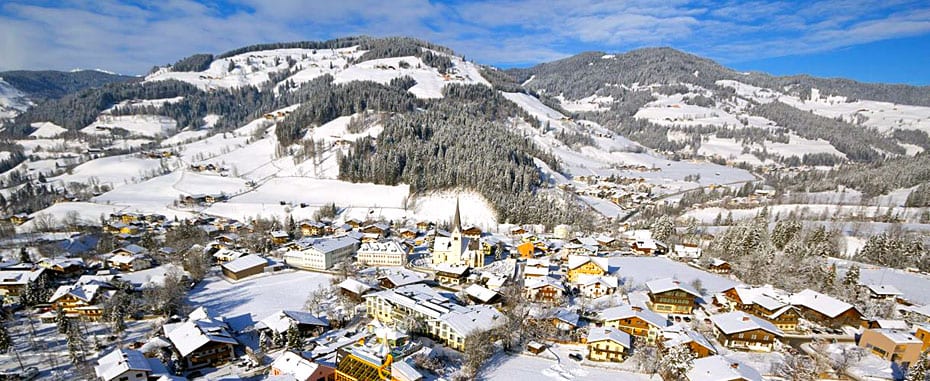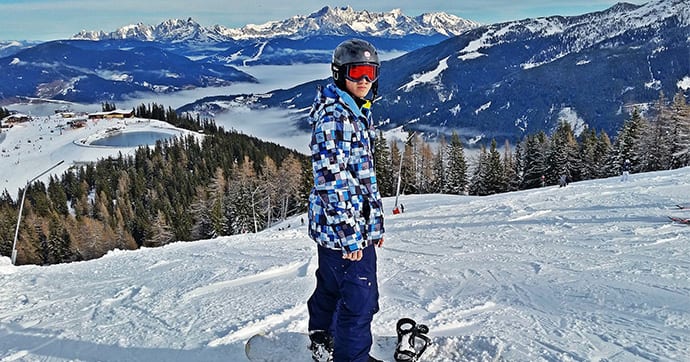 "Winter camp!!! What can I say, such a beautiful place to be! I have met some really awesome people here. Great vibe up at the mountain, on the mats and as well as at the after-party. I snowboarded for the first time and did pretty well, I learned some really good Jiu Jitsu techniques by very helpful instructors and you will also be pleased to learn that I survived Jägermeister! All the lessons and time spent here were really worth the experience especially with people from all parts of the world. You go home feeling positive because you've learned to become a better person. I'm very grateful to be a part of this camp. I will see you cool people at the next one! "
– Patrick, Indonesia
THE HOUSE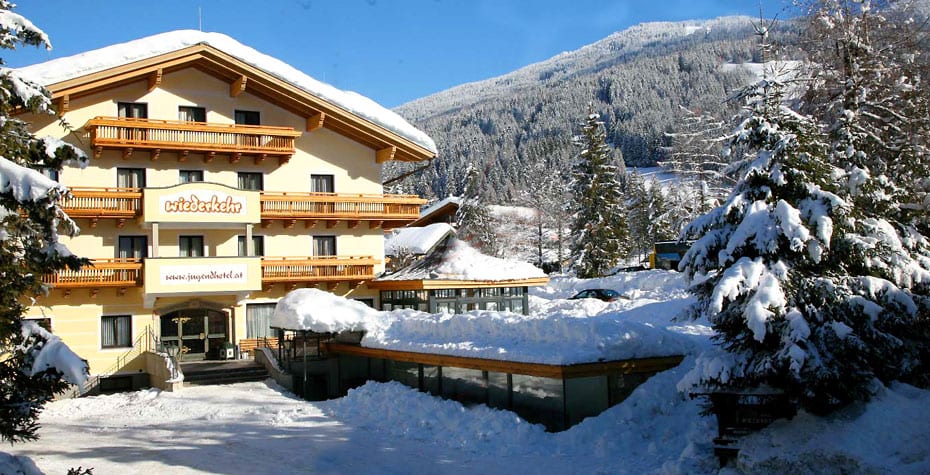 The house hosting the camp has lots of room for all of us and more. You will have a choice of staying in a 4-6 bed shared room or in one of our few double rooms, if you want some more privacy to sleep after a long day of skiing, snowboarding and rolling.

Food is served three times a day, so you don't have to worry about that. There is also a 24 hour free fruit and (non-alcoholic) beverages bar that you are welcome to use as much as you like. If you need anything else in between the meals, there is a supermarket just one minute walk from the house.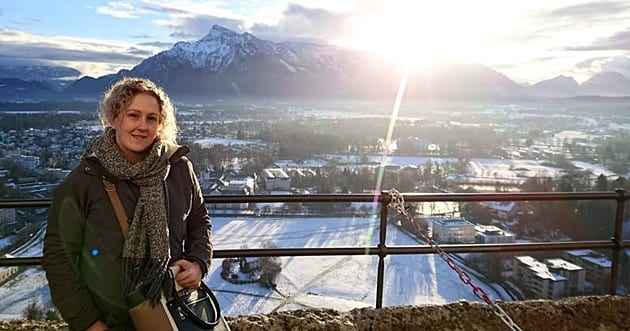 "I booked my first Globetrotters camp as a solo traveller, I knew I wouldn't know anyone there which was a bit daunting. But when I met everyone – no one felt like a stranger, it was like we were all old friends. I still listen to the music we rolled to, and have applied the moves to my game. I am still friends with the people I met and those relationships somehow grow despite the geographical distance. I've become part of a network of awesome people and booking that trip was one of the best decision I ever made."
– Gemma, United Kingdom
SKI SPORTS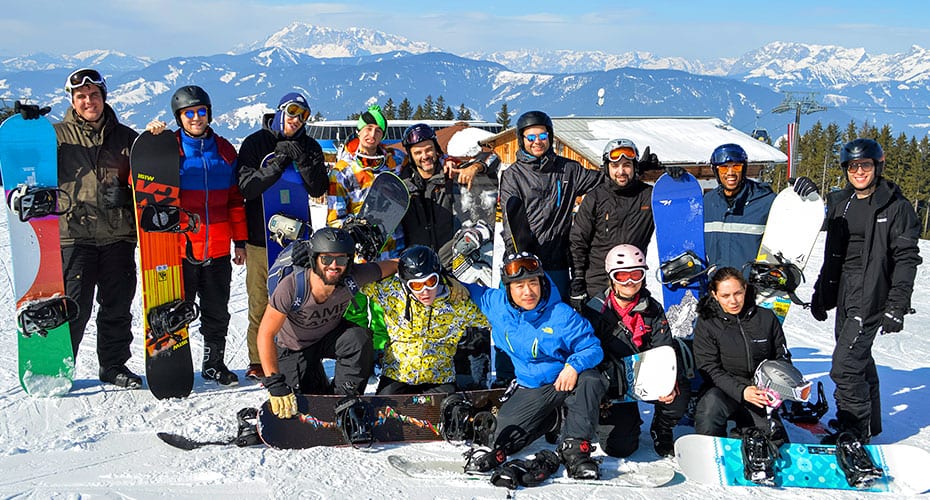 Whether you are a complete beginner or a seasoned skier/snowboarder, this camp is right for you. From the lifts near the house, you have easy and direct access to a vast area of more than 120 km slopes that cater to all levels. There is also a small practice slope which you can use for free before you decide to pay for a lift pass.

Our ski and snowboard instructors for the camp are extremely experienced, and they will gladly help you get the best out of your trip. Regardless if you have never seen snow before or you need a trustworthy guide for the craziest off piste drops, they are there for you.

Ski pass and equipment rental is not included in the camp price, since we know many bring their own stuff and it is also different how much time people want to spend in the snow. There are lots of places in the area to easily rent equipment at a very good price.

"Winter camp was amazing! I still can't believe how much we fit into one weekend. The instructors were all really high level and my skiing and BJJ has improved so much. It was great to meet so many new friends and training partners, can't wait for next year."
– Maddi, United Kingdom
BRAZILIAN JIU JITSU TRAINING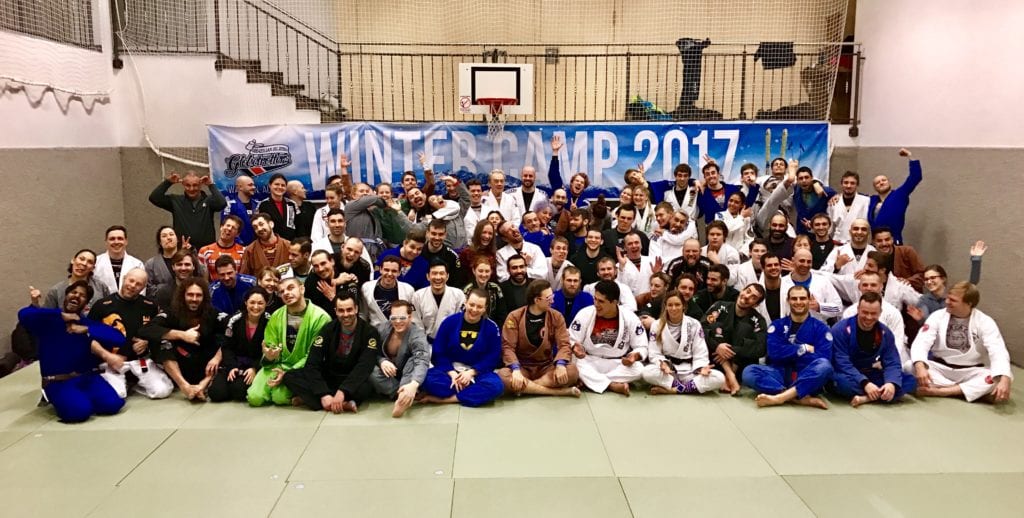 Bring your gi, rash guard and shorts along for some high quality training and sparring during the camp! The camp house has it's own little gym and we'll be running classes and open mats all day with guarantee to improve your game.
The classes are catered to all levels, so regardless if you are a white or black belt, you will get something out of it. There will be plenty of time for personal attention and if you have anything specific you want to work on, we'll be happy to help. The mats are available 24 hours of the day, so you can also roll, drill or train any time you want, outside of the class schedule.

As always, the BJJ Globetrotters camps are full of friendly people from all over the world, who enjoy good training in a fun, relaxed and open-minded environment. We are looking forward to share the mats with you!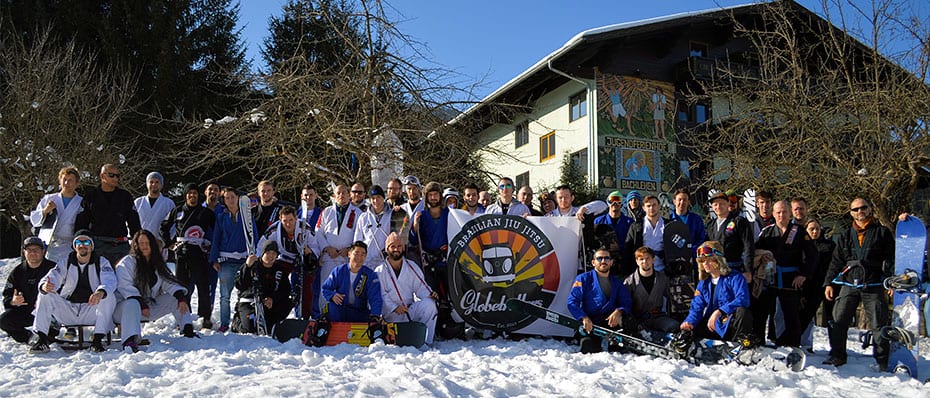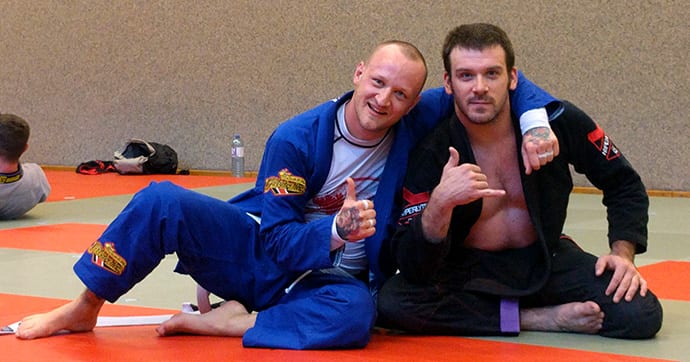 "As a rookie in Brazilian Jiu Jitsu, I was a bit concerned about my level of skills as a white belt to participate at the Winter camp. But after the first drill I felt the immediate connection through this beautiful community between every participant. Everyone took care of each other and tried to take the most out of the 4 days. I was blown away by the ability of meeting so many new friends in such a short time. As I was in preparation for the European Championships, I didn't take part of the "very famous" party-train but instead enjoyed the wellness area. I just wanted these days not to end and I'm looking forward to participate in a lot more camps in future."
– Thierry, Luxembourg
OTHER ACTIVITES

If you can find time in between the skiing and BJJ training, there are lots of other things to do at the camp and in the area, such as sledge riding, ice skating or maybe a visit to one of the local restaurants. In the evening, the party is on at the pubs and clubs, for those with energy left from the long days.
Also, included in the camp price is free access to the waterpark next door that houses slides, outdoor pools and sauna areas.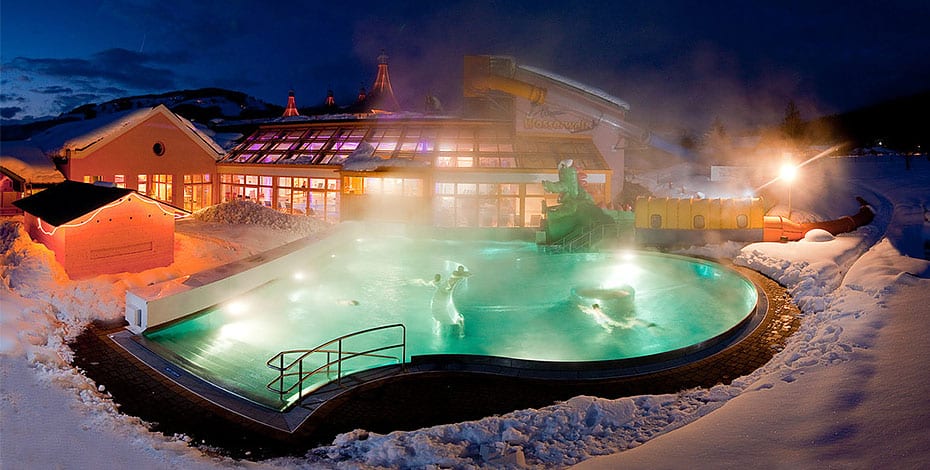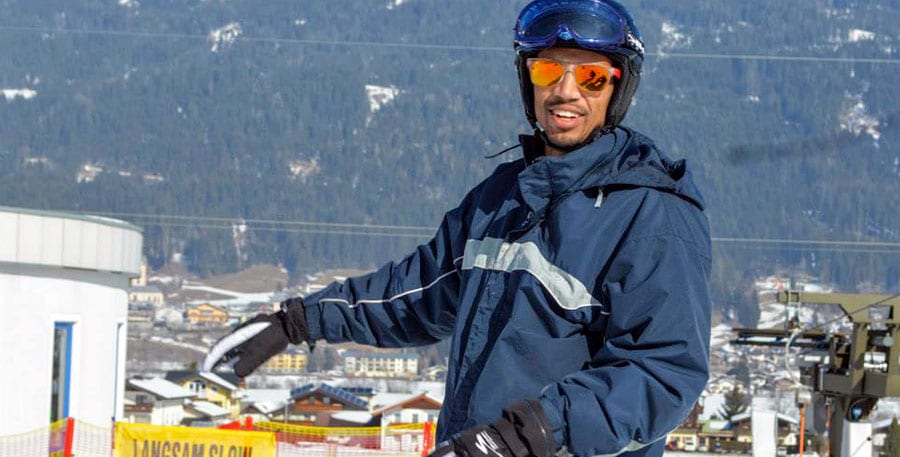 "To describe the Globetrotter experience accurately, I would need a thesaurus to find enough words that mean amazing! Everyone I met there had a fantastic personality, the venue was epic and the BJJ & Snowboard classes were of a very high calibre! I learned a lot and had the time of my life. The camp was so energetic that I needed a holiday afterwards to recover :) Before the camp I was nervous about travelling by myself but now I'm hooked. I will definitely be at future camps! If I can offer some friendly advice, before you die…make sure you go to one too!"
– Sonny, United Kingdom
CONFIRMED INSTRUCTORS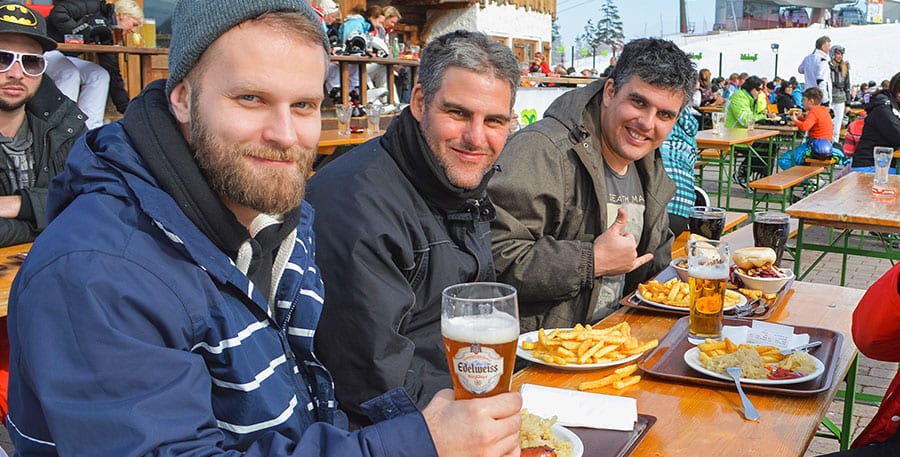 "The Globetrotter community is absolutely awesome! I took part to an intensive Winter Camp in the Alps and had a blast. The days were filled with skiing, rolling and after parties and after a few days you kind of lost track of time and place and just do stuff. It's amazing how fast you connect with people in an intensive setting like that. Will definitely do another one in the near future!"
– Kimmo, Finland
SCHEDULE
Schedule will be announced closer to the camp
* The rooms are available from Wednesday at 16:00. You are welcome to arrive earlier and leave your bag in a locked room if you want hit the slopes during the day.
* Checkout is Sunday morning at 10:00. You can leave your bags in a locked room and stay longer if you like.
* The snowboard and ski introduction on Wednesday does not require a lift pass, since we will just practice on a small hill.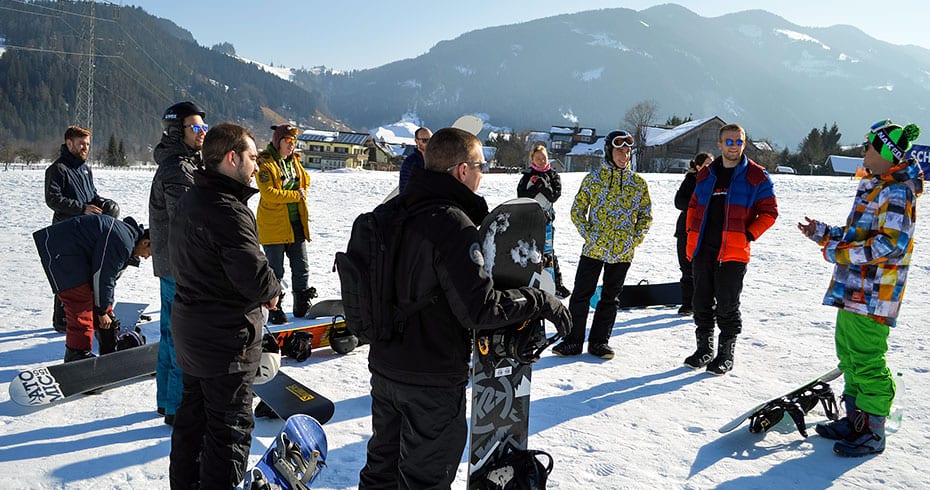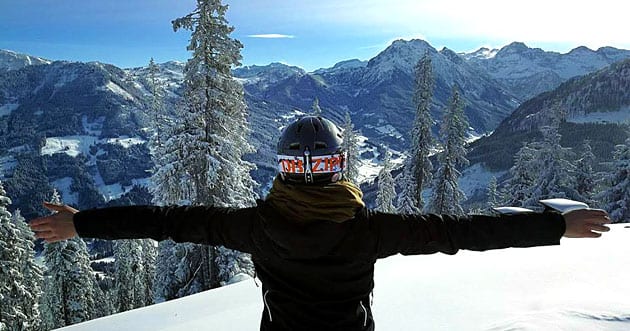 "When I booked my ticket to what would be my first BJJ Globetrotters camp, I was quite nervous for different reasons, but my friend convinced me and I am so grateful that I went, because WOW. I knew that I was about to learn some new and awesome techniques, but I did not expect it to give me the best weekend I've ever had. I only knew the 3 people that I traveled with but when I met everyone else and greeted them, it was like I already knew them. The globetrotter community brings the most unique and nicest people together and we are all there for the same reason. They say winter camp is the most intense camp and it definitely is, and you might need a few days afterwards to recover. The lessons (both on the mat and in the slopes) were of top quality and I've learned so much. The parties as well were awesome and I've made memories for life to take with me and treasure. I have found my place and my kind of people and I am now addicted.If you are not sure whether to book the camp or not. DO IT! You will not regret it, and you owe it to yourself to experience this."
– Louise, Sweden
€100 CUSTOM DESIGNED CAMP GI OFFER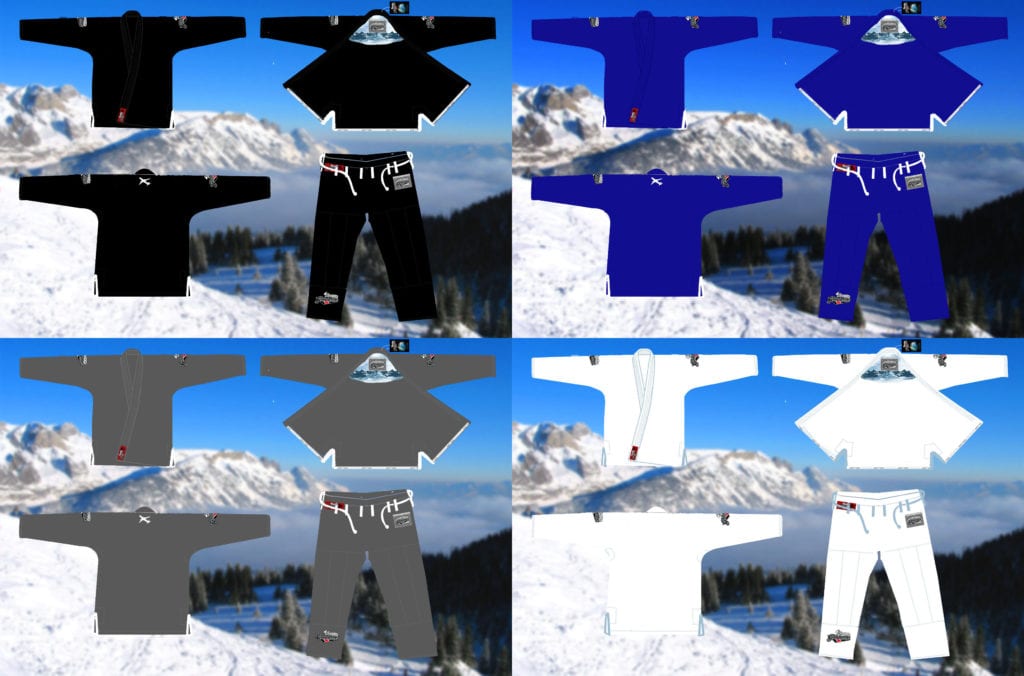 Book your spot before November 1st and get a special Winter Camp edition of our popular Super light travel gi for just €100 (normal price €150). You can pick any color of the gi (blue, white, black or gray) and it will have a special design just for this camp.
BJJ Globetrotters Travel gi version 2
* Special Winter Camp design *
* Available in blue, white, black and gray *
* Super light ripstop jacket and pants *
* From just 1.1 kg *
* Perfect to bring for traveling *
* Separate large BJJ Globetrotters patch *
* Regular price €150 *
* Special camp pre-order price €100 *
Pre-order with your camp registration and you can pick it up at the camp and pay in cash there. Binding, gentleman agreement :)
BOOK YOUR SPOT
INCLUDED:
4 nights accommodations
Three meals a day
24 hr free fruit and beverages
Free access to Water World
Free laundry service
Jiu Jitsu lessons
Ski lessons
Snowboard lessons
Dorm room = €499 per person
Double room = €675 per person
Training only = €249 per person
Please note, that transportation, ski/snowboard equipment rental and ski pass is not included in the price. Bring your own or rent at the place at a good price.
Ski pass can be purchased for half/full days, depending on how much time you want to spend on the slopes.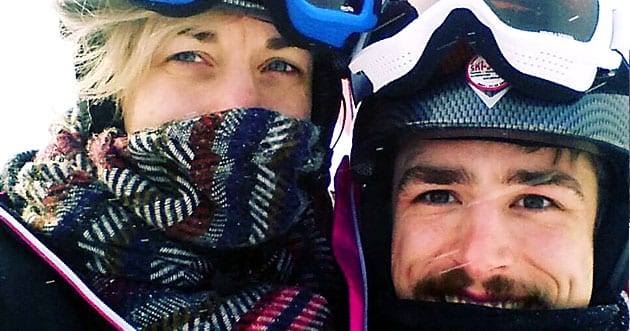 "My partner Cristiana and I returned from the Winter Camp a week ago, but we're still in high spirits after the whole experience! One of the most important things about any camp is that you get to spend time with a truly broad spectrum of people from all walks of life, which can only enrich you as a person. I've had the pleasure of breaking bread with people who I can now call friend, all thanks to these camps. The entire social experience is so wonderful in and of itself that you almost forget about the Jiu-Jitsu! Training at the Winter camp was a stormer, much like the previous camps I've attended. Once again, the timetable was packed full of classes put on by very talented instructors covering a diverse range of techniques and principles. Having attended most of the classes, I can safely say that everyone at the camp left with a few more weapons in their arsenal and a better understanding of Jiu-Jitsu. I've legitimately been catching people during live training with some of the techniques I've picked up and other aspects of my game have improved. Getting to roll with new people and experiencing different styles is also instrumental in helping develop your Jiu Jitsu. All in all, this camp was one of the best holidays I've had in a very long time. If you're looking to leave the drudgery of real life behind and truly enjoy yourself, you need to go to a camp. Just do it – you'll be glad you did!"
– Giles, United Kingdom
OTHER UPCOMING CAMPS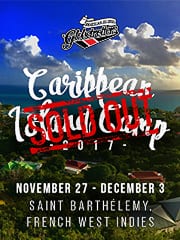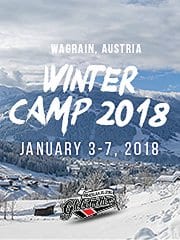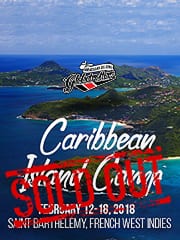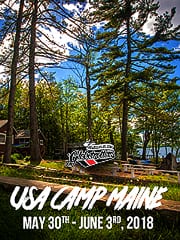 FREQUENTLY ASKED QUESTIONS
What's the address to the house?
Wiederkehr
Kirchboden 19
A-5602 Wagrain
Austria
How do I get there?
Rent a car, catch a ride with one of the other participants of the camp or check google maps for bus directions (about 2 hours from Salzburg Airport).
Can you guarantee there are good snow conditions?
Unfortunately not. The chances for nice conditions are very, very high, but of course we can end up being unlucky. In that case, we have other fun activities in the snow planned for everyone.
Can I bring my significant other?
Yes, absolutely, you are most welcome to do that.
Is there an age limit for participation?
You must be minimum 18 years old to participate in this camp.
Is it possible to show up just for one day / one class / one open mat?
Unfortunately, this is not possible. The logistics of day tickets for these camps would be a nightmare. Not to mention that if we allow one person to drop by, we have to allow everyone else as well, and we would risk not having matspace for those who actually paid for the full camp. Also, we often have a waiting list and it would not be fair to those who are trying to get a ticket there if we allow people to skip it and come for a day. Same deal for everyone! :)
Can you make sure I share room with my friend/girlfriend/boyfriend/husband/wife?
No problem, just send us an email on mail@bjjglobetrotters.com and let us know after you have registered.
Is there a discount if I bring someone who doesn't participate in the training?
Unfortunately, we can not offer that, since our expenses to run the camp are the same, whether people train or not.
Which airport should I fly in to?
You have several options: Salzburg airport in Austria is about an hours drive away. Linz (Austria) and Munich (Germany) is about 2 hours away.
What will I have to bring?
You should bring your gi, shorts, rashguard, some warm skiing clothes and a tooth brush.
How many gis should I bring?
We recommend two, that's enough for most people.
What kind of food do you serve?
Our chef prepares something different every day but unfortunately, we don't know the menu on beforehand.
I am a woman, can I also join?
Of course! You are most welcome.
Do you have female only rooms or do you mix them?
Depending on who signs up for the camp. If there are enough women to fill out a room, of course that will be our first priority. If not, we will have mixed rooms.
Will you be doing other camps in the future?
We plan to do these camps once a year, but only work on one at a time.
Do I have to pay the entire fee upfront?
Yes.
Will I receive a ticket in the mail?
There are no physical tickets for the camps. Your name is on our list when you arrive and check in.
Can I reserve a spot and pay later?
Unfortunately, we can not offer to reserve spots but work at a first come, first serve basis.
What level of Jiu Jitsu are the people attending?
We have all levels attending our camps. We put a strong emphasis on the belief that everyone is equal on and off the mats, so regardless of your level, you are most welcome to join.
Is it possible to be considered for belt promotion at the camp?
Sure, just let us know and we'll have a chat and roll at the camp to honestly evaluate your level.
Will this be general technique camp or will a theme be present?
The material being taught at the camp will be adjusted to the level and needs of the people attending, so we will go over what ever you would like to work on.
Will there be an opportunity to roll with higher belts?
We can not definitely say on before hand what level of people will sign up, but we usually always have a good spread of all belt levels on the mat every day at our camps. Regardless, the instructor Christian will be on the mats every day to roll with everyone.
I have never been skiing / snowboarding before, can I still join?
Absolutely! Our instructors will be happy to introduce you to the basics, so you'll be riding the alps before the camp is over.
When is the deadline for signing up?
Whenever we are sold out.
Will you do gi or no-gi classes?
We plan 50/50 of both.
How many people do you need signed up before the camp will go ahead?
Minimum one person :-)
Where can I rent equipment and how much will it cost?
There are a couple of ski/board/skating rentals in the area. We highly recommend pre-booking/reservation to make sure that you got your gear ready to go and don't have to wait for it or go from shop to shop. Usually, you can make a reservation without payment in advance. Try to google "ski rent wagrain".
What kind of safety equipment do you recommend?
It's not required to wear a helmet, gloves with wrist support or back protection, but especially for the beginners we would highly recommend it. You want to minimise risk of injury so you can still train Jiu Jitsu :)
What are the terms and conditions of the booking?
Here you go.
Where can I play Ski or Die online?
Here
ANYTHING ELSE?
If you have any questions or special inquiries, feel free to email us at mail@bjjglobetrotters.com and we'll return to you right away!