Information about COVID-19 and our BJJ camps
The
camp schedule
on our website is
always up to date
. All camps listed are planned to go ahead, but we are of course following the situation day-by-day. Should any changes in the camp schedule be necessary, the participants will be the first to know. If you end up being unable to participate in a camp due to the virus, you will be offered a refund or voucher for a future camp.
If you have any questions, please don't hesitate to contact us on
customerservice@bjjglobetrotters.com
or
Facebook Messenger
.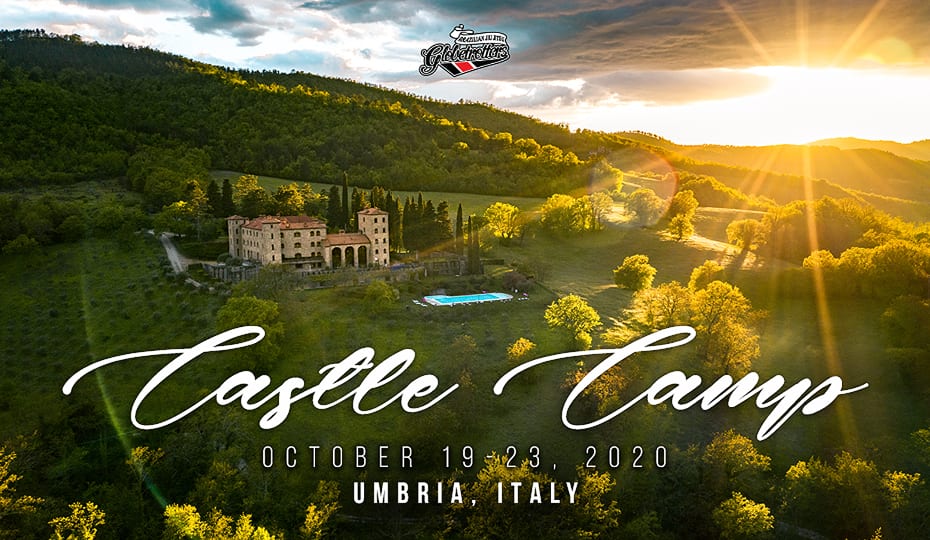 * In Umbria, Italy *
* From October 19th to 23rd, 2020 *
* Two hours from Rome & 15 minutes from Perugia airport *
* Four-night, five-day VIP training camp *
* Exclusive use of 8th-century abbey *
* Maximum 20 guests *
* Unlimited private BJJ lessons included *
* Free transport from/to Rome or Perugia airports *
* Private chef on site *
* All meals included *
* Water, soft drinks and wine included *
* Half-day trip to ancient town Assisi *
* Laundry service *
* Everyone welcome, regardless of experience or affiliation *
---
WELCOME
Candlelit open mats in the gently shifting shadows of a 1000-year-old altar. Cosy evening dinners under the starry sky. And an entire ancient castle all to ourselves, with a private staff on hand to take care of our every need.
The most exclusive and luxurious of our camps is back, and all it's waiting for is for you to come and join us!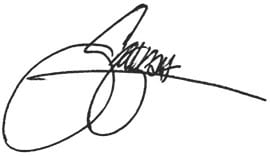 ---
"I cannot thank you enough for this opportunity. The castle-along with the training, the people, the food, the little time spent sleeping, the field trips, the location, the journey getting there… all made up the best vacation I've ever had. I have to say you are a genius. Please keep this camp going. It's spectacular."
– Judy, Germany
---
LOCATION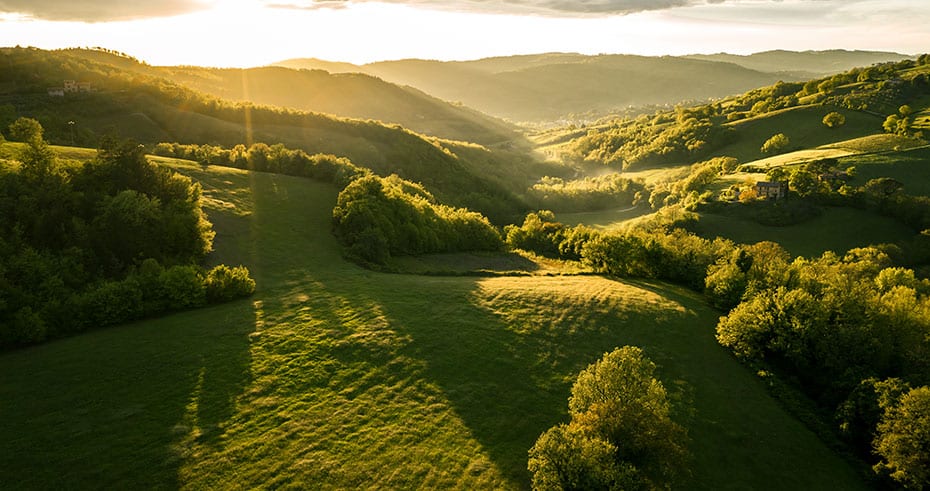 According to local lore, the Abbey of San Nicolo Di Campolongo was founded by the Lombards in the 8th century. Throughout the hundreds of years since then, it's remained a bastion of stone and wood overlooking tranquil forests, gardens, and olive groves, and nowadays serves as a modern, renovated refuge for guests seeking peace and comfort amidst the vibrant beauty of the Umbrian countryside.
For this camp, we have the entire castle to ourselves. The main residence with its stunning views out over the valley, the terrace where we plan to lay down mats and have some of the most architecturally impressive rolls in history, the 22m open-air swimming pool, the dining hall where we can relax and enjoy some fine Italian food and wine after training – everything.
Due to the exclusive nature of this historic building, the numbers for this camp will be strictly limited to a total of 24 guests only.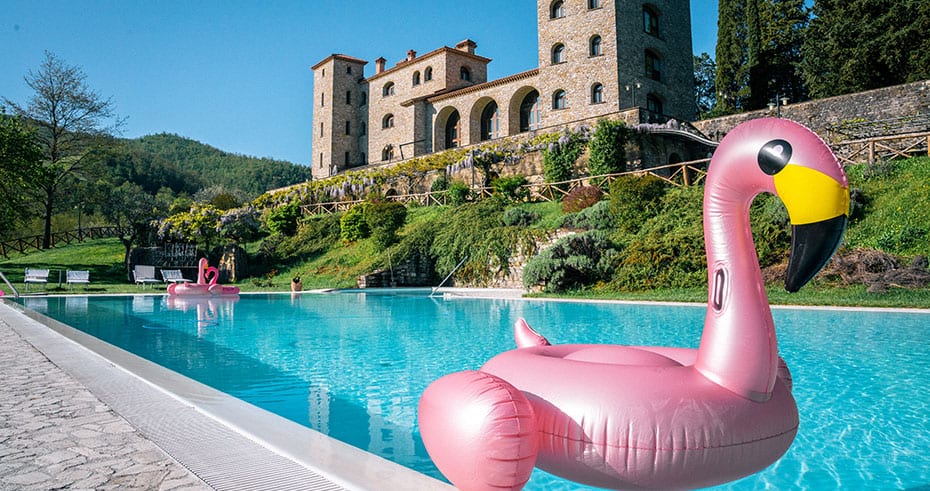 ---
"This summer's Castle Camp in Italy was amazing. It was truly an unforgettable experience that will be tough to top. My review could be – "It's at a freaking CASTLE!" and that should suffice; however, it was so much more. The camp was a 2 hour ride from Rome which gave me the chance to explore the city for a few days after the camp which is a nice added bonus. Once at the Castle, everything was taken care of. The staff and owners of the Castle were there to make you feel welcome and to accommodate any need. They went above and beyond my expectations with taking care of us, cooking meals, laundry service, and always being happy. There was plenty of time to train, and if you preferred, there were other activities to do as well. Christian taught all the classes and someone was always up for open mat. With a smaller group, everyone became instant friends and was welcoming. I would highly recommend this trip as there are not going to be too many times in your life that you will have the chance to stay at a castle!"
– Stephen, United States
---
FOOD & ACCOMMODATION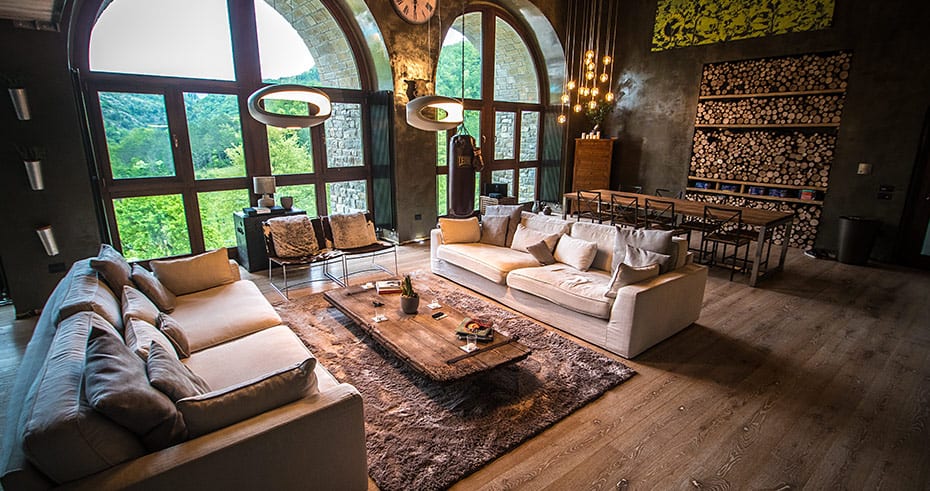 The main living area is located right in the heart of the castle, and features a state-of-the-art open kitchen, a log fire, a TV, an X-Box with games, a reading corner, bathrooms, and a laundry room. Right beside this are separate luxury apartments, each with a 2-3 bedrooms and a private bathroom. Wi-fi is available in both the main living area and the apartments.






All food and drink is included in the price of the camp. Breakfast, lunch, and dinner will be served every day in the dining area of the castle,
all using fresh ingredients procured locally and prepared by our private chef on site
. Water and soft drinks are available for free 24 hours a day, and there'll even be complimentary alcoholic drinks (within reason) over dinner. Every evening, we'll have a different, special theme for the dinner.
At all times throughout the camp, we'll have a private staff of 4 people ready to help you out with anything you might need.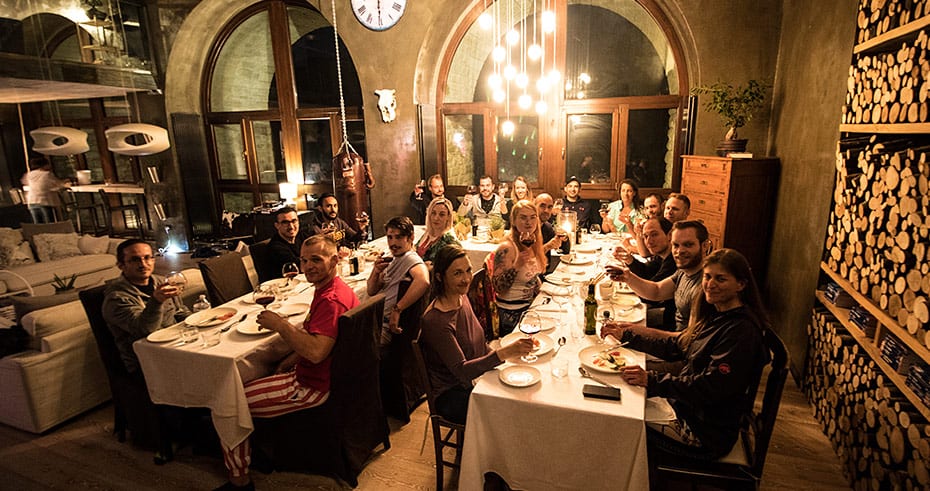 ---
BRAZILIAN JIU JITSU TRAINING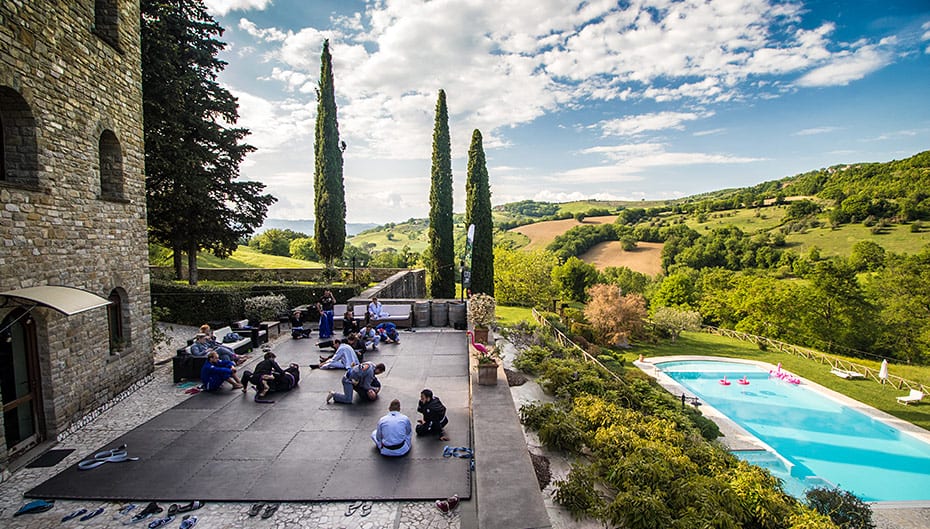 This is as unique as it gets. We'll be making use of some outdoor mat space on the terrace, and holding all our classes and open mats right there as the hills stretches out before us. If it happens to rain, we'll just move the mats inside the millennium-old church and train there instead.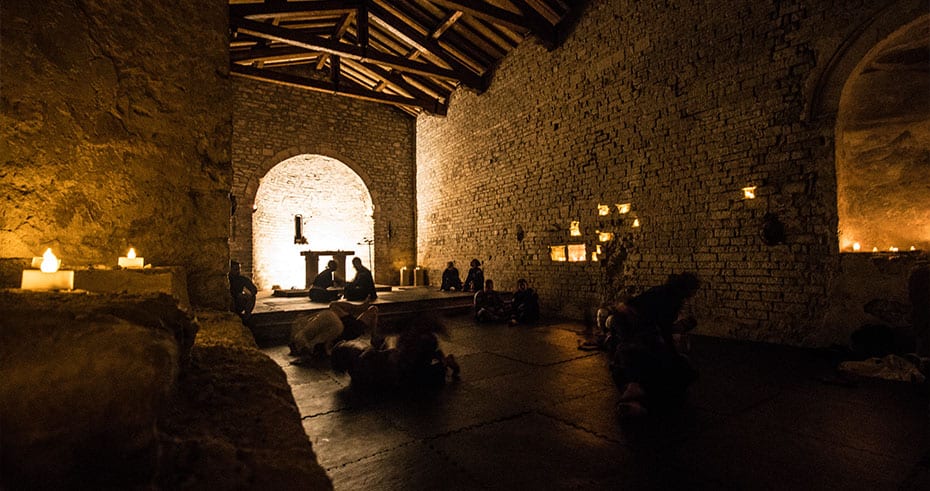 In keeping with our monastic surroundings, the theme for the training at this camp is: focus. Each day we're going to hold a single lesson followed by an extended sparring session, allowing you to really focus on and refine the unique aspects of your game among a small and highly select group of training partners.
Unlimited private lessons are included in the price of camp, giving you the opportunity to study with a black belt instructor at any time of the day you choose. You decide what you want to learn, when you want to learn it. If those sprawling 250-person open mats don't happen to be your thing, then this is exactly the camp for you :-)







---
"The experience of training within an ancient candlelit chapel and also in the open air surrounded by the hills of Umbria was nothing less than magical."
– Anna, Germany
---
PIZZA BAKING





This camp will offer only the freshest and finest Italian food, and there's nothing fresher or finer than a sizzling pizza pulled directly from a wood-fired oven. During the week we'll be getting a visit from an expert pizza baker, who'll bring the oven and all the gourmet local ingredients we need. He'll be making pizzas for us directly on the castle terrace, and if you want you can join in and try making your own under his supervision.
---
EXCURSION TO ASSISI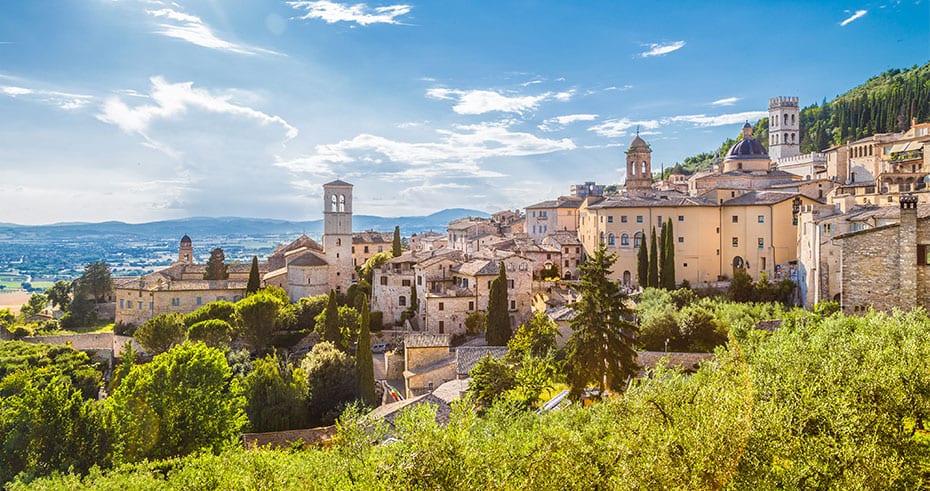 During the week, we'll take a half-day off for a trip to the ancient city of Assisi, located less than 40 minutes from our castle. This stunning place has a history stretching from the original Umbrian inhabitants (1000 BC) onward to the Romans (295 BC) and the eponymous St. Francis, who founded the Franciscan Order there in 1208 AD.
The entirety of Assisi and its many churches are on the UNESCO World Heritage list. We'll have plenty of time to stroll around and take it all in – as well as maybe a pizza or an ice-cream or two – before heading back to the castle for training and dinner.
---
OTHER ACTIVITIES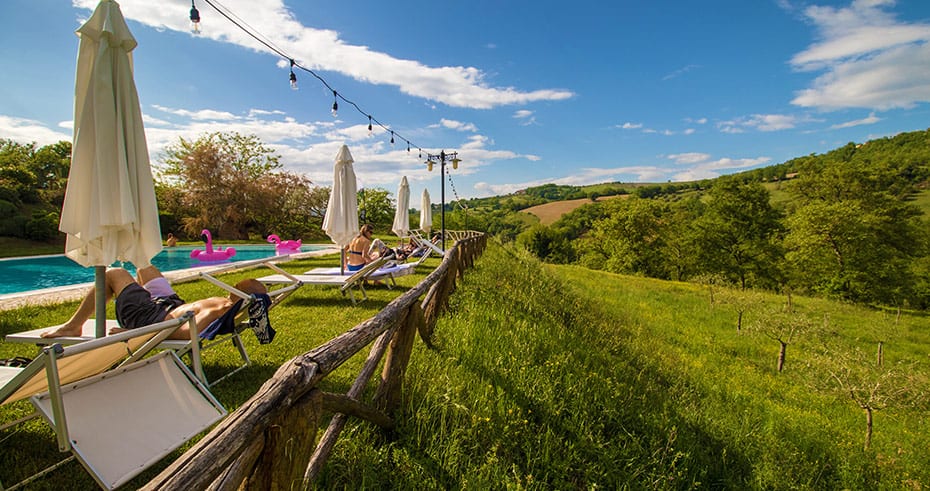 Vehicles will be available for day trips and excursions throughout the camp, so at any point you can head off and discover the Renaissance churches, cafes, and markets of one of the many villages that dot this particularly beautiful section of the central Italian landscape. And every night we have a different gourmet meal planned, all prepared in the castle kitchen by our private chef.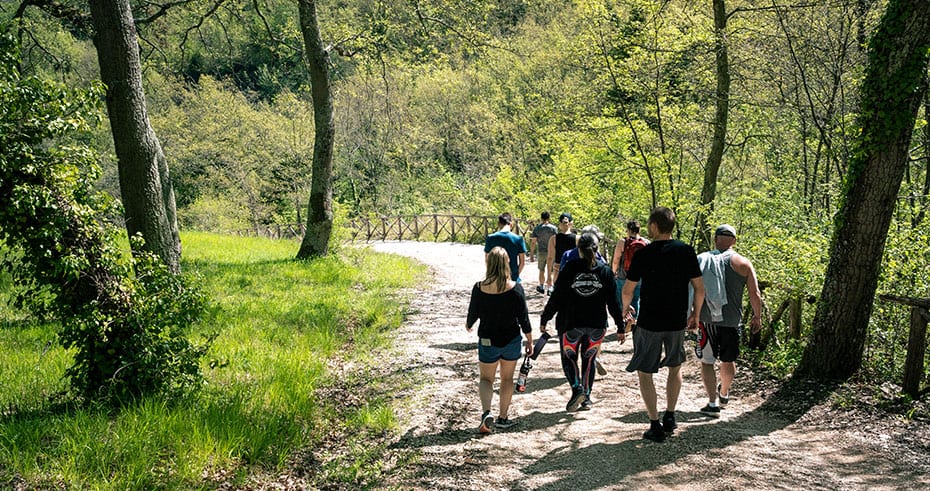 With the location near Rome and many other beautiful and interesting places, you could easily extend your trip for the camp and spend some extra days exploring and sightseeing.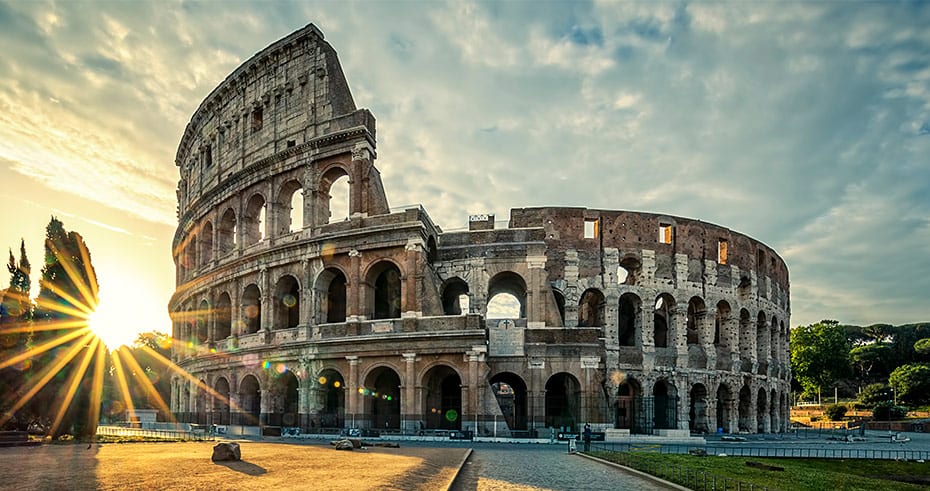 ---
INSTRUCTOR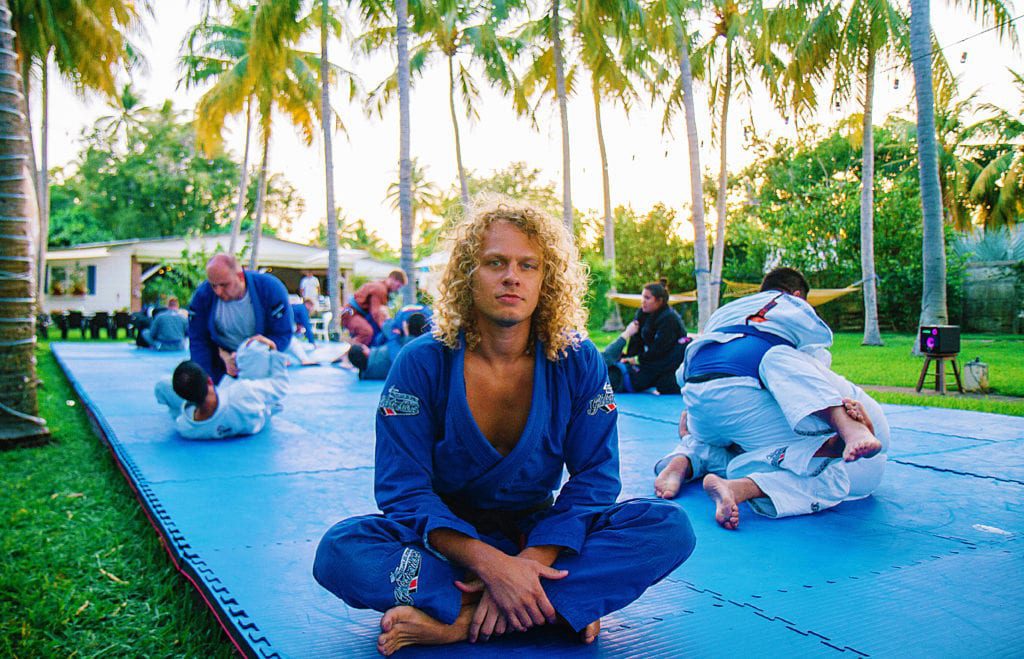 In 2011, Christian Graugart embarked on a 141-day, 57,920km journey around the world, the end result of which was a book and an idea. After having met and rolled with such an incredible range of unique and interesting people in equally diverse and awe-inspiring places, Christian set out to recreate the experience of discovering new places and breaking down barriers through Jiu-Jitsu as often as possible.
As the founder of BJJ Globetrotters, he always strives to bring enthusiastic and friendly people together in some truly special locations. With the motto: everyone is equal, both on and off the mats.
A black belt since 2012, Christian was the head coach at the world-famous CSA.dk in Copenhagen, Denmark for over a decade, and now leads the BJJ community on his new island home of St. Barth in the French West Indies. Here at this ultra-private and luxurious retreat in the heart of Italy, he'll be your personal guide to whatever aspects of your Jiu-Jitsu you want to work on.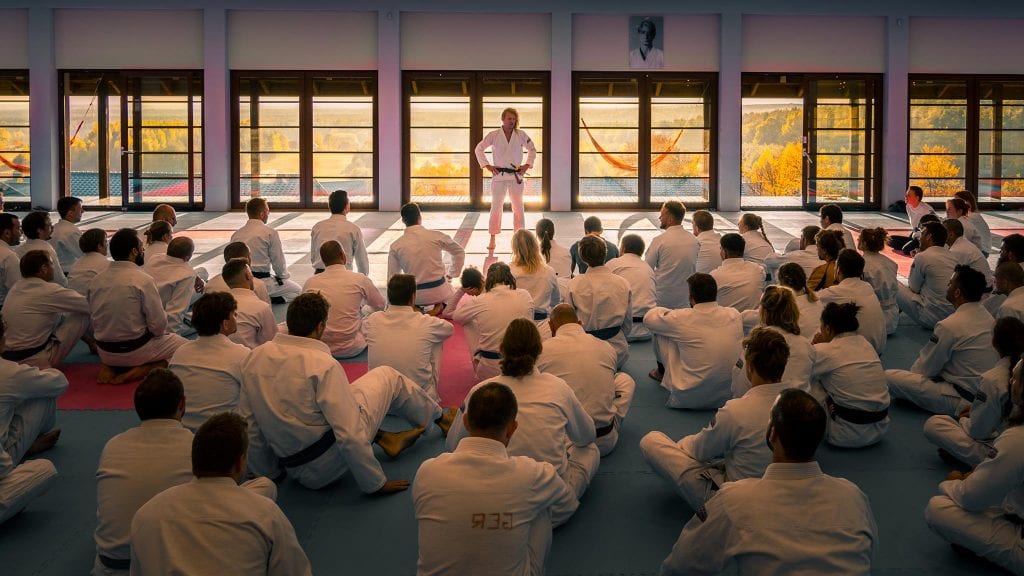 ---
INSTRUCTORS' CODE OF CONDUCT
All instructors at the BJJ Globetrotters camps have agreed to:
Respect and treat everyone at the camp equally, regardless of gender, sexuality, age, belt level, and skill; on and off the mats.
Behave respectfully and with the integrity to be expected of an instructor, role model, and representative of BJJ Globetrotters; on and off the mats.
Be a team player and support their fellow instructors.
Treat neither rolling nor teaching as a competition.
---
"Before Castle Camp, I could not have imagined that training jiu jitsu would lead me to a castle in the Italian countryside where I would be rolling in an 8th century church with fellow grapplers from around the world. There was no shortage of amazing food and wine, late night card games, floating flamingo races in the pool and waking up to some of the most serene views I've ever experienced. This was probably the most unique trip I've ever been on and it had this perfect balance of luxurious and laidback. Castle Camp was truly epic and I am eagerly awaiting the announcement for next year!"
– Danielle, United States
---
SCHEDULE & GUIDEBOOK
Will be sent out closer to the start of the camp.
* Airport pickups around noon on Monday *
* Check in at castle from 3 PM *
* Check out and departure 11 AM on Friday *
Take a look at the guidebook for last year's Castle Camp here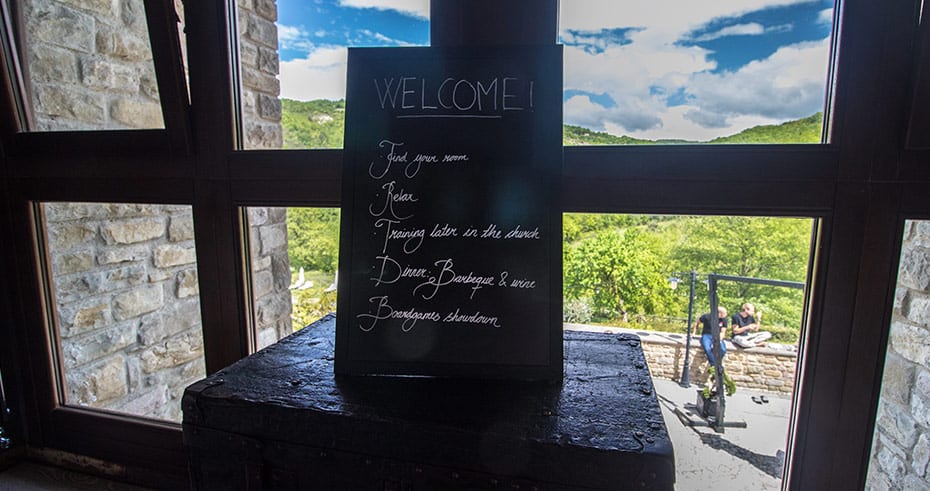 ---
BOOK YOUR SPOT

Five days exclusive training camp
Daily open mats
Unlimited private lessons
All meals included
Private chef on site
Airport transfers
Excursion to Assisi
Laundry service

€1599

Availability: LOW (4 tickets left)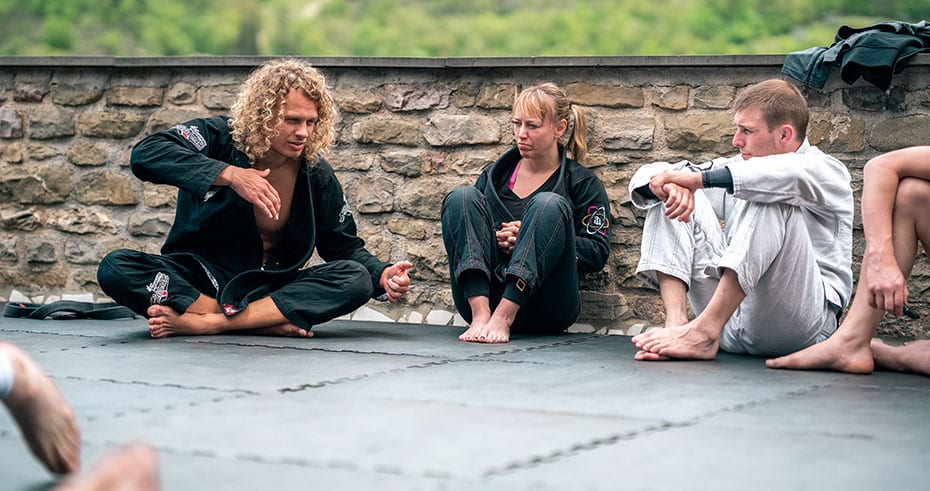 ---
ALL UPCOMING CAMPS
---
FREQUENTLY ASKED QUESTIONS
Where is the camp?
The address of the camp is Vocabolo Badia San Nicolò 21, Badia San Nicolò di Campolongo (ex Castello Saba), 06029 Valfabbrica (PG), Italy.
How do I get there?
All you have to do is fly to either Perugia (PEG), Rome Ciampino (CIA), or Rome Fiumicino (FCO) airport, and we'll take it from there. We will collect everyone's travel itineraries and plan the airport transfers from that.
Since we only have a limited number of vehicles to collect people with, we ask that all camp participants try to arrive and leave on the same days – i.e. be ready for pickup in Rome (airport or central station) on October 19th and fly out again on October 23rd. Or add a few extra days of exploring Rome or other parts of Italy before and/or after the camp? :)
Tip: Perugia airport is much closer than the Rome airports to the camp (22km vs. 200km), so we really recommend that you fly there if you can.
If I fly to Rome a few days in advance, can you pick me up from my hotel or somewhere else in the city?
Yes, we will have a pickup point for everyone by Rome Central Station on May 4th, the first day of the camp, around 9-10 am.
Can I drive to the castle myself?
Yes, if you want to rent a car at the airport, or drive from elsewhere in Europe, you can certainly make your own way to the castle. There are plenty of parking spaces available. Just please make sure to only arrive on the day of the camp.
What can I spend my time on apart from training?
There are plenty of hiking trails that wind their way out into the surrounding countryside from the castle, so if you need a break from the mats you can easily just spend a few hours exploring the forests and fields. There are plenty of books available to read in the main living area, as well as a TV and an X-Box.
And if you have a few extra days on your hands, the wider region of Umbria is a paradise of hills, valleys, and historical towns, like Perugia (an important university centre dating from at least the 3rd century BC), Assisi (a UNESCO World Heritage site filled with Franciscan churches and medieval castles), and the tiny hamlet of Cospaia – which was accidentally granted independence and existed as a separate republic from 1140 to 1826.
Where can I wash my training gear?
We'll take care of all your laundry – training gear and everything else.
Can I stay at the castle before or after the camp?
No, sorry – the castle is only available for the nights of the camp.
Is there a minimum age for participation?
You have to be at least 18 years old in order to attend the camp. The only exception is our family friendly camp in Austria, where kids can participate together with at least one adult. Our minimum age required to participate in the camp without an adult is 18 years.
I'm not sure if I'm free on those dates yet and/or can't afford to buy a ticket right now. Can I reserve a spot at the camp and pay later once I've made my decision/ saved enough money?
Sorry, but we can't bookmark spots for people in advance. It would make it far too difficult to accurately determine how many spots are still available, and would cause additional confusion if people then cancel their reserved spots on short notice. To make it fair for everyone, we only secure camp spots for people who have bought a ticket.
I'll be nearby during the dates of the camp. Can I drop in for just one day / one class / one open mat?
Unfortunately, this isn't possible. The logistics of trying to keep track of day tickets for these camps would be a nightmare. Not to mention that if we allow one person to drop by, we have to allow
everyone
to drop by, and then we'd risk not having enough mat space for the people who actually paid for the full camp. Also, we often have a long waiting list for camp tickets, and it wouldn't be fair to those people if we let someone skip the list and come for a day. Same deal for everyone!:-)
What are the terms and conditions of the booking?
Here you go
.
Is it safe?
Yes :)
How many gis should I bring?
It depends on how much you want to train and if you also train nogi. We recommend two gis, that's enough for most people. Some people switch their days between gi and no-gi, and can do with a single gi.
Will I be allowed to film during the camp?
Yes, but always check with the instructor beforehand.
I only train with/without the gi, will there be enough training for me?
Yes! We promise there'll be more classes than you can possibly handle.
Where do the participants come from?
Our camps are usually attended by happy people from all over the world.
What language will the classes be taught in?
All classes are in English.
Is it possible to do private lessons with the instructors?
Yes, please talk with the instructors directly to make an appointment.
Is this just a BJJ camp?
Yes.
Will I receive a ticket in the mail?
There are no physical tickets for the camps. Your name is on our list when you arrive and check in.
When will there be training?
Training is running all day, every day!
I'm a complete beginner, can I still join?
Yes!! We have many hundreds beginners participate in our camps, every year.
I have booked a spot but have to cancel. Can I get a refund?
Coordinating refunds for a camp this size is a ton of work for us, so all bookings are non-refundable. You are most welcome to sell your spot to someone else, just let us know about it. In case the camp is sold out, we might have a waiting list you can obtain by emailing us.
Due to COVID-19 we are relaxing our cancellation policies: In case you can not make it to a camp due to the virus, you will be able to request a refund or a voucher :)
Where do the participants come from?
All over the world.
What other camps are you hosting?
See our
full schedule of camps
here!
Is it possible to test for belt promotion?
The Council of Traveling Black Belts can offer a brutally honest evaluations of skill level at our camps – no belt promotion guaranteed, naturally. If you're interested in the opinion of the instructors at a camp, shoot us an email with a description of your training career as well as link to a verified profile on
www.beltchecker.com
and we'll catch you on the mats for a few rolls and some feedback. We do not consider anyone for promotion who already have an instructor or are in between gyms.