May 7, 2018
Flew into Panama City, via Houston, via Denver, starting in Reno? Why Denver to Houston? Kind of a challenge, adding what seemed to be a few extra hours. More importantly, it reignited my fear and loathing of the Denver airport. DIA is a modern miracle, but it sucks to fly into or out of. Forget about the frequent thunderstorms, snowstorms, of the fact that it is about an hour drive from Denver. Focus on the fact that an airport this huge has 1, no joke, 1, line for security. The very sight of the line fills me with dread,  and reminds me of the time I missed a flight for an interview in Idaho which would have changed the course of my life in pretty significant ways.
Had my future employer not been paying so poorly, and therefore so desperate to get a decent candidate, my life would have been very different. I drove down to Denver, and back in the day before 9-11 and TIA and all that crap, if you were a United flyer, you just went to security. You could grab your boarding pass and go through security at the same spot. This is before you could check in while you were in line via the miracle of internet connectivity, but it was almost there. The line was always long, but you showed up at the airport, a mile north of Denver, hopped in line, and checked in at the front of the line, assuming you did carry on. Checking luggage was for tourists.
Bin Laden changed all that, and I hate him for it. I didn't know, because without text alerts, I don't know anything, that you had to check in at the United desk. So, cutting it close already, I get to the front of the line only to be confronted by a high school drop out demanding my boarding pass, plus my I.D. I brush him off, I'm a United frequent flyer with a United credit card, don't you know. This lower level functionary had the temerity to insist that I go back to the United check in. The DIA terminal is layed out in a way that is thematically consistent with the way the airport is distanced form Denver, ie a long fucking way away. So I book it, more of an expedition than a jog, and in spite of frantically waving my arms and glowering, I'm forced to wait like a normal person. The gate agent condescends to me, metaphorically patting my head while explaining that OF COURSE they changed their policies, and after much tut tutting, she prints my pass.
Now I run back to the gate, more arm waving, more glowering, more ignoring of my most insistent verbal and non-verbal demands, and I'm in line at security not being able to sneak to the front, having to remove my damn, now stinky shoes, and then on down to the overly familiar trains.
The trains, the fact that they are needed, serves as a trigger that DIA needs more than one security line. Long story short, already missed that turn-off, but I missed my flight, and had to reschedule my interview for a job that I did in fact get, and moved to Idaho for. Should have known then, based on their willingness to accept that I missed my flight, that this was a fly by night outfit. However, I would never have moved to Boise, never had that whole experience, went to Burning Man, met all my great friends, met my wife. I probably would have found something in Denver, and had kids with some ultra-runner from Golden, and maybe learned how to fish. Dunno, hard to say, but I'm glad those crooks at DBSI were fine with hiring someone who would miss flights, in spite of the fact that traveling was a pretty big part of my job.
That said, I almost missed my flight to to Houston, which normally would be a totally acceptable outcome, but in this case would have sucked pretty bad.
How do you miss a connecting fight when you have two hours and no delays, in fact the Reno to Denver leg arrived early? Simple. You leave your favorite hat on the plane, insist on going back for it, jump on the wrong damn DIA train, which deposits you mercilessly OUTSIDE of security.
So, yes, DIA and that damn single line. I had plenty of time to grab my hat, jump on the tram, and get back to my gate, but NOT to go through security again, jump on the tram, and go two stops. For once, Jen was paying attention to her texts, and was busily schmoozing the gate agents so they wouldn't leave without me. She didn't have to pull the old fall down and fake a twisted ankle at the jet bridge entry, but it was close.
So, off to Houston, where I remembered my hat but forgot my travel pillow, and then to Tocumen, aka Panama City airport. No, seriously, I wasn't drinking, at least not a lot. I think I had a glass of wine in Houston. Still, my head was not screwed on straight. Probably had something to do with the 5 a.m. departure from Reno.
After that, things seem to be settling down. Customs was surly as always, but efficient, with no extortion attempts made, like when  you go to Mexico and get to experience La Mordita, the little bite, and every turn. Also absent were the 500 guys pretending to be airport employees who are really time share salesmen. Our driver from the hotel Las Clementinas was waiting for us, super helpful, and didn't try to sell us anything. Excellent. Life Pro Tip: If your sales pitch has to include pretending to be something, anything, but what you are, ie a time share salesman, then maybe your product is not being well accepted by the market. Bait and switch at that level has to be bad for the soul.
We head to Casco Viejo, the old part of the city. Not the original part, that was burned down by Captain Morgan. Yes, the Captain Morgan of shitty spiced rum fame.
One of my earliest "couple" events with my beloved Jen was a wedding in Sun Valley, where she was ordering double Captains and diets. She was kind of cross eyed. Maybe because we were staying with my friend Julie, who had a big place in Sun Valley, where not one but two of my exes were also staying. Anyway, Jen is not the only one who has suffered melt downs at the hands of Captain Morgan, just ask Panama City.
The thing about Casco Viejo is that it was the fanciest part of Panama City, or PC, as some people try to call it. Not sure if that's a thing yet. Anyway, it was then put into the old Real Estate cycle, and all the rich people moved out, and the poor people, mostly squatters, moved in. Then, Panama, which actually has some money since it charges like a million bucks to use the canal these days, started to invest there, and now it's kind of like a hot, sweltering Midtown, or the bowery. Hipsters, gelato, roof top bars, some really great food, and boutique hotels. It's kind of THE place to be. Las Clemintinas is right in there. Really nice property, without being all five star and hermetically sealed about it. Our room was right on a big patio area, and the back looked out onto a pretty run down alley that had locals living in these kind of ad-hoc junk show homes, some little local restaurant that was both iffy and really popular, and one of three gourmet/hipster burger bars on the block.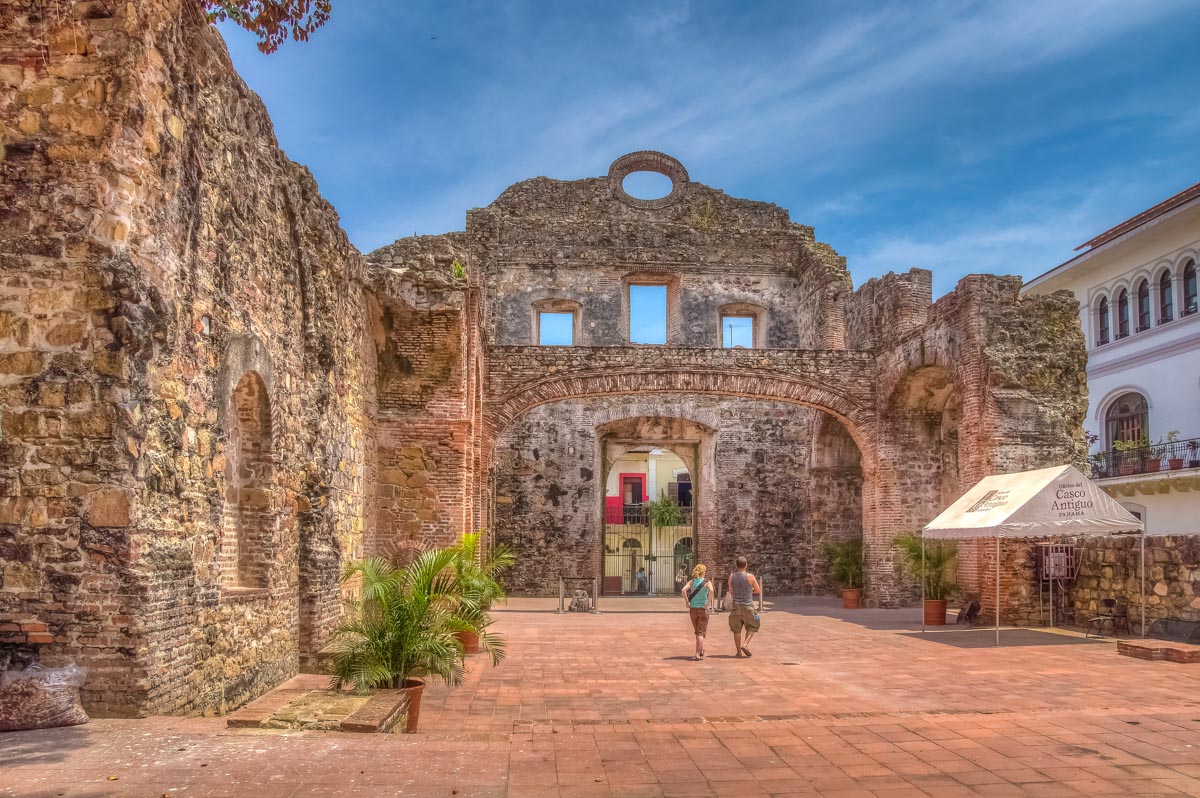 The other thing about Casco Viejo is that it is pretty easy to get lost on the narrow streets that go in all kinds of directions, and if you go a few blocks the wrong way, things get pretty favela on you pretty quick. Panama City, as far as Latin American capital's go, is pretty nice. I'm not sure it's any sketchier than half of Oakland before the hipsters moved in, or the neighboring junk shows that the hipsters pushed the old residents in to. Still, not the place for 51 year old white guys to be wandering around in looking for some extra toothpaste.
Which is exactly what I did. So, I'm terrible at directions. I drift off after having the first turn described, and even then I'm lucky if I make that one right. So, the super helpful desk guy tells me to go to the Rey supermarket, like a block away. I walk out, promptly go the wrong way, but hey, I'm just kind of exploring anyway, so why not. I find a really pretty bar on the shore, a few blocks down, really nice, great views of the sunset over the towers of Panama City. Walk right past the Chino (aka, convenience store run by the descendants of Chinese rail and canal workers), which had what I wanted, go up the hill, and only then do I look at google maps. Hmmm, where is el Rey? Oh, there it is. I walk a few more blocks, ignoring the fact that things are definitely getting funky, and the sun is setting (no, really, ONE cocktail, seriously), and find El Rey. Not what they described, but it's a grocery, and they have most of what I need, so I grab it up and head on out.
Make another wrong turn, the streets are full of people, all of them locals. It's kind of grungy, shanty town, definitely not the tourist section. I'm pretty okay with that, although I'm starting to think that I should try and not look clueless or easy pickings. Definitely not getting any closer to where I need to be. I haven't seen a craft beer or artisanal anything in about ten minutes. Finally, I walk past a couple of cops. They look confused, and concerned. They wave me over. They are very well armed. Some confusing Spanglish ensues, they point towards my hotel, which is exactly where I thought it wasn't, and seem really reluctant to just let me go on my way. Clearly, my bulging biceps and obvious pajama wrestling expertise is not making them concerned for the locals, but for me. They waive a police car over, and for the first time, I get in a cop car without handcuffs.
Reading up on the neighborhood, I guess some of the people that are being pushed out by the gentrification don't much care for the hipster coffees, Dutch wobble step dance parties, or having their homes turned into boutique burger houses. Go figure, sounds kind of like that codger from Reno who's always yelling at me about parking.
One of the things that makes Panama so intriguing is the canal, and what that means for the country. First off, there's definitely a big professional class in Panama City. The country doesn't depend on tourism, or farming, or other extractive activities to run their economy. Unless of course you view the fees they charge to cut across their Isthmus extractive. I've heard it runs from $.87 U.S. for a guy who swam it back in the fifties, to up to $1 million, if you go through the bigger, improved, never seen a boat so big canal. Canal pilots, who run those ships through the canal, and the big lake that was created as part of the canal process, make $300k a year. Think about that in a part of the world where $300 a month is considered living large. Also, there's all the other professionals, engineers, workmen, administrators, etc, that keep the thing running. All Panamanians. There's a ton of money that flows through here, plus, there's some shady tax haven stuff going on that's been in the news, so they've  got international business stuff as well.
The other thing that the canal does is keep things on an even keel. 5% of all the goods shipped by boat in the world comes through the canal. That's a lot of stuff going from the east to the west, less going the other way, especially now with our well thought out tariff policy, and stuff going mostly north/south. You want that Chinese made Walmart item, that's a canaling. Grapes from Chile? Yep. Pretty much anything you get on the West Coast that didn't come from the U.S., or Papua New Guinea (shrunken heads anyone?), came through the canal. So, China wants it working right. The U.S. wants it working right. Canada, well, who cares, really? What are they going to do, register a firm but polite request for someone to take a peek? Seriously, how do these guys do hockey? Anyway, the whole world has an interest, and a right to use, the canal. So, they all take a very dim view of anybody messing with it. Which is probably why Jimmy Carter, who was busy ruining America by trying to make us use centimeters, gave the canal to the Panamanians without too much hassle. I'd imagine just about everybody, from OPEC to Oslo, told him he'd better not let the canal fall into chaos. Imagine how much more expensive that IKEA desk that you can't put together would be if it had to go by reindeer train from Sweden?
The other thing about Panama is that it is in the tropics. Rich, sultry, green, lush, hot, fucking hot, humid, which means that my personal eco-sphere is hot and humid, and fetid, and well, stinky. It's May, the beginning of the wet season, and Panama City is a sauna in which somebody just put too much water on the stones. For people from places that are not here, ie where I'm from, it's really humid. I lived in Dallas for a few years too many, and it  was humid. Panama is more than humid. At least in May in Panama City.
We stay at a little boutique hipster hotel in Casco Viejo called Las Clementinas. Really nice place, we get a big room with two beds. Jen loves having two beds. It's not that I thrash about in my sleep, snore, talk in my sleep, steals all the covers, or have night terrors. It's that she does, and she's sweet, and worries about how I'm doing whiles she goes through her nightly activities. So, she loves having her own bed. However, she's sensitive to my theory that sleeping in separate beds, in spite of the obvious benefits, is bad for a marriage, and she appeases me while we're home.
We have a big shower, two beds, a fridge, coffee maker, a little balcony overlooking the strangely popular Fonda Piri Piri, French doors onto a second story patio, which overlooks the courtyard to the restaurant. I drink Rum, or Coffee, or coffee and rum, on this area, and enjoy.
 First day we get picked up by Ancon Adventures, and head up to the jungle town of Gambo, about half way up the Canal. We jump in a little boat which seats about twenty, like a Cadillac from a Athens Georgia party, and it's just us, the captain, and the guide. We zoom around the national park that was created to keep anybody from getting to or living on the water ways that are part of the canal. It's full of peacock bass, birds, crocodiles (we've heard), and monkeys. Love monkeys. We see three kinds, including the black kind, the kind with a white face, and the kind with white faces but red backs. Very enviro. If you want to be fancy about it, Howlers monkeys, red cowled tamarinds, and capuchins. They're like little children. So cute when you're out of range of their poo.
We decided to stay in the Canal area, instead of heading back, and in spite of spending a lot of time looking at an empty channel, it was worth it. We got to the locks around noon, and there's not much there besides the locks, and a small museum about the locks. The short story is that the locks fill with water, boats go through about  half way, then the locks empty some water, and the boats go the rest of the way. It is, in fact, way cooler than that. It's kind of a long process, but pretty damn neat. You should really google it. We watched a biggish boat go through. There is a new lock system, and we saw a boat go through from a distance. Biggest boat I've even seen, and I grew up near San Pedro, Port of L.A.
One of the benefits of being all sweaty and gross is that nobody wants to sit near you. Either that, or it's kind of low season, and things are quiet. I don't who else was staying at our small hotel, but it seemed about half full. Jen scored us a reservation at a super fancy, six table restaurant, kind of a Thomas Keller goes to Panama place, which is supposed to be three months' lead time, and it was mostly free of drunken Brits.
Second full day we did a walking tour of our neighborhood. Hipster beer bars and a lot of early Panamanian history, pretty sweet. It always kind of amazes me how much into history Jen is. She loves this kind of thing. Undeterred by my brush with death from the night before, we head out, and this time I get most of the turns right. Casco Viejo has old battlements, hopefully better than the ones before they let a cheesy spiced rum huckster burn their town, really old churches, of course, and even a gun placement named for the nuns. Catholics. Defend the faith is taken quite literally.
It pours rain, while we hang around a place famous for having an arch that didn't fall down, which recently fell down. Then it clears, we have lunch at a little bar with the second best ceviche I've had in two days, and view some art work taken from the former dictator of Panama. It's mostly really nice post-impressionist paintings of nude women and fish, but I see a carved dog a la Joey tucked away in the back.
We survive the trip, and have a late dinner by Jens' standards, aka the first seating, at Donde Jose. It's eight courses of haute cuisine inspired by Panama, and it was really fucking good. Second best razor clams I've ever had, and I've had Razor clams at Clamata in Paris. Tiny little place, six tables, wonderful service, and the Jose is not afraid of smoke in his food. Total Top Chef kind of stuff, but in a very non-pretentious style. Little Panama style tortillas, but with smoked cheese. Chinese steam dim sum with pork belly. Razor clams. Very cold tuna crudo, two kinds. Chicken, three ways on the same chicken. Smoked, fried, bbq. Duck skewers a la street food. Two desserts. One a riff on cappuccino with goat cheese and croutons, and the best thing of all, a Panamanian shave ice with dried fruit. That last one was really, really amazing.
Wake up, coffee, not so much rum, maybe a little, since I have to drive, and we leave to get a rental car and head out of Panama City. Ummm, don't drive in Panama City. Ever. It's like driving in NYC, but you can't read what few signs there are. Ugh. Plus, they have a really strange toll road system, where there are only two toll roads, near the airport, but if you get on them, there's no way to pay the tolls unless you have a toll pass electronic system. I don't know what happens if you drive on these without the toll being paid correctly. I don't want to know.
We leave Panama City behind, after a few miscues, and start driving SouthWest, out of town. We're heading to Valle Anton, which is a high country town about two hours away. It takes us four. We got on the right roads, pretty nice! The highways are good, the towns pretty similar to any highway small town, and we only had to bribe one policeman. To be fair, I think I was going too fast, not sure, since it's in kilometers, but he seemed pretty sure of it. $20 later, we're back on the road.
During this time, we find out that we have finally won the battle against t-mobile, and have unlocked the tablet we paid off two years ago. Cell phone companies have brought us amazing technology, and tied it all to the worst impulses of the human condition. We started trying to unlock the tablet weeks ago. T-mobile would claim they couldn't find the information on our old account, sent us a helpful link telling us to use an app that wasn't loaded on the tablet and no longer available for download, and then just stone walling. Ten calls later, they refer me to an on-line hacking company, telling me it would be free of charge. T-mobile can't unlock a tablet they sold us, and locked themselves. Got to be honest, they're still probably the best. Verizon let somebody steal a cell phone by hacking my Verizon account, charged me for the cell phone and the service, and then refused to refund the money because I hadn't noticed that my auto-pay, paperless bills were incorrect. I'm currently with AT&T, who had previously disconnected my phone early when I wanted to switch, charged me to reconnect it to correct their error, and then reported me to the credit companies when I disputed the erroneous charges. Magic technology, brought to you by the biggest bunch of scum bag grifters.
So we pay somebody to hack the tablet, it doesn't work, I pay somebody else, and now we have an unlocked tablet, running a Panamanian Sim card I bought for $3 from the Chino. That's a store. Not a person. Plus, I'm not making a racist slur against Chinese people, who run most of the convenience stores here. I guess it's like calling the local grocer a bodega? I hope it's not like calling my local 7-11 an Apu. I guess that's not okay now.
So, after slipping the officer a $20, we arrive in Valle Anton, which reminds me a lot Arenal or Monteverde. It's in the mountains, almost 4,000 feet high, significantly cooler, and really pretty. We stay at the Golden Frog, named after a small amphibian that is pretty endangered. It sits in the extinct caldera of a huge volcano, and is green, and lush, and not sweltering. In fact, I have to wear a layer at night.
The Inn is run by a German kid, and his Czech partner, and it's been here a while. It's really great. Again, totally reminds me of our place in arenal. We have a big room, pen with a patio, an amazing view of the valley. It's got a pool, casual restaurant with great food, a pool, a bar, a table that is, in my view, a pool table, but a billiards table according to the German. It sits in a big green, jungle and lawn property. Not fancy, not catering to the super rich, just really nice. I love these kinds of places. Give me a well run family owned ten room inn over a W hotel anyday.
We get here, chill out, have dinner. Jen is super stoked, that makes me happy, we don't do much but stare at the jungle, and I drink rum. Awesome. BTW, Jen is currently obsessed with Filet Mignon. They have it, it's pretty damn good, I have ropa vieja, it's really good.
We get up in the morning, way earlier than you'd think, in fact too early for breakfast. I'm a little bummed they don't have a coffee maker in the room! Nor a fridge, or cups or even water glasses. Hmmm, weird. They do have all that about fifty steps away, so I don't think I'll bitch. Even though I just did.
Breakfast is awesome, typical euro style, plus eggs and pancakes. Rather than take a pancake caused nap, we head out for a hike. Drive through town, ignore Google Maps' suggestion I go up a dirt road (I was wrong, it was fine on the way back), find the trail. It's got people suggesting we hire a guide, we don't, but we pay a few bucks to the cute school girls, and I, apparently, steal a hand colored map. Jen says the girl who was coloring them by hand in pencil expected money. I just grabbed and went. Typical. #whiteprivelege #modernconquistador. Douche.
The hike is pretty standard jungle hike, maybe not so hot, no roaches or land crabs. Steep AF, lots of tree roots, really beautiful stream and some middling waterfalls. It reminds me of Hawaii. Or Costa Rica. Not surprising, but a good thing.
The top is something else. I have told the story before of Jens' lack of fear in the face of heights, and my abundance of reasonable caution. When faced with falling to my death, I feel like I'm being prudent. We climb up to the top of the sleeping Indian woman, at the rim of an extinct volcano, and peer over the edge. It is truly a freaking knifes' edge. About 100 feet down in the jungle. Just sheer rock, not oven those steep slopes Hollywood types are always sliding down into a river. Wowser. Amazing. We can see a big beach resort, I think Playa Coronado, off in the distance. The other side is Panama countryside. Gorgeous. Sweaty, but not that bad, about an hour up, but we see clouds rolling in, and it's time to turn around. I give the nice young girl a dollar, thank her for the map, and we find our car, unmolested, and head back to town, with Google still trying to send us down dirt roads.
We stop, accidentally, at another tourist location. This one is zip lining, which we skipped. Been there, done that, this one seemed kind of small compared to the Costa Rica one we did so long ago.
Cool little waterfall, called El Macho. They charged us $5 each to walk on an elevated walkway and to see their kind of disappointing waterfall. Jen makes the point that we've seen a lot of fabulous waterfalls for free, and so maybe this one just evens up the cosmic tab a bit. I'm unconvinced, but hey, it's $10, and I'm kind of a cheap bastard, but not that cheap.
This time we accept Googles idea of driving down the dirt road, and it's not too bad, and it is much quicker, and we're back at the Golden Frog for the afternoon deluge. Lunch at our inn, since it's now raining so hard that you couldn't really drive in it, plus the food here is awesome, so why not.
Blog 2
Golden Frog was awesome, and cool, and peaceful, but Valle Anton not really a candidate for the ex-pat life. Maybe a second home if money was no object. Bryan and Janet could have a beach house, and we'll have a mountain house, and go back and forth. No surf, no diving, no jiu jitsu, it kind of doesn't make it on the list.
So we head to Playa Venado. Baby brother Eric was right. I knew he was when he said, but this time he was more right than usual. I can totally admit this since it's unlikely he'll read this far.
Anyway, this time, as is often the case, he was correct. Google Maps, which works better here than I was led to believe, says it's going to take four hours to get from Valle to our little beach at Playa Venada. Eric says add 25%. Right on the money. Six hours. Part of the problem is that Google doesn't account for speed traps, of which there are many, dogs lying in the street, which are even more numerous, or having to pull over and breathe deeply to calm yourself when the local busses pass you on blind corners.
This not Andean Bus Plunge territory. The busses are numerous, new, clean, white. They don't drive insanely fast. The real issue is that I have no idea what the speed limit is. I was going 100 kph when I got pulled over. That's about 50 mph. That's a rare speed limit. More often the highway is 80 kph. Through the cities or highway towns, it slows to 60. This is actually fairly clear.
The problem is that when you're on the smaller roads, there are little towns, and the speed limit is rarely mentioned. You'll see reducidar su velocidad, or something like that. But to what? And, unlike on the bigger highways, you never see resumar su velocidad. So, I've slowed down for the kids and the horses and the dogs, but to what? And for how long? Then there's the construction. Part of the road is clearly new, easy sailing. But there's signs that say the road is under construction, or broken, slow down. To 20. 20 kph. Less than 10 mph. The road is good, why go at a crawl, but is it a $20 trap? Don't know. I err on the side of caution, and it takes me almost 8 hours.
We finally get there, and much like our trip to Costa Rica in the early rainy season, there's nobody around. Villa Marina, which doesn't have any kind of a Marina, is really pretty. Cabanas, with a central rock lined pool, steps to the water. The beach is a huge, grey sand crescent, with big rocky islands on the edges. We're at the far end of the beach, and there's no other camps or resorts until about ¼ mile. You walk down the beach, past jungle and sand, to where the hippie/surfer/yoga spots are. There's a fair bit of construction going on with at least one larger resort going in, but it's quiet. The surfers are in larger numbers, hanging out, living the dream. Later at night, they are a lot more active, partying, but where we're at, it's just us and a couple of Panamanians out for the weekend.
To get here you drive through a lot of small towns, some bigger towns, and the ex-pat favorite of Pedasi. Pedasi is pretty cute, you could see it being pretty buzzy during high season. It sits a little inland, but there's a beach, and a local fisherman bar, about five minutes down the road. There's even an ex-pat bar, with a bunch of Americans in the forties to sixties hanging around nursing tequila hangovers. I've been told that many of the ex-pats just hang out here, pretty isolated from the Panamanians. I could kind of see it, since not only is there the language and culture, but this is more of a farming area, and the people are farmers. There seems to be a pretty vibrant middle class in Panama, with people driving newer cars, going on weekend beach trips from the city, everyone on cell phones, but Pedasi isn't where they go. Lots of beach resorts closer to Panama City, but the beaches here aren't the swim and get drunk listening to loud music kind. Funny note for later, dark skinned Hispanic people still need to use sunscreen. Saw some sunburned Panamanians later on in the trip. Good to know.
The beach is quiet and safe, very shallow, and I hear the waves can be good. Not much swell while we're hear, but enough for the new surfers to be out trying to catch the beach break, which is long and slow. I'm tempted, but I planned poorly, and we don't really have enough time. We arrive late, and we have a dive scheduled in the morning.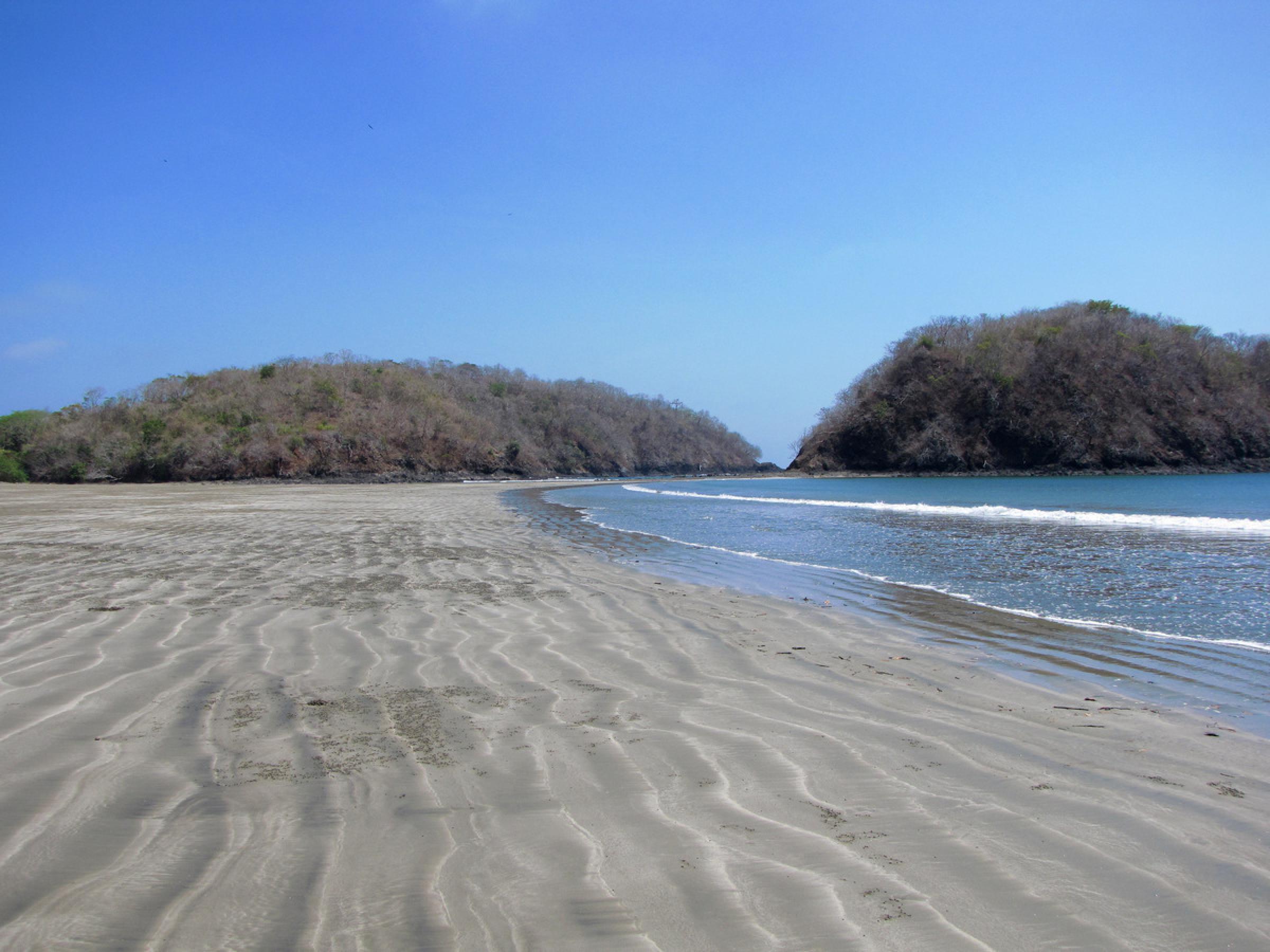 The dive setup is kind of fun. We meet Kerri, who turns out to be a divorcee from Dallas, at the local gas station. We drive down to the beach in Pedasi, and load into a small panga from the beach. 15 minutes later, we're at Isla Iguanas, a beautiful little island that was used for target practice by the US navy in WWII. They still find unexploded bombs here occasionally, and Kerri says it really messes up the dive business when they have to cordon off the island. The first dive is okay. Lots of life, but the reef is mostly rock and trashed coral. Locals used to come here and drop anchors in the coral, plus bleaching and other eco issues, and the reef is pretty broken up.
Second dive is much better. We dive off some big mushroom coral heads, and we see turtles, and sharks. Moray eels, which are one of my favorites, are so plentiful you start ignoring them. They used to fill me with terror. Snorkeling as a kid, plus watching The Deep, in which a huge moray bites the villains head, left with me with an unwarranted fear of these big dummies. Now I love them. The dive ends tragically as Jen can't find her favorite shoes, which somehow got lost between the beach and the boat. Go figure. She buys a pair of croc knock-offs, which are even for crocs, horrible, at the local Chino. Later on she tries vainly to give them away. Nobody, not even shoeless street vagrants, will take them. They may be poor, but they have their dignity.
Back to Venao, and I met John, a transplant from New Jersey, via Colorado, who runs a surf/jiu jitsu camp. Jen, for some reason, decides not to join me for drinking and talking about Jiu Jitsu. Weird. I get some good info on moving down, on this spot, and it goes on my list for places to really think about. He's got a good connection to a Panamanian businessman who owns the camp, and is looking to develop the resort more, while wanting to keep it low key. Surfing, diving, chilling, jiu jitsu. Works for me. We make a play date for the next morning.
I show up the next morning, and he's got a sweet setup. Good size space on thick tatami mats, no puzzle junk, and we play. He's smaller, about 150 lbs I guess, and very flowy. Tricky. Good. His wife is a purple belt, about 5' on a good day, and tough. Like me, she plays a big persons' game in a smaller package. I love it. She and I go a bit harder, but keeping it fun. I try to footlock her. I don't know how. Great time, really welcoming, and it gave me a good feel for the slow down life.
After that, I have to wring about ten pounds of disgusting man-juice out of my gi, and try to hang it to dry, which is unlikely to work. Pack it up, and head out onto another Panamanian guessing game, aka, how fast do I go? The Eric rule of 25% holds, and six hours later, we're at Santa Catalina.
This town has a very bohemian/surfer/crack shack vibe. There are way more euro/American surfers and divers, hanging around town, living in hostels. Don't see any white sand beaches, places to lay around, no sun bathers. This is a tough, big surf break, and the jump off to Isla Coiba, the hot spot for diving in Panama.
The Island used to be a penal colony. When Noriega got booted by Bush and his political prisoners got set free, Coiba became a nature preserve. The locals stay away, partly because it's the law, partly because the island has a bad juju sort of reputation. Because of this, and no building allowed on it, it's truly amazing. No fishing either, and we see tons of stuff, including a giant jack or tuna, sharks, rays, eels, again with the eels. Also, I think I saw two octopi. It's hard to say, since they camouflage so well.
The things are simply amazing, btw. Thank god they don't live long, or we'd all be working for them. Also, I don't get how they end up on menus. If you see a Pulpo, it's usually a big deal. I have no idea where there might be enough of them in an area for them to commercially available. One of the things I do while diving is try to guess whether I can eat the animals I see. Also, whether they can eat me. Speaking of which, I saw a ten pound lobster. I'm not sure I would win that fight.
Jen skipped the dive, having poked a hole in her dry suit, which renders it un-dry, and having trouble clearing her ears. Although I won't know about it for another ten days, this is when she decides that dry suit diving is not for her. Since she's flooded, gotten squeeze rash, had uncontrolled ascent, and some other dry suit b.s., this is a good choice. Dry suit diving requires a certain level of nerding out that she just doesn't have in her. Thank god.
We stay at a cool little compound in a double bungalow, run by a Panamanian Chef and his Swiss wife, and they've got kitties and puppies and little kids, and Jen makes friends with them all. They've also got a ton of bugs, many of which get into our room while we're loading in, and Jen does not make friends with them. In fact, she goes to war, and hundreds die. She can be ruthless, especially to June bugs and flying ants.
It's gorgeous here, although there isn't much a beach, and although I dig it, it's off the list. Too remote, the surfing is too high level, there's no Jiu Jitsu.
It's time to turn around, realizing that we really don't have enough time to do it right. This trip had a very specific purpose, to do a quick reconnoiter trip, more so than a vacation really. I also realize that my refusal to pay an $80 drop off fee is biting me in the butt. I definitely wanted to stop in at some of the beach resorts nearer to Panama City on the way back, and that's what we're doing, but now that I understand the lay of the land a bit more, I'm less enthused. I've also figured out that flying from David to Panama City would have been really smart. We're skipping the whole northern part of the country, including Boquette, and the whole Caribbean side which is supposed to be awesome.
 A big part of the plan was to be within driving distance of the International Airport, and to be honest, Santa Catalina is too far, and Playa Venado is almost. Once the construction over there is done, and I'm more comfortable with speeding and not getting pulled over, it's within range. However, direct flights from Denver with a quick connector to the airport in David makes more sense. I kind of wish we'd gone up that way, and maybe will. Another time.
Heading back down, you really notice how much is going on. We stay in a B&B run by a friendly gay Argentinian guy, a few doors down from where General Noriega had a place. He tells a funny story about how Noriega got deposed by the Bush army, somebody pilfered a hat rack, and gave it to him. He later became friendly with one of the Generals' daughters, who came by for a visit. Kind of a low-level bird cage farce ensues, with he and his partner trying to hide the hat rack, or disguise it, so the Noriega daughter wouldn't notice. I imagine Nathan Lane throwing capes over the thing. It probably wasn't that good.
This is a resort area that caters mostly to Panamas' wealthy and wealthy adjacent. The guide books describe high-rise hotels and condos, of which there are many, and a quaint fishing village that's left over from the by-gone days, a pastoral scene of the old ways. The thing is filled with friendly people, but it's a dump. Open air shacks, communal tables made of washed up trash, no power, no water. Not exactly quaint. I'm not really big into giant beach developments, but if that's progress, well, good for them.  Not that I'm against more traditional ways of life, but when the tourism board passes off poverty for quaint, I kind of think that's wrong.
I've been working on this off and on for a month now, and to be honest, if you've made it this far, I thank you, but I also get that I'm running out of steam, so let's just say this. Do not drive in Panama City. It's like New York, but on steroids. It's a big, bustling city, and the drivers are not crazy. The traffic and the street layouts are. It's kind of like the way I describe learning to drive in Los Angeles, which is where, I did in fact, learn to drive. You do things there that are dangerous, that would make most people cower in terror. You do things that maybe you're not proud of, and there are unspoken rules which must be followed, or the  whole thing breaks down.
In Panama, street merging has nothing to do with the lights, the legal niceties. If you don't careen into oncoming traffic, cutting off cross traffic and forcing them to slow in a way you would never do here, well, you're doing it wrong. Doubt that? Well, I started to pull out, lost my nerve, and for the first time in my entire trip, was yelled and honked at.
In spite of that, and after doing about ten laps, we got to the place to drop off the car, and that went way easier than I thought. I was worried about the horror stories about Panamanian, as well as other countries, rental cars. We had some small issues with the air dam since we ended up doing a river crossing, but I fixed it with a bobby pin. Honestly, I don't think I was the first one to make an on the road repair to this particular item. We grab a cab, after negotiating a $12 fee to the airport.
Traffic is, well, Panamanian. It takes over an hour to get to the airport, Heavy traffic, construction, crazy drivers. It's pouring, and I mean pouring, rain most of the time. When we get to our airport hotel, which is like a little slice of generic Americana, might as well be the embassy, I give the driver $20. Hazard pay, and doing the drive myself would have taken off ten years from my life. I couldn't justify being tight fisted with the guy, so I overpaid him.
I don't know if the screwing we experienced at the airport is worth a story. I'll just say that I've never boarded, and then had to deplane, until this one. I've never had a flight straight up cancelled until this one. I've never had to go through immigration twice, get my bags back through BOTH sides of a foreign countries border control until this one. I've never spent nearly 12 hours in an airport with no idea of when or how we were getting back, buying internet access in 90 minute increments. You get the story. An early flight and a late arrival stretched out over two days, and we ended up flying out of Los Angeles the next morning. At least the hotel we didn't want to stay in was nice.