Team Brazilian Jiu Jitsu Globetrotters is not about lineage, affiliation fees, politics or rules. It is about friendships, experiences and the people, who make up the team. Every month, we will publish a newsletter, profiling some of the many interesting people and places around the world, that makes up our team. Most of the articles are being written by Austian BJJ Globetrotter, Sebastian Studirach. If you have any good ideas or stories, feel free to catch him on Facebook :)
---
BJJ Globetrotters well represented at the IBJJF London Gi/No-Gi Open and Munich Open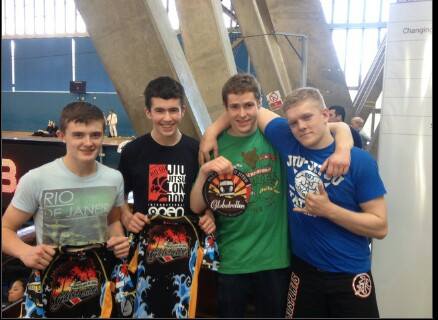 The BJJ Globetrotters have been quite active at the latest IBJJF Events and took home some medals for their effort.
At the forefront was Liam Ralph (Denmark) who took double gold in the masters blue belt division in London and Munich. Liam is definitely on a tear at the moment and we hope that he can carry forward his success and be a hot shot at the Europeans in Lisbon next January.
Emil Larsson (Sweden) took bronze at the no-gi event in London and Hannes Mossbauer (Germany) won a bronze medal at his first blue belt tournament after being promoted only a week ago at the BJJ Globetrotters fall camp. The past results are definitely promising for the upcoming year.
Also, a big congrats to Dave Knowles (Canada), who took gold at the IBJJF Master & Senior World Championships in the brown belt division!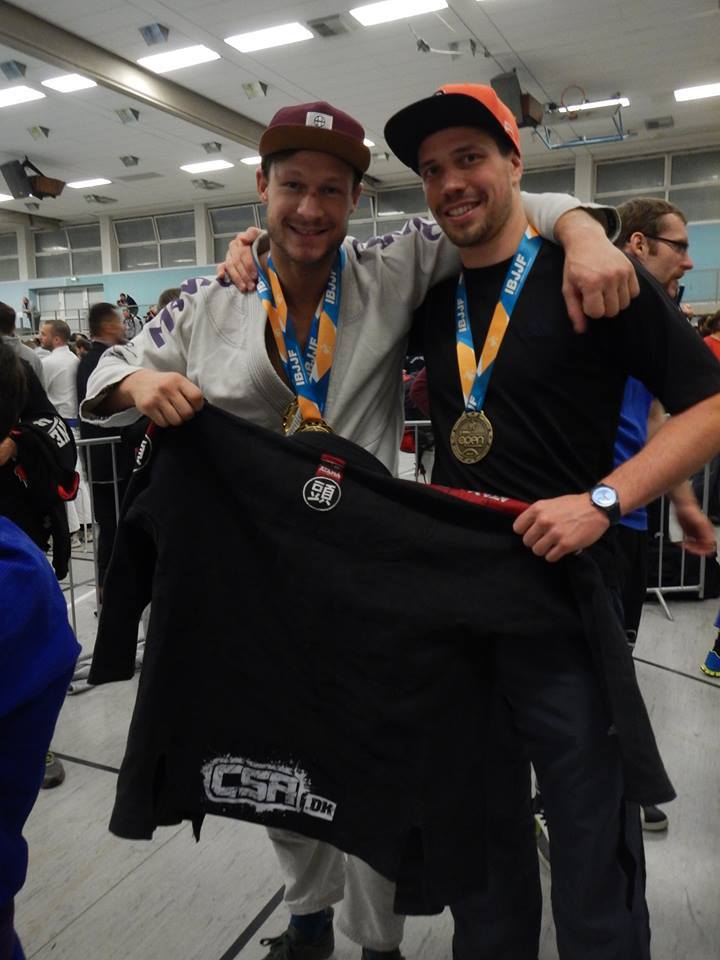 ---
Davey Knight chasing them medals across the world 
Davey Knight who is training out of Granite City Grappling in Aberdeen (Scotland) is an avid competitor with some remarkable success in 2013. Davey won Gold at the Scotttish BJJ Nationals No-Gi and silver with the gi. Then he stopped by in Rome and Lisbon for the IBJFF Open, where he also brought home three medals.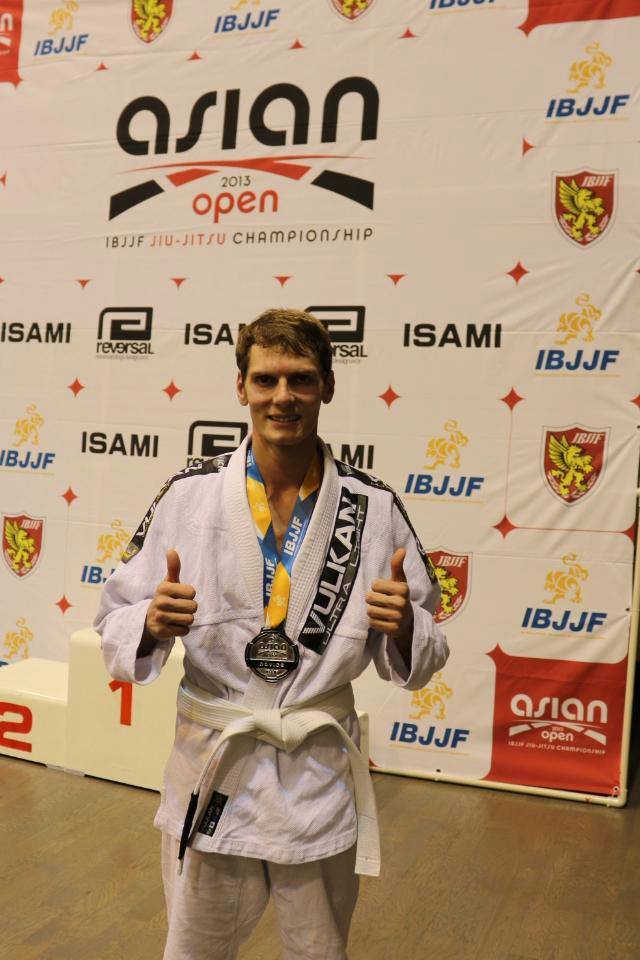 But Davey is not only chasing medals in Europe, he recently took a 30-hour travel from his hometown to Tokyo, to compete at the IBJJF Asia Open. The leading signs couldn't have been worse, with a major jet lag and nice little 7.1 earthquake the night before the Open.
Then Davey decided to do a bit of a special warm up routine: With only 35 minutes before his division started, he found out, that the competition was not at the "Nippon Budokan" Center where he was at, but across town at the "Tokyo Budokan". So after arriving two minutes before his division started and the best warm-up of his life, Davey stepped on the mat and fought his way into the final of his division, where he took the silver medal. I guess "no excuses" sums his achievement up at best.
---
Teaching on and off the Mat with Daniel Reid. 
Daniel Reid better known as "Danimal" who has been promoted to brown belt during the BJJ Globetrotters Summer Camp is now teaching in Taiwan. But Daniel is not only teaching 10 classes of BJJ per week at Kaoshiung BJJ, Tainan BJJ and Taidong MMA, which might seem a bit obvious, he is also helping 11-13 year old pupils to brush up there English skills. Believe it or not, the school kids in Taiwan are acutely well behaved and respectful to their teachers and classmates, so no need to show off your submission skills during lunch break or on the schoolyard!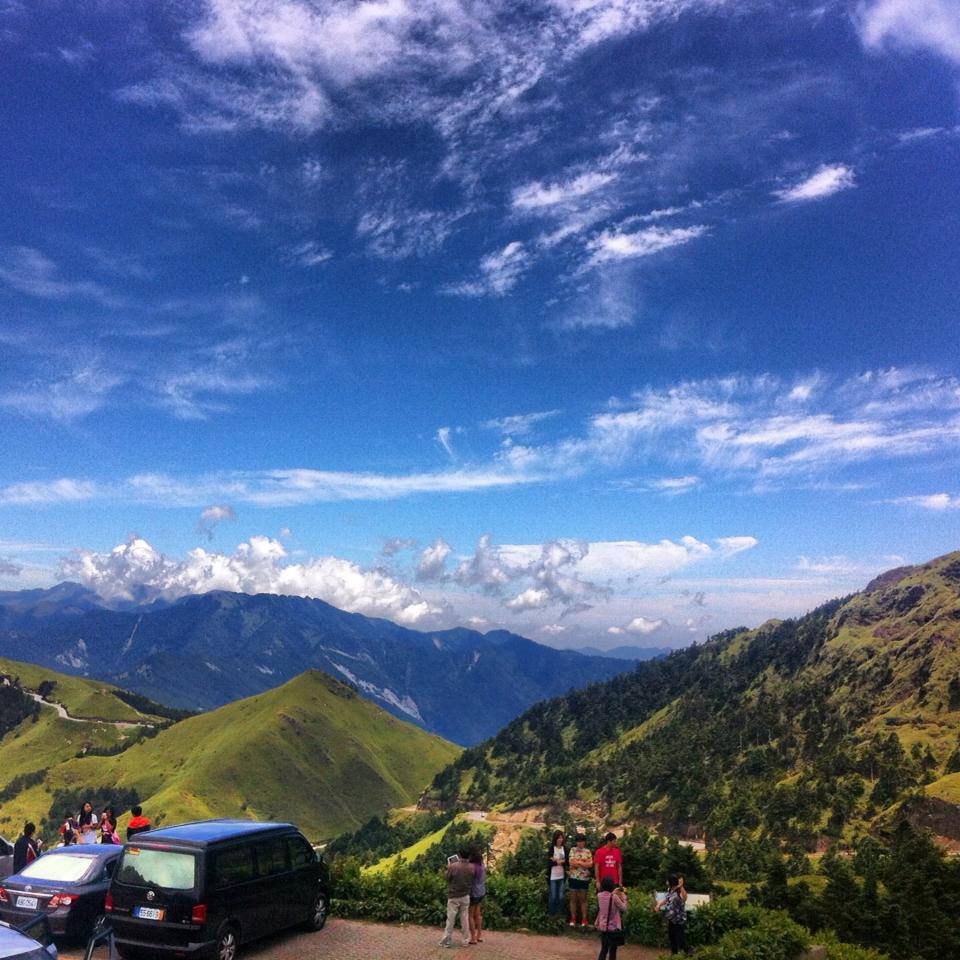 Besides the better weather, nicer girls and weird foods, Taiwan is not too far away from Scotland in terms off BJJ standard and Daniel is doing a good job in helping grow our beloved sport in this part of the world. He also helped to set up the Asian leg of the Roll4Life marathon, which was done on Nov. 3rd for the first time. If you ever plan to go to Taiwan yourself, Daniel might be a good source and help for you.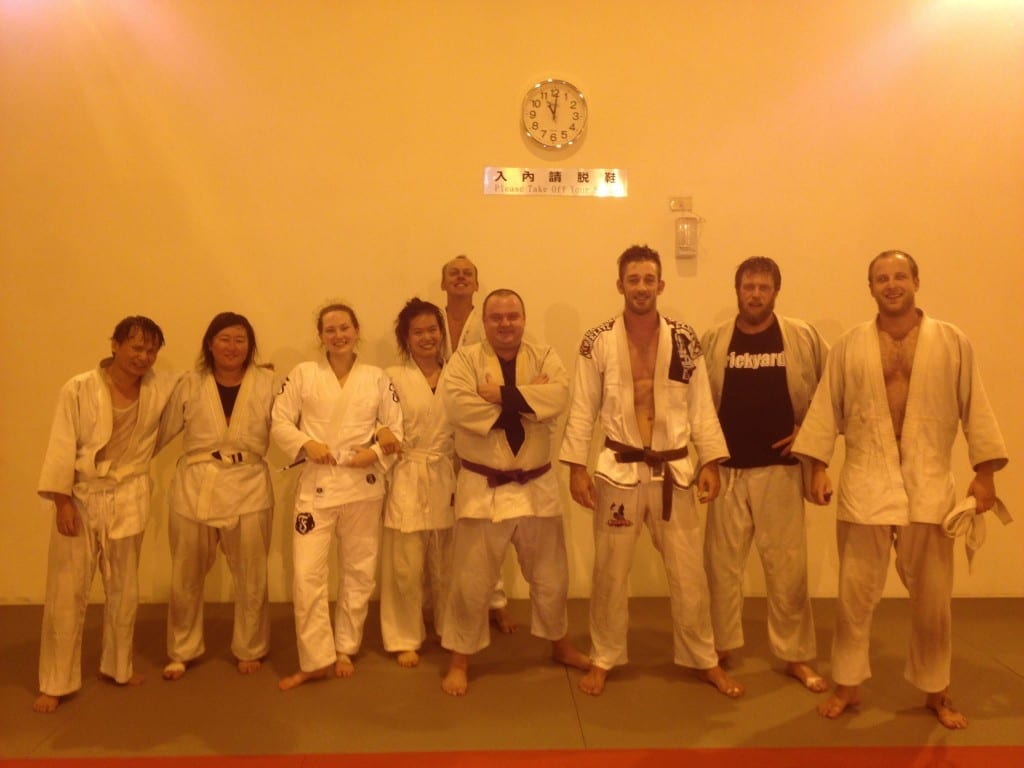 ---
Affiliated Gym Report: Welcome to Paradise with Casa Kickappo 
Casa Kickappo, which is situated at La Herradura, El Salvador, is not the typical BJJ gym as you would expect it to be, it rather is a whole environment of making a visit there unforgettable.
The guesthouse is situated directly at the beach, which is said to be one of the prime surfing spots in the whole of El Salvador. The place is owned by purple belt Luis Beer and his family for over 40 years now, so you can expect some good family vibes and home cooked meals whilst staying there. At the moment Casa Kickappo is a sort of an open mat thing when it comes to BJJ and grappling, besides that, there are many possibilities to train at Alliance or Gracie affiliated gyms in the lively BJJ and grapping scene of El Salvador.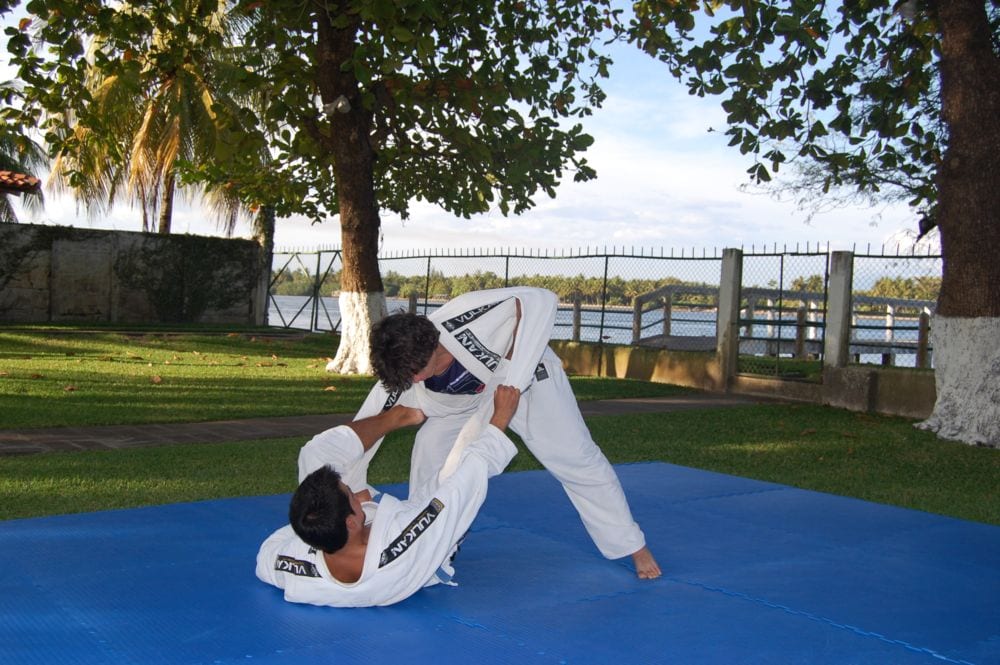 Off the mat, you can pass your time doing various things, such as surfing, fishing or explore the mangrove forest on your paddleboard or kayak. As Casa Kickappo also will be the first host of our Beach Camp in 2014, these might also be some good activities to recharge your batteries after a tough day of training.
Casa Kickappo is now revamping their whole operation, including the mat area to be ready for the BJJ Globetrotters Beach Camp in February. Stay tuned for the next newsletter, to get the latest news on this project.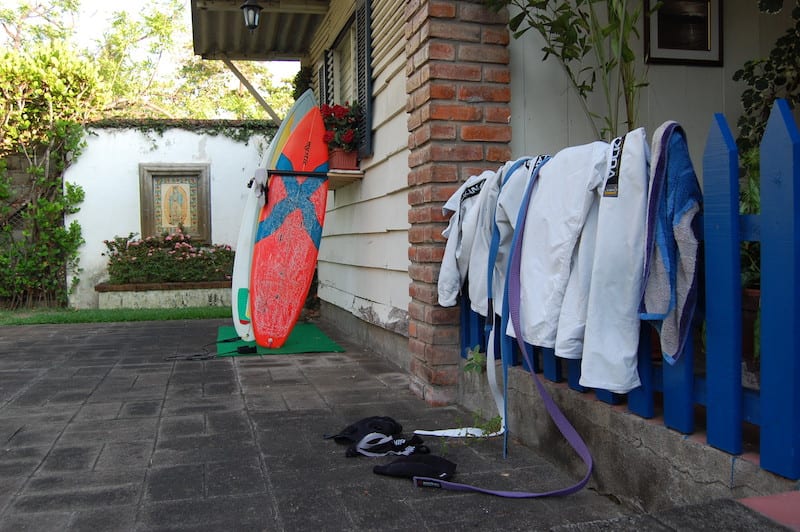 ---
Interview with Axel Apergis: Jiu-Jitsu the gateway to new countries and cultures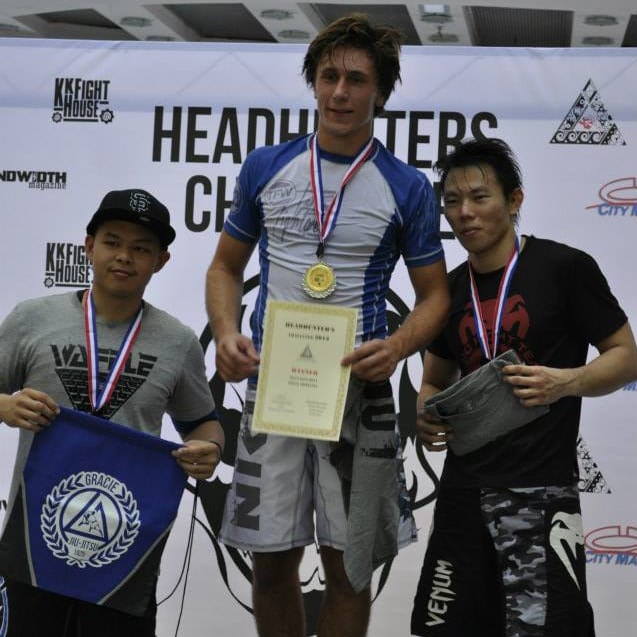 What were the reasons for your current travel? Was it only BJJ and training driven or due to other circumstances?
Originally I didn't think much about BJJ when I planned where to go for this trip. As I'm the student of the original BJJ Globetrotter, Christian Graugart, I know that jiu-jitsu exists almost everywhere on the planet now so I thought it wouldn't really matter where I went. I would be able to get some training no matter the destination. The reason for my trip was mainly to see some exotic places, explore nature, and meet cultures different from what I'm used to. I decided to buy a group trip through a Danish travel agency to Asia where basically everything was planned. The main focus of the trip is to see the wild nature of Southeast Asia and experience the culture of the people living here. I also really wanted to learn to surf and Bali seemed like an awesome place to do that. That's also why I am going to stay longer than the original trip was planned to. A guy from the group (Johan) and I will stay on Bali and try our best to become decent surfers.
Where did you already travel and whereelse do you plan to go to? 
I have been around the Malaysian part of Borneo for about a month and now I've travelled to the island of Java in Indonesia. I'm staying here for 2 weeks before heading to Bali and a couple of days on one of the Gili islands.
How long will your travel be overall? 
I'm still not exactly sure when I'm going home, but around 11 weeks.
Did you train BJJ and Grappling and if so where did you train?
Yes, as soon as I bought the trip I started to look for gyms in the areas I was going to visit. I quickly found BJJ Borneo/Alpha MMA which is located in Kota Kinabalu on Borneo. I wrote them a message via Facebook and they replied I could drop by any day I'd like. So on my second day in the city I visited the local guys. It was a really cool gym run by a BJJ purple belt and MMA fighter, Allen Solomon Chong. My first training was a morning gi training and about 5 guys showed up. I didn't think it was possible to produce as much sweat as I did in that hour and a half of training. But despite the heat and humidity it was a really good experience and the local guys were all cool.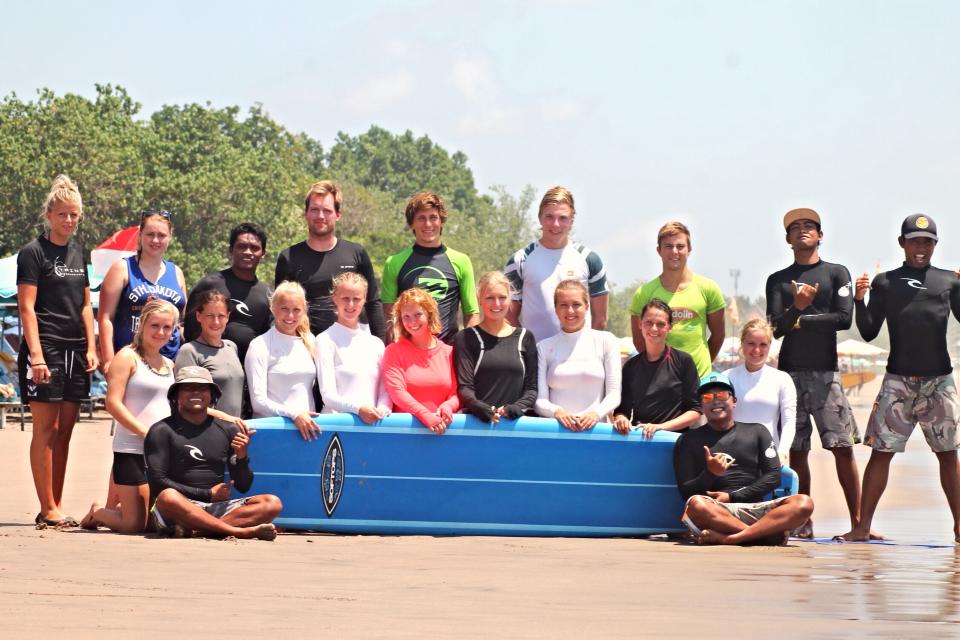 Did you see any differences to your home country in terms of training style and level of the guys?
The level of the fighters fitted well to their belt colors according to my experience. My second training in the gym was actually a seminar with black belt Yuri Simões. He showed some really cool techniques, which I'm definitely going to work on in the gym at home.
That day, I also got to know that the annual BJJ competition in Sabah, Headhunter's Challenge, was on a date that fitted my program. As BJJ isn't a huge sport in Malaysia yet, there would only be brackets in white and blue belt categories and I only had time for the no-gi. I do a lot more no-gi than gi training, so my level in no-gi is much higher than in gi where I'm a blue belt.
Therefore, I asked if there were any higher belts who wanted to have a fight with me in the competition and suddenly I was set to fight a black belt (from Singapore I think). On the day of the competition, I found out he had refused to fight a blue belt so I was put in the blue belt absolutes. After 8 hours of sitting in a bus across Borneo I turned up just in time for my bracket and after 3 fights I had won gold as the first ever european competitor in the Headhunter's Challenge. It was an amazing experience and I had a lot of fun. It was also pretty special because the competition was held in the middle of a shopping mall so there were a lot of people in the crowd cheering for the local guys. I also had a little backup, though, since some people from my group came and watched. Overall it was one of the most fun experiences I have had on this trip so far.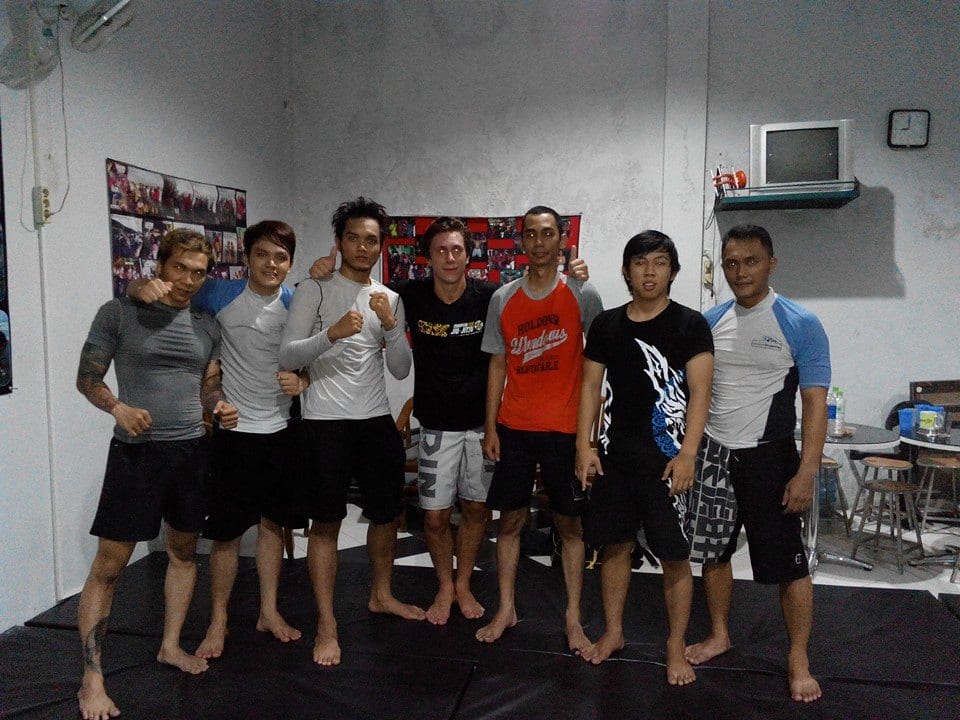 Training on Borneo was awesome and I actually didn't feel much of a difference in the structure of the training and the whole mentality about jiu-jitsu was about the same as home. Overall a pretty laid back mentality with room for jokes and fun, but still serious when it came to techniques and drilling.
Now, I have just spent 4 days in Yogyakarta on Java. Before I got here I found a local gym called Core MMA. The owner, Albert Gunawan, offered to pick me up by car and drive me to the gym whenever I felt like it. It was really nice of him, and I promised to make contact as soon as I was in the city. Since Indonesia doesn't have much BJJ aside from on Bali, it's hard to find an instructor so the classes are run by one of the white belts. When I heard that, I offered to come and teach for a couple of days since I had a bit more experience. Albert is currently building up the gym in a new location, but it isn't finished yet, so we had to train another place. It turned out to be a local place where we put mats out on the floor beside a fitness gym. It looked rough but the mats were actually pretty good and it turned out to be a fine location. I was able to teach for 2 days and answered as many questions as possible. The guys didn't have too much experience, but they were really cool and eager to learn. Just as on Borneo, I quickly made new friends and it has all been a very nice experience.
Now, I'm about to leave Yogyakarta. I haven't found out where I'm going to train next, but I'm already sure I'll love it. Even if I'm not able to find a new gym on Java, I heard there is a really good one on Bali so I look forward to that.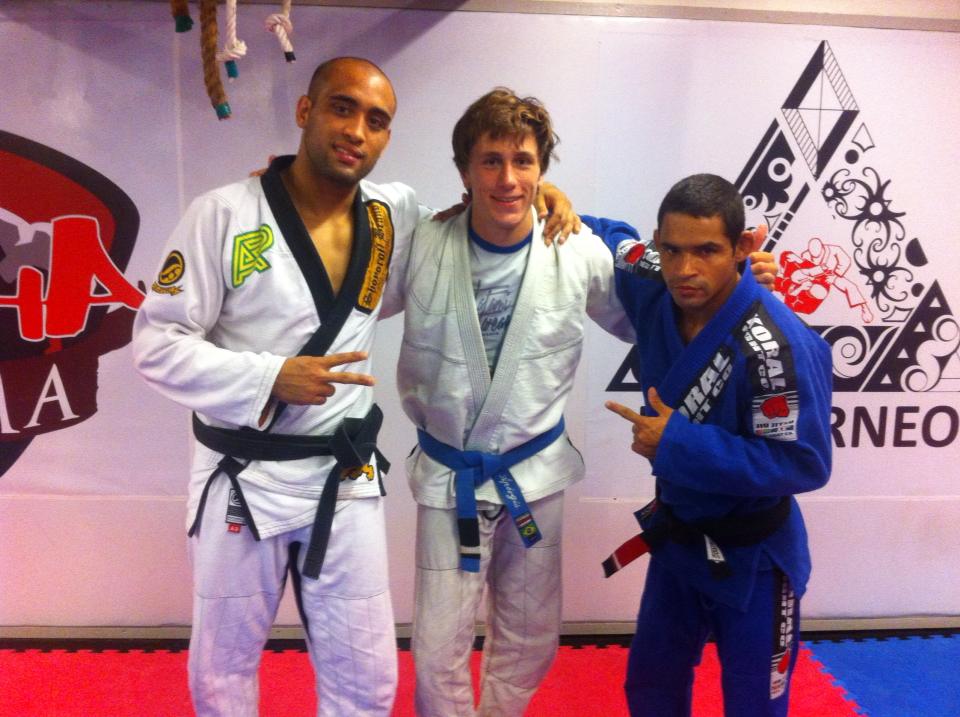 Do you have any special events or funny stories which happened during your travelling that you want to point out?
Obviously the training at the gyms and especially competing in the competition on Borneo was amazing. Aside from BJJ, I love exploring the nature and especially seeing animals in the wild has been cool. I also climbed the highest mountain on Borneo, mount Kinabalu. Never have I seen a cooler view. I'd also like to point out what an amazing tool jiu-jitsu is to meet new people and cultures. I have now been in Asia for over 6 weeks and it is most definitely through jiu-jitsu I have come closest to the local people and made friends.
Any further trips planned for 2014? 
No, not yet. This year I have travelled quite a lot to different competitions around Europe and I hope to be able to do the same thing next year. Jiu-Jitsu is really a cool gateway to new countries and cultures.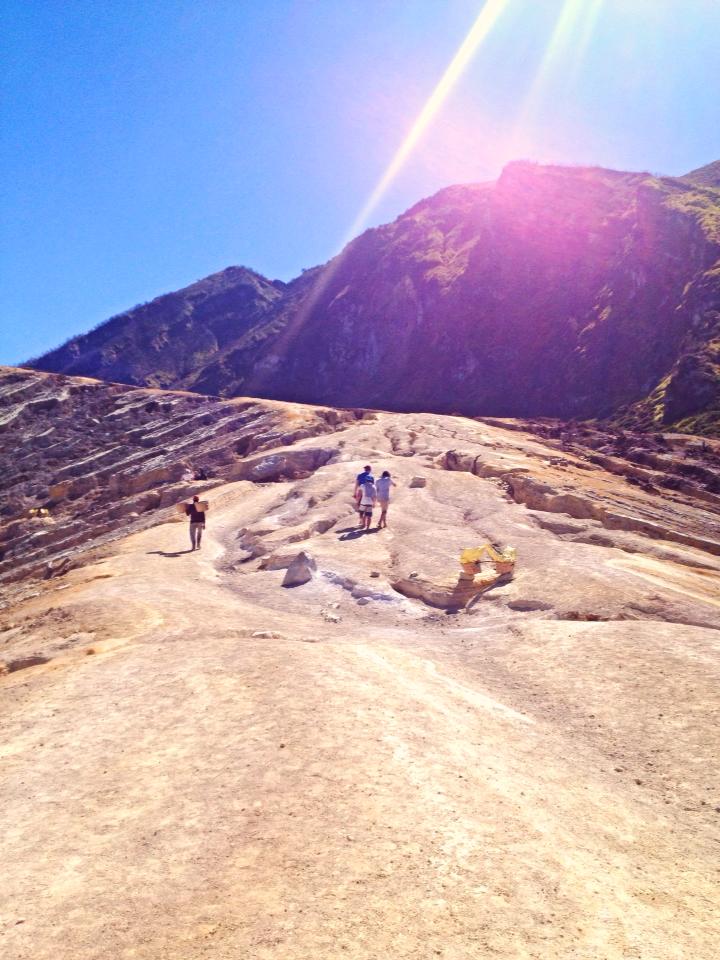 https://www.bjjglobetrotters.com/wp-content/uploads/2016/11/BJJ-globetrotters-patch-logo-234x300.jpg
0
0
Christian Graugart
https://www.bjjglobetrotters.com/wp-content/uploads/2016/11/BJJ-globetrotters-patch-logo-234x300.jpg
Christian Graugart
2013-11-12 22:25:38
2015-11-03 14:27:55
November 2013 newsletter