"Go to places you are not so much attracted by, meet the locals and discover that there is beauty in everything. Everywhere."
Tango DiNero, Jiu Jitsu Traveller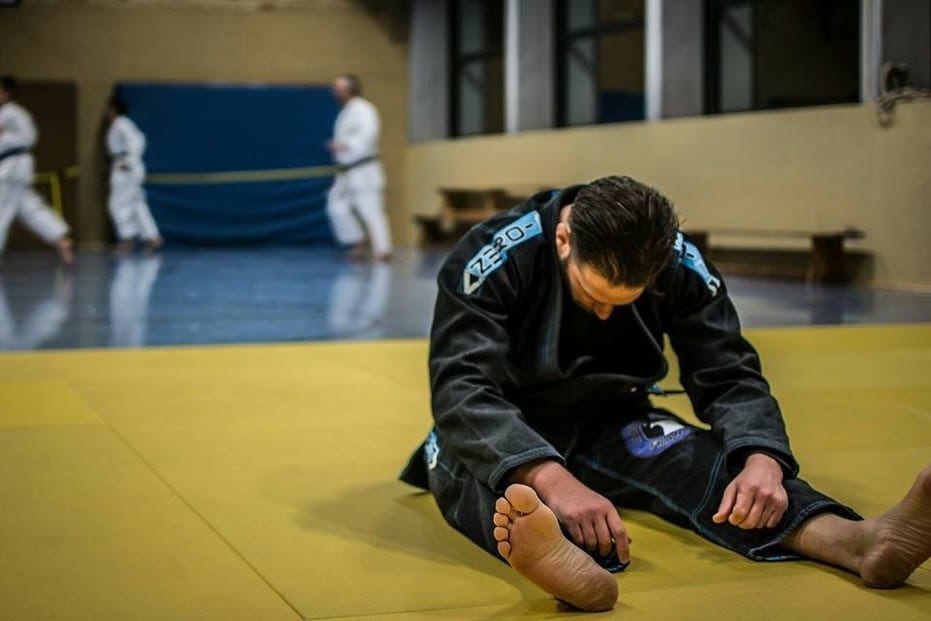 Age: I am 27 years old. Since 2004!
Belt: Purple
Profession: Police Officer in Frankfurt, Germany
How many years in BJJ: I started in late 2012, so it's been 5 years so far.
Other martial arts: Since I've seen my first Rocky movie, I always wanted to be a boxer. My parents didn't agree with that, so I actually started with Judo as a kid. That worked for some weeks till I figured out that the boxers were training at the same time at a nearby gym. So I told my parents I went to Judo but went to boxing. Those guys were great and let me train with them. Training back then meant they showed me how to move and let me 'work' the heavy bag. I guess to them I was some kind of attraction, a mascot or something like that. But that was it with my Judo career. I later really started boxing and did some Thai and Kickboxing. For job reasons I did a bit more Judo and some Ju Jitsu. Oh…and I did some Wing Chun. But just because I wanted to get to know the female trainer.
Where do you live: Gießen. That's 50kms north from Frankfurt, Germany.
Where are you originally from: Dillenburg. Just 50 more kms away
Other fun or curious information you would like to share: About me? I guess the most curious information about me is that I travel the world for BJJ while being aviatophobic. I am dying while take off and landing and most of the time the whole plane is laughing about me trying to survive. That causes some really curious situations – in fact I really hate myself on the edge of a plane journey.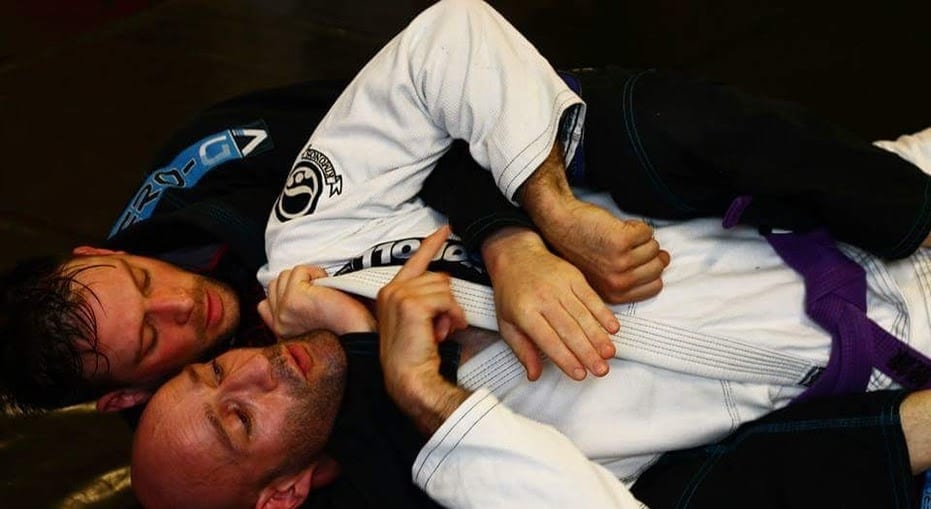 Tango DiNero BJJ
Tell us what inspired you to travel and train?
It was Mike Hartmann who brought me to BJJ and in contact with the Globetrotter spirit. I didn't know anything apart from boxing. In fact I guess I was looking for something like that since my old boxing gym closed doors. We had a really good companionship and lots of fun in training and at tournaments. That's something really rare in German boxing. As the gym was closed I missed that companionship in the new gyms a lot and found it later in BJJ. Then one day in 2015 I went to my first Globetrotter Camp in Copenhagen and that was it. Nowadays all my holiday schedule is about BJJ.
Fun fact: I started to train a small group at my hometown early this year and nowadays most of my former boxing companions are now training BJJ there. Even my old Coach!
Tell us about your most recent travel and your upcoming travel – where have you been and where are you going?
The last trip was to the Caribbean Island Camp, which was a very unique experience. I really fell in love with the island and the spirit there. Next stop will be the Winter Camp in Austria. That´s a must on every years schedule!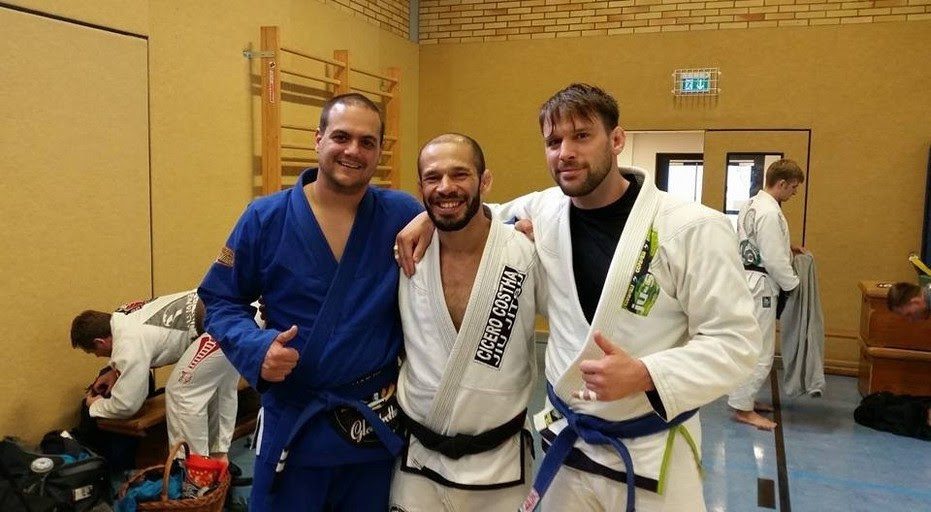 Tango DiNero BJJ
What are the things you enjoy about traveling?
I love to meet new people and see different places. I guess the very unique thing about BJJ travel is that there seems to be no better way to make new friends than to try to choke each other out. After your first training at a foreign academy you have got a bunch of new and local friends. So you really experience the place you are traveling and you are not just seeing the touristy stuff. It is really interesting to see how people in foreign places organise their living and recognising what is similar and what differs.
Can you give us some examples of experiences you had that makes it worth traveling and training?
Sometimes it is just a small thing that makes a situation special. I remember the day at the Medina in Rabat and the night in a bar in the same town. It seemed to be a clash of times. On one side the old fashioned market in the old town, on the other side a modern bar with young people partying like you are in some big city in west Europe or the USA. I remember sitting on that surfers beach in Mexico where some guy was diving for mussels. I had never had such fresh mussels before! Another great experience was sitting in a car with two total foreigners driving through eastern Poland for several hours on a way to a Cyborg seminar. Or maybe all those special moments when you visit a Globetrotter friend from one camp at his hometown. It's really hard to describe but to be honest – I don't find any reason why you should not travel and train. Everybody loves travelling. If you like BJJ it really should be no question to travel and train. You should!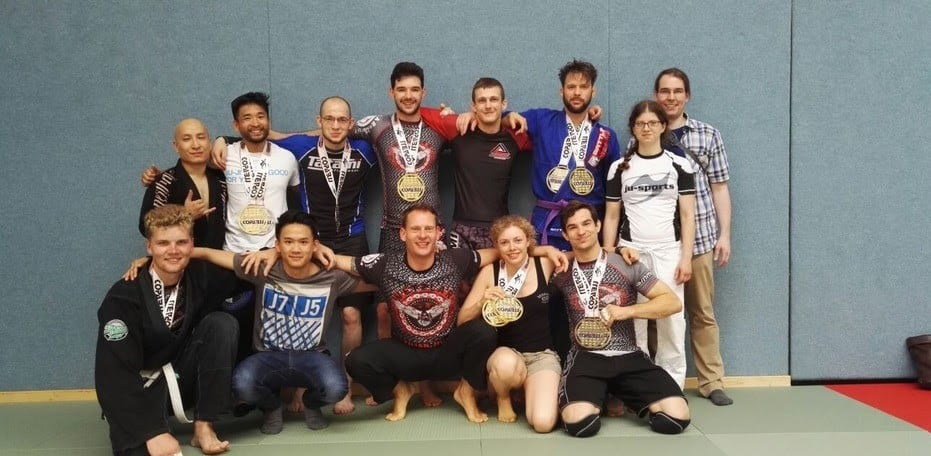 Tango DiNero BJJ
What has so far been the most surprising experience for you when traveling?
I was planning my first Poland trip in 2016 and found the Akademia Octopus in Lodz on the Globetrotters page as an affiliated academy. When arriving to my first class I had THE biggest welcome ever. You know, every academy I ever visited on my travels was super friendly and gave me a warm welcome, but nothing like that. I really felt like some super famous Brazilian black belt standing in front of at least 70 fighters and getting introduced to them. I didn't expect such a welcome. In fact I only saw such welcomes when guys like Fabio Gurgel or Cyborg showed up for a seminar but not some random purple belt from Germany. They later pretty much whipped my ass and I really did not feel like a good training partner but everybody wanted to train and connect with me. It turned out that not one of them ever was at a camp or did any traveling. They just affiliate with the Globetrotters because they like our values. And I was their first Globetrotter visitor!
Are you a budget traveller – and if so how do you plan for a cheap trip?
I am! I find it pretty easy to plan for a cheap trip. Look for countries where wages are low, Google a bit for academies and some interesting things there and that's it. It doesn't have to be some super famous travel destination – you can find nice places everywhere. When I did my first Poland trip it was just because I knew that the Polish fighters are known to be really tough fighters and the prices are low. Most facilities were amazing (much better than in Germany). Even the railway was good. I guess you guys experienced that at the Zen Camp this year. I really fell in love with the country and it's people.
If you were to pass on travel advice to your fellow Globetrotters, what would it be?
Travel as much as you can. Go to places you are not so much attracted by, meet the locals and discover that there is beauty in everything. Everywhere.
Thank you to Tango DiNero – BJJ Globetrotters for doing this interview!
https://www.bjjglobetrotters.com/wp-content/uploads/2021/02/ba50aaaa3a6b54c6038ded639c6bc726-1.jpg
621
931
BJJ Globetrotters
https://bjjglobetrotters.com/wp-content/uploads/2016/11/BJJ-globetrotters-patch-logo-234x300.jpg
BJJ Globetrotters
2021-02-22 21:32:35
2021-02-22 21:58:51
Featured Traveller: Tango DiNero – BJJ Globetrotters