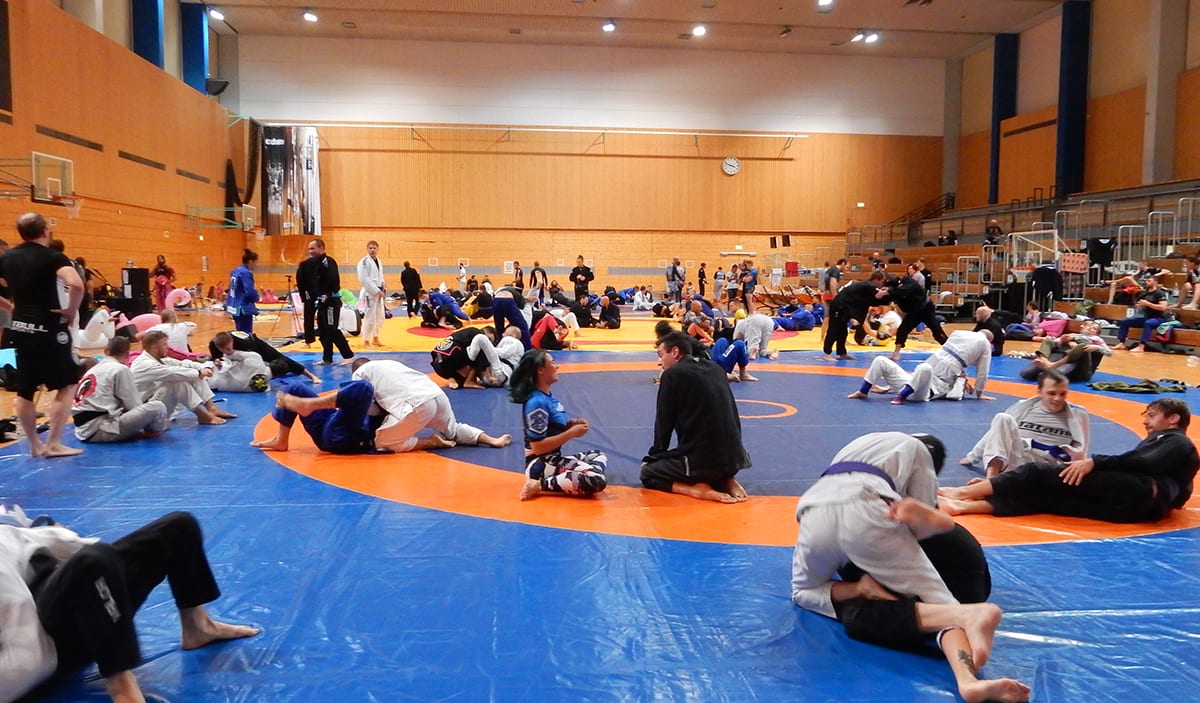 BJJ Globetrotters Summer Camp 2019 was the 4th BJJ Globetrotters camp I'd attended, and as I've come to expect was a truly exceptional and amazing experience! The week flew by in a whirlwind of rolls, classes, great conversations, laughter, catching up with old friends and meeting some new ones!
As usually ends up happening for me at these camps, I spent most of my time at the gym and didn't actually get the chance to see much of the city beyond what was along my daily commuting route. It would have been smart to book an extra 2-3 nights before or after the camp to be a proper tourist… but, I guess I didn't think of that in advance when I booked transportation and accommodations months earlier.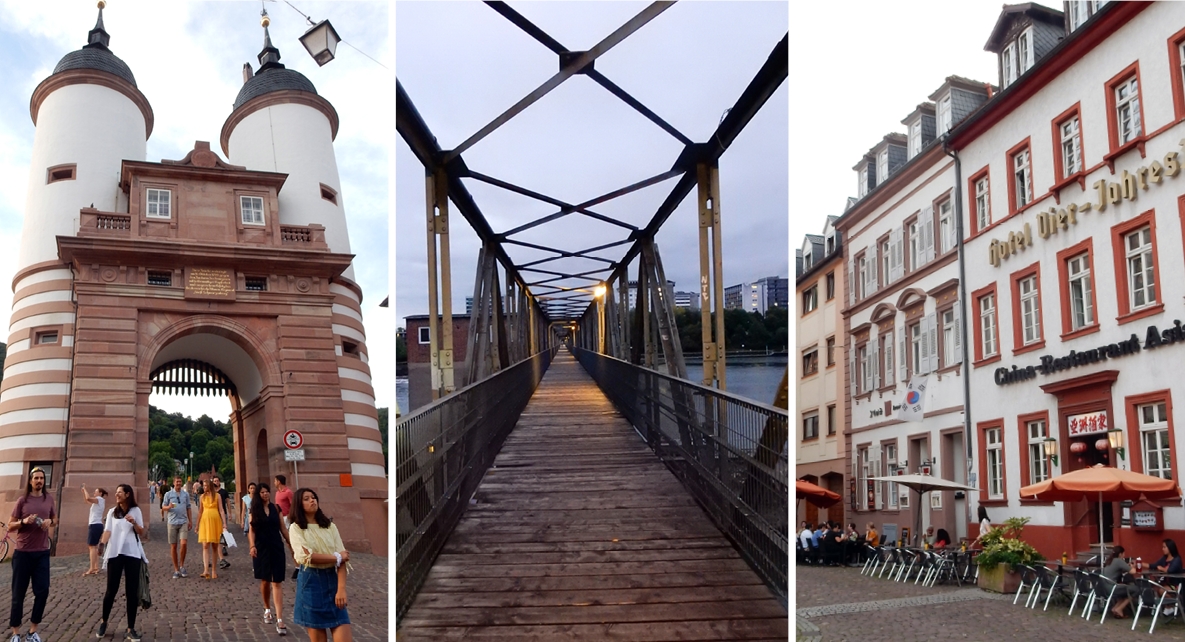 Heidelberg
Heidelberg is a medium sized beautiful old university town. It includes a handful of castles and churches, a river called the Neckar running through the middle, and is surrounded by lush green hills in the distance in every direction. The city was far prettier than I remembered from the time I previously attended Fall camp in 2017. Perhaps it's because the seasons are different – summer now instead of autumn. Or, perhaps having spent the last 6 months in South East Asia, I was now able to see and appreciate Europe with fresh eyes in a way I couldn't before.
Laundry
Being a full-time traveler, I had with me only 2 gis and 3.5 nogi outfits. I worried this wouldn't be enough for the all-day week long camp training, but it ended up working out pretty well. I used 1 gi and 1 nogi outfit per day and did laundry at my AirBnB in the evenings every two days. Since it was summer and both of my gis are the superlight Globetrotters travel version, they dried quickly enough overnight.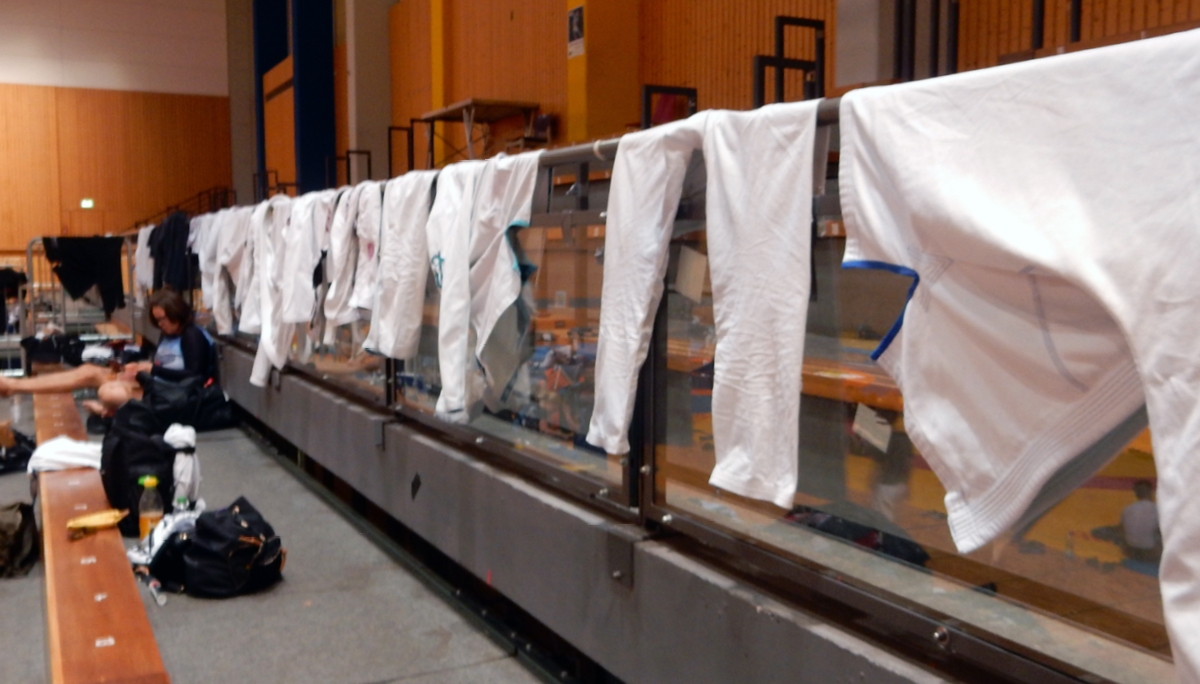 Transportation
Public transportation in Heidelberg is extremely good. It consists of trams and buses, with the main train station close to center. Tram tickets can be purchased from machines at the train stops. The machines I used accepted coins only, but someone told me that other machines accept bills and cards too. You can also buy packs of tickets or a week long pass (which begins on Monday only) at the main station. You can pay for the bus in cash to the driver when you board.
Heidelberg is also an excellent city for commuting by bicycle, with many well developed bike paths throughout most of the city. Fellow globetrotter Rich, a local of Heidelberg who I'd met online some weeks before, was wonderful enough to lend me a bike to use for the duration of the camp! This greatly facilitated my week in Heidelberg, my AirBnB room was a bit far away from the gym and city center. Giant thanks Rich, much appreciated!
Heidelberg also has an app-based bike rental service called VRNnextbike which allows you to rent bikes throughout the city. I used it a couple years ago the previous camp, was quite happy with it. You can rent bikes for hours, weeks, or an entire month, picking them up and returning them to any of the many stations throughout the city. These bikes are simple single speed only, but great for commuting around the city.
Summer Camp Days!
One of the things I love most about BJJ Globetrotter camps is the HUGE variety of activities that take place throughout the day. BJJ Globetrotters camps are very much a "choose your own adventure" format. The schedule is packed full of classes, open mats, presentations/workshops, yoga, group dinners at local restaurants, tourist outings, pub crawls, and dungeons and dragons games – just to name a few of the possibilities! Everyone has the freedom to attend as much or as little as they like. Below are a few of the activities I attended (besides lots of classes and open mats).
Conference Presentations
In addition to BJJ training in the main hall, this camp included presentations/workshops on a variety of subjects loosely related to BJJ, fitness/health, and travel. I attended the following three. There were a handful of others I was very interested in attending as well, but unfortunately wasn't very good at tracking time and somehow managed to miss all/part of those.
Create Something workshop by Christian Graugart
This was an inspiring presentation/slideshow about Christian's methodology for generating ideas and creating things.
Break dancing lesson by Charles Harriott
This was a friendly introduction to the art of break-dancing, with music and practice of the fundamental basics to get started. It was a very beginner-friendly class easy to follow even for people who have no rhythm or dance background like me!
Physical Therapy talk by Mike Velotta
This was an informative overview of neuromuscular therapy, body maintenance, and how structural imbalances in the body can lead to all sorts of pain and problems.
Dungeontrotters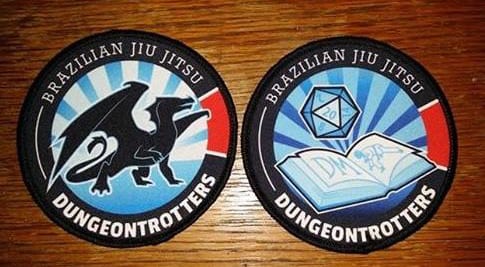 Possibly not something you'd expect to find at a BJJ camp but there's actually a pretty big group of people who play Dungeons and Dragons at BJJ Globetrotters camps! Some are more experienced veteran players while others are total newbies playing for the first time. Can Sonmez (of Artemis BJJ in Bristol) is the unofficial organizer of these. I'd met Can at my first Globetrotters Camp in Leuven two years prior, never having played D&D before myself but interested to learn, and have been participating in the games a couple evenings every camp ever since! There are even two special patches available for players who participate in an in-person game at camps – one for regular players, and one for dungeon masters (the person in charge of the story and running the game)! For more info, check out the BJJDungeonTrotters Facebook group online.
This camp's campaign was led by dungeon master Eva Gratze, a masterful storyteller who always takes things up a notch with beautiful costumes for extra game ambiance. We played on two different evenings with an pretty large group (7 players, whereas I'm used to 3-5). I unfortunately accidentally killed my character by the end of the second night (a first for me!), but as always had a wonderful time and lots of laughs!
Evening with the BJJ Globetrotters Ladies
One evening of camp, some of the ladies got together for an evening of snacks, face masks, and nail polish to get to know one another. As a minority in the sport, it's always a pleasure to meet and chat with other women who train!
Local Restaurant
I attended one of the organized Globetrotters local restaurant dinners at a brewery near the city center called Vetter's Alt. The food and beer there were great and I had a fun time meeting and chatting with some people I'd not previously met, or had not seen much of during the earlier part of the camp. I would definitely have wanted to attend more of these dinners, but waited too long to RSVP and spots filled up quickly! 
Black Belt Rolls Mini Quest!
On the second day of camp, I decided to go on a small quest to roll with as many black belts as possible for the remainder of the camp! I wasn't sure how many there actually were in attendance. 23 were listed on the camp roster as instructors, but I'd also met a few additional black belts as guests, so there had to be at least 25 present. So, I attended as many of the open mats as I could and began actively seeking out black belts! This ended up being a little more challenging than I expected, since all black belts weren't present at every open mat, were sometimes incognito in unranked rash guards, or were already busy rolling with others.
In the end, I managed to roll with 17 black belts! I learned something valuable from each and every one and actually feel like I improved my skills more on this mini quest than I normally would in 4 months of training. In the past, I was a little shy about asking higher belts to roll but see now there's really no need for that, especially not at BJJ Globetrotters camp which specifically fosters an ambiance of inclusiveness and community. Everyone I asked responded quite positively and was very willing to roll. In the future, every chance I get, I won't hesitate to ask the higher belts (including the black belts) for rolls!
Irish Collar and Elbow Competition!
Ruadhán MacFadden had spent the previous year studying modern and ancient styles of grappling from around the world and compiling some really incredible map and documentation of these (check out The Hero with a Thousand Holds). On the last day of camp, he gave a class called "Magnificent Scuffling" about an extinct Irish grappling style which he'd reconstructed using ancient texts and images. Winning a round consisted of starting a match gripping collar and elbow, not releasing the grip until an opponent was on the ground, then pinning 4 points (shoulders and hips) to the ground for 3 seconds. Following the class was a series of 6 "superfights" following that ruleset, complete with medals for winners and participants! The last recorded round of this sport was the Collar and Elbow championship in Chicago (USA), so these were the first official matches since 1877!
Crossface – First Ever BJJ Band!
The final day of camp at the gym ended with a giant 3 hour open mat and live band called "Crossface" made up of Globetrotter camp participants, with Christian himself on the drums! They'd been getting together to practice in the evenings a couple times during the previous week, and sounded amazing! Which was really quite impressive given how little time they'd actually had to practice together. The open mat was paused for one of songs so all the participants could take part in a mosh pit. Great fun!
50th Camp Party!
This being the 50th Camp, the end-of-camp party was a little extra special this year, located at event venue Altes Hallenbad downtown with guests in mostly formal attire. There was stand up comedy, a breakdancing competition, and a bodybuilding competition, done by Globetrotter participants! There was also a professional photographer taking pictures all night. And of course, lots of dancing!
Blue Belt Promotion!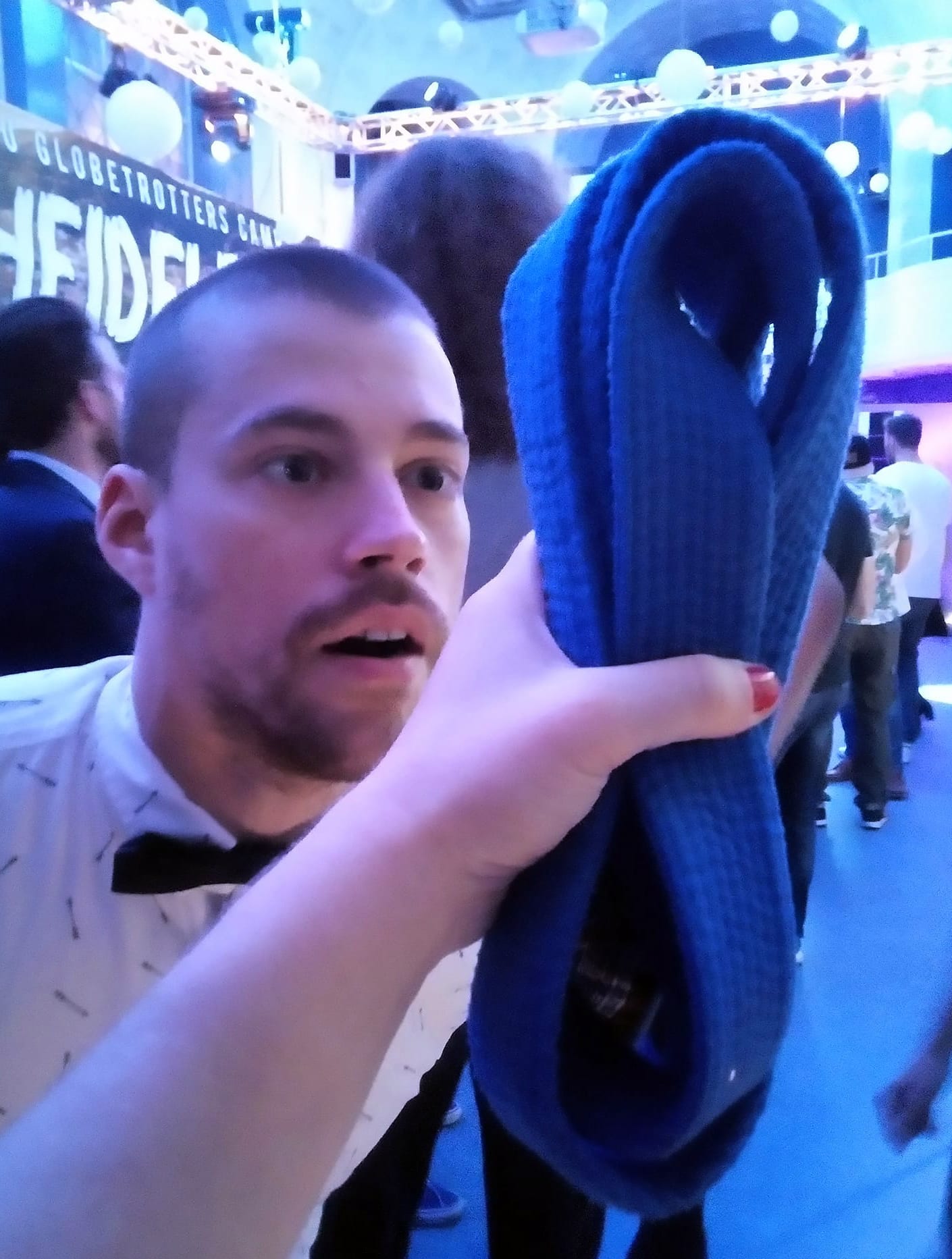 At the final camp party, the Council of Traveling Blackbelts gave me the immense honor of being presented with blue belt! It was the most perfect ending to an incredible week of training with very many extremely talented people from around the world. Needless to say, it was a very proud moment with a huge sense of accomplished after so many hours of training, rolls, taps, and repetitions over the last couple years. Receiving a blue belt also feels like just beginning, an acknowledgement that I'm committed to the sport and now have some basic understanding of the fundamental concepts. It feels like the tip of the iceberg, a framework onto which layers of detail, precision and refinement can start to be added. Now the real training begins!
Looking back at the last two years, I'd just like to take a moment to give a giant thanks everyone who's welcomed me to train at their groups (53 gyms in 14 countries!), and to all my instructors and training partners who have shared their insight and knowledge with me along the way these last years. I didn't imagine a sport would have such a big impact on my life, and am so grateful for the doors it's opened and for all the amazing people I've met in connection to it. It's been an incredible last couple years!
Addendum
As always after a camp and participating in such an immersive experience, it's a little hard to get back to normal life and I can't help feeling a little sad that it's over. The "post camp blues" are a very real thing! Fortunately, Arizona camp was coming up in just a couple months more. In the meantime, I was on my way to Belgium to visit my extended family who I hadn't seen in over a year, then off to Spain for 6 weeks. So, the journey continues, with no end to fun things to look forward to!
https://www.bjjglobetrotters.com/wp-content/uploads/2019/08/sabine-heidelberg-summer-camp-2019-rolls.jpg
703
1200
Sabine
https://www.bjjglobetrotters.com/wp-content/uploads/2022/06/bjj-globetrotters-logo-header-1.png
Sabine
2019-08-07 09:34:26
2020-06-28 12:14:24
Heidelberg Summer Camp Days!