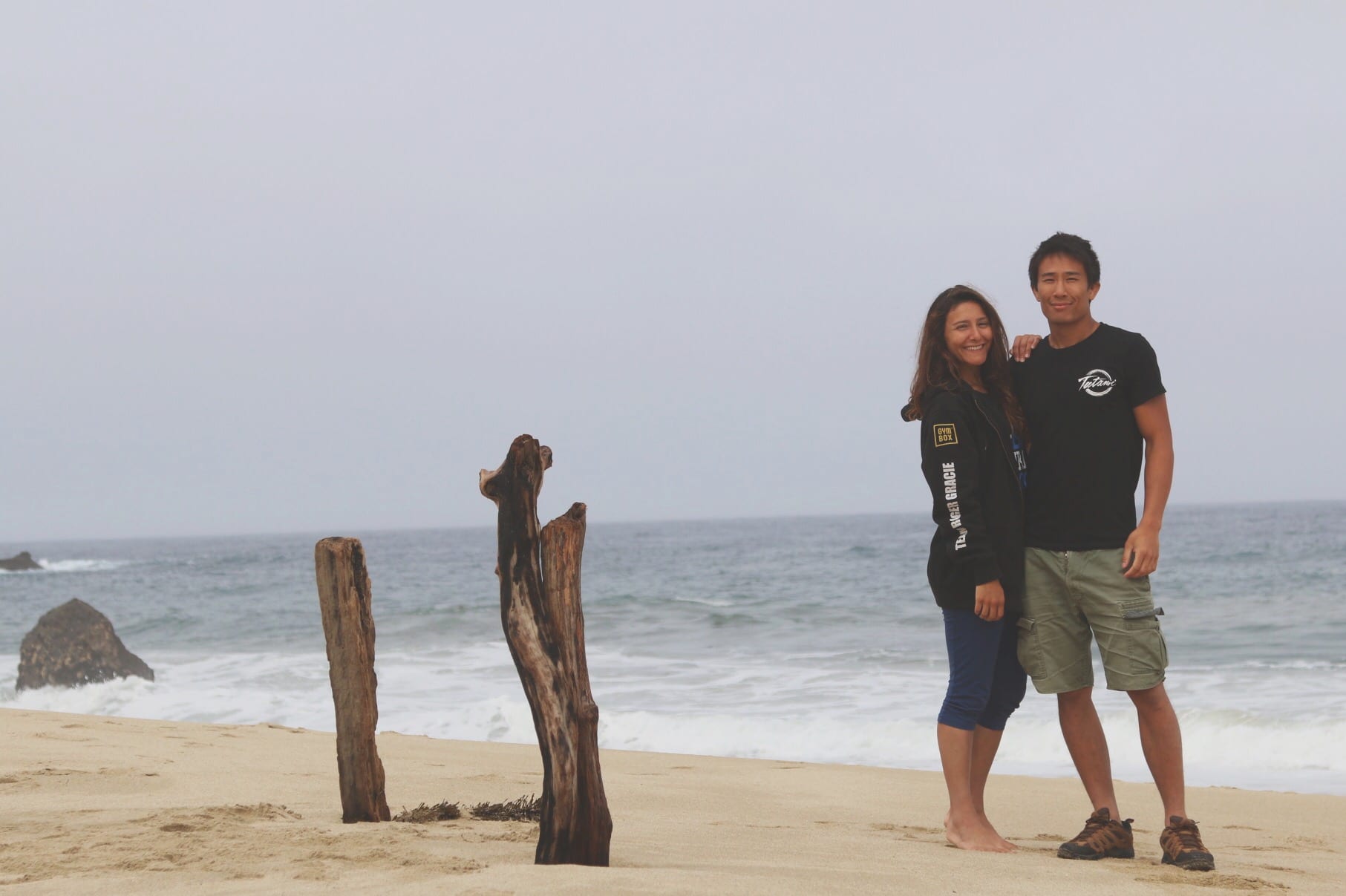 We were sad to leave San Diego and Atos in the end, but we were excited to start our road trip up the West Coast, stopping by LA to train at 10th Planet HQ, then through Big Sur to Yosemite for a few days off training for my birthday. 
10th Planet HQ
In LA we chose to train at 10th Planet HQ in downtown LA, which took us about an hour to drive to from where we were staying in Long Beach (it's also on a bit of a quiet street which took us by surprise). A day pass will put you back $30 and you can only buy it online and not in the gym itself, which is basically just the big mat space and the bathrooms/showers.
We wanted to meet the man Eddie Bravo himself (we had spent the morning watching the recent mini-doco on him 'Building an Empire' as well as the hilarious 'Flat Earth' Joe Rogan interview with him in preparation), so we arrived at the gym in the evening so we could take one of his classes – he teaches the advanced classes on Monday to Thursday nights, as well as the morning classes on Tuesdays and Thursday's. However, the advanced class moves fast and unless you're very familiar with the 10th Planet style, terminology and know the set warm-ups, try go to the Fundamentals class first as you will get more out of it.
Alessia was a bit nervous as she isn't too familiar with the 10th Planet style, and while I've always been a big fan – my brother Gavin, who introduced me to BJJ in the first place, was obsessed and was always trying out rubber guard and lock down on me as a white belt – and even though I've also trained a little bit with the guys in London and Amsterdam, to be honest the advanced class was too ambitious for us technically. With some guesswork we somehow managed to follow along enough to not slow the class down though.
When sparring time came, things felt more familiar and I had some fun rounds with the guys there. I managed to catch a few subs while only being heel-hooked once. Before leaving London my coach Ross was heavily focused on heel-hooks and counters in preparation for his Polaris fight with Oliver Taza in August, so that definitely helped a lot in those rounds at HQ.
It was cool to meet Eddie – He seemed like a nice guy and was welcoming enough, although we didn't get to talk to him much and he wasn't rolling himself due to injury. The students in the class were more friendly and talkative though. Nathan Orchard and Phil Schwartz were also there visiting, and I had a really good round with Phil who gave me his card and invited us to train with them if we ever passed through their way.
Disneyland and Six Flags
LA was crowded, huge and expensive, so we decided to go to Disneyland while we were there for more crowds, more driving and to spend more money. It was totally worth it in the end though as we had a lot of fun and it felt like being a kid again.
The rides were awesome (Indiana Jones ???) although a bit more entertaining for kids than adults, and Alessia said she wanted more intense roller coasters so we ended up going to Six Flags Magic Mountain the next day to get more of an adrenalin kick. It turned out to be 45 degrees Celsius that day, so fortunately that kept the crowds away. Unfortunately it meant we were reduced to a sloth-like, lethargic state somewhere between kidney failure and heat stroke in between rides. But those rides, they were insane – Even though it was Alessia's idea she was freaking out on most of the rides. Our favourite was easily the Full Throttle where you accelerate to 70mph in a second ?.
We ended up staying in Long Beach because it was cheaper, but we didn't account for LA traffic so it took us forever to drive anywhere. We briefly did the usual tourist stuff like visit Hollywood, drive through Beverly Hills, hike up to the Griffith Observatory for the view, but we weren't really loving LA, so we decided not to stay too long.
Pacific Coast Highway and Big Sur
After a few days in LA we packed up the car and started heading up the coast along the infamous Pacific Coast Highway (PCH), which traces the epic coastline from LA to San Francisco. It's an extremely popular route, but unfortunately due to a major bridge collapse and severe landslides the past year, a long stretch near the middle of the route around the Big Sur area is closed off to vehicular traffic while they work on the repairs. The area in between is effectively an island virtually cut off from the rest of the region until the infrastructure is restored. That particular part of the coast also happens to be some of the most beautiful in all of California, and this has hit the local communities which rely on the tourism pretty hard – but also given birth to a few unique opportunities for those still keen to visit.
After going as far up the coast as we could from LA, stopping in beautiful Santa Barbara for lunch and Pismo Beach for cinnamon rolls on the boardwalk, we detoured inland to the 101 and continued North to Aromas, a small town where we spent the night.
The next day we drove back to the coast near Monterrey, on the North side of the PCH closure, and worked our way down to Pfeiffer Big Sur National Park.
After a short but steep 40 minute hike, we arrived in Loma Vista in the closed area and rented electric bikes from a company called Big Sur Adventures ($50 for a half day), and rode down one of the most epic parts of the PCH which is closed off to everyone else, ending at the McWay Falls.
In normal times, the PCH would be full of cars and impossible to enjoy at a leisurely pace. Now we had it all to ourselves, the only thing breaking the peace and serenity being the occasional ranger car and noisy seals.
Yosemite National Park
After spending a couple days in the area, we borrowed some camping equipment from a friend and set off for Yosemite National Park. I'd always heard stories of how beautiful it is, so I was dying to go and really excited to be spending my birthday there. Apparently everyone in the States had also heard those stories, as the park gets insanely busy in Summer, with some people booking their camping sites 6 months in advance. All the grounds inside the park were full, but we managed to snag one just 5 minutes drive from the Big Oak Flat Road entrance. We arrived around lunch time, checked into the campground, set up our tent and headed off the to park to do the Mist Trail up to the epic Vernal Falls and Nevada Falls and back. We started hiking at 4pm so we had the trail pretty much all to ourselves, which was absolutely incredible. We got soaked in the falls and arrived back down at the trailhead just after sunset and started the long drive back to camp where we had a dinner of 50c instant noodles cooked on a tiny camp stove to reward ourselves. ???
Over the next few days the hike up to Cathedral Lakes through icy forests, climb to the top of Lemberts Dome for a stunning 360 panorama of the park, and check out the views from Taft Point, the Fissures and Glacier Point. There's just so much to do in the park you'd ideally need to spend a few weeks there to do it all properly.
I really wanted to do Half Dome, but we hadn't gotten permits in advance and we didn't really have enough time – while you can squeeze it into one day it's a tough 12 hours and best done as a two day trek (one for next time!).
One other thing Yosemite is also famous for its Black Bears, there are signs everywhere warning people to keep their food in secure bear-proof bins and to be wary of any encounters. On our second day in the park, while hiking back down from Lembert's Dome we spotted a deer running across the trail in front of us and started joking that maybe a bear was following it, only to turn around and eat those words as there was indeed a bear seemingly following the deer. To be fair, it looked profoundly disinterested in us, but I didn't get a chance to take a photo. Alessia was starting to freak out, so we started hiking down the trail at double speed, talking loudly and clapping our hands to make noise while Alessia was repeating 'don't look at it!' any time I turned around to see if it was still there or following. As if by not looking at it, it wasn't real ???
While the park was completely full, we were quite lucky that all the trails we did felt quite empty. On the last day we did some of the more touristy spots that you could drive to and found mini-hordes of families who were definitely not doing much hiking or exercise, but could probably do with some. But for the most part, it felt like we had the park to ourselves and it was a peaceful interlude from the pace of the rest of our trip to date. We regretfully left Yosemite for what would be the last leg of our trip in the States: San Francisco and training at Caio Terra's academy in San Jose.
But maybe one day we'll be back (i'm looking at you, Half Dome!)
Marcus and Alessia
Instagram @marcust.bjj and @alessiabjj
https://www.bjjglobetrotters.com/wp-content/uploads/2017/07/IMG_0996.jpg
1207
1813
Marcus and Alessia
https://www.bjjglobetrotters.com/wp-content/uploads/2016/11/BJJ-globetrotters-patch-logo-234x300.jpg
Marcus and Alessia
2017-07-25 07:30:11
2017-07-25 08:54:08
West Coast Best Coast part 2: LA, Pacific Coast Highway and Yosemite