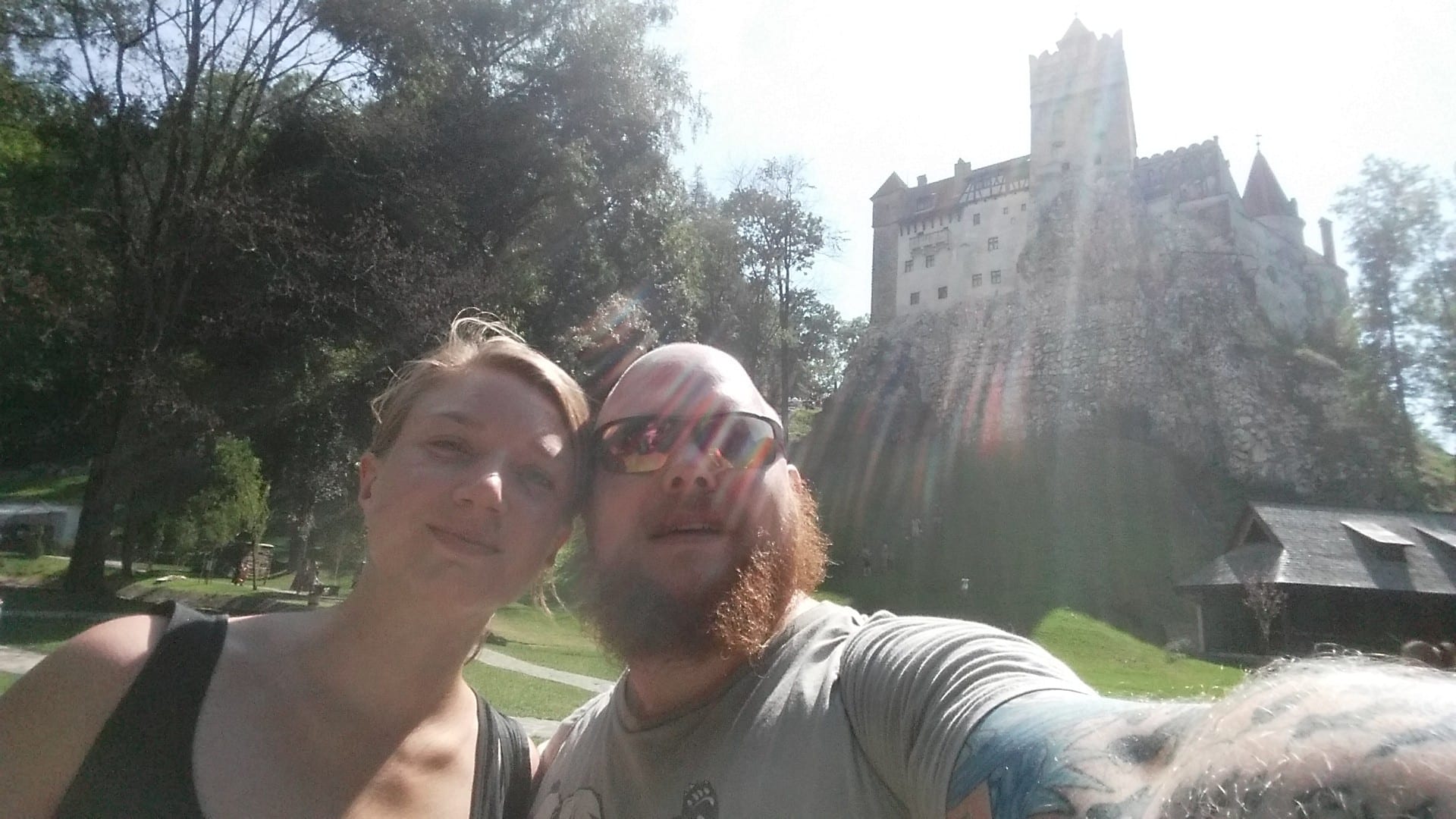 Greetings From Bucharest Romania! (13-21 Aug 2017)
I left on a train from Iasi for Bucharest, looking forward to Meet and train at the Absoluto BJJ HQ that Mihai talked so much about, little did I know how much plans would change in the coming days. The train route I was taking involved a transfer at one point, at a station in the middle of nowhere where no one spoke English and there was no wifi. I'm glad I had my ticket printed to show to people so they could at least just point to the platform. I had over an hour to wait for the next train, even after all the time it took to figure out which platform it was arriving on. The train I was connecting to was quite late so I was worried I had missed it, maybe I was on the wrong platform, maybe the previous train was the one I should have boarded, not until I was assured by a conductor that I was on the right train did I finally relax.
It was evening by the time I arrived in Bucharest, I was tired and starting not to feel too well. At first I decided to take a taxi rather than figure out the transit system. I walked outside to the one of the waiting taxis and asked how much to get to the the hostel I was staying at, which wasn't that far. I was told an outrageous price so I asked if he would put on the meter as I knew it be would no more than half the price he asked. He refused, telling me it would the same and then telling me it doesn't work, so I told him he's crazy to ask that much and went to the next taxi who also asked for an outrageous price. When I asked him to run the meter instead he told me "Meter? No, it's Sunday, and in the evening, and it's doesn't work well.." because apparently all the meters don't work well when it's a Sunday evening. I had seen on Google maps on my phone that there was a train station nearby, so I said loud enough so other people exiting the train station could hear me "That's a stupid price, I can take the train for way less" and walked off toward the subway. I got to the hostel easy enough and settled in, ready to sleep and plan out my visit in Bucharest. 

Staying In Bucharest And Taking A Break
I woke up still not feeling well and decided, with the BJJ Globetrotters Fall Camp around the corner, which would be my first camp attending, I would skip training and relax. Hopefully I would feel better for the camp I was so excited for and just take in the sites in Bucharest. I spent some time looking online at the sights and monuments in Bucharest and decide on which ones to see and film and take pictures of, over my time visiting Bucharest I got to see a lot of the city, which has a lot to see.






Unfortunately my memory card on my phone glitched during this trip and I lost most of the pictures, luckily the videos I took were all intact and I was able to make this video. To watch the video you can head to the Panda's Odyssey YouTube Channel. Share some love and like, share, comment or subscribe to the channel!
You can also see what ever pictures I managed to save from this trip on my Flickr Account.
Meeting Leonie
During my stay at the hostel in Bucharest I met Leonie, a German woman on vacation checking out Romania. We went out for food one day and wandered about taking photos of the city, I had a picture (that I lost) of the top of a building that was riddled with stray artillery fire from the war. It was cool wandering with Leonie as she would pick out little details from buildings like that, we would guess what the old buildings are before reading their signs, or talk about what they might have been before. Many good times were had hanging out with her so when she mentioned she was off to Brasov to see Transylvania and Castle Bran, Dracula's castle, and asked if I wanted to come along I couldn't refuse. Throughout the trip Leonie had her camera with her taking all sorts of great photos, you can see her blog on the vacation and all her awesome photos from our adventures HERE. I'm so glad I met her at the hostel as I probably would have just sat there watching Netflix otherwise, thanks for the good times Leonie, until we meet again!

Adventures In Brasov
With the new plans to head to Brasov we headed out to the train station in the morning and picked up tickets for the next train that wouldn't be for some time. After grabbing a coffee and waiting we decided to head to the platform we thought we were informed to wait at. All the boards were in Romanian and neither one of us could read what they said so we were going off of the broken English instructions from the ticket desk. We walked out and sat down and waited, and waited. Other trains came and went and finally after about 30 minutes past when our train was supposed to be in Leonie went to go find out what was up. She came back in hurry to tell me we had missed our train that was on another platform and if we hurry we can exchange for the next one that is coming soon. We walked back to the ticket desk to see there was a big line up, it took forever to get to the front, so much so that when we finally got out tickets exchanged we had to run back to the platforms in order to catch our train. It's funny now picturing us running "Is that our train?!" "Platform 6, right?" "Wait for us!!" We hopped on just in time found a seat and sat down, each taking a big sigh to finally be on our way to Brasov. After about 5 minutes of us being on the train now out of Bucharest Leonie asked "Did you read the sign on the train? Are we on the right one?" Which then led to us anxiously waiting for another 10 minutes for the conductor to come by and check out tickets. We were in fact on the train and all was good.



We were staying in different hostels since I booked mine last minute but both were walking distance from the train station. Leonie's was closer so I walked her there and we agreed to meet later, in an hour or so time from then, and get some exploring in while the sun was still up. Neither one of us had data on our phones so we would have to use the wifi at our hostels, once Leonie sent me the message she was leaving to meet me there was no way to for me to tell her if there were last minute set backs, or for her if she got lost on the way. Luckily Brasov isn't very big and the meeting area, in the main street tourist area, was pretty straight forward, and also I tend to stand out, so we were able to meet up easily enough. Navigating around the town on the other hand was a bit of pain at times especially when we were trying to find a path up to the fortress or use the buses, but we managed and had a great time wandering the town and checking out all the old buildings. Leonie had a thick Romania tourist guide book so we had all sorts of information about the area at our fingertips, I shot us walking around and sight seeing and with the added information to what were looking at it gave a new depth to appreciating the old architecture and history of Brasov and Bran. As I said earlier my phone glitched and I lost all the pictures of the area but at least Leonie has a great collection of photos on her blog of our adventures, which you can see HERE. There is also the video I put together below you can watch over at the Panda's Odyssey YouTube Channel.
Let's Go See Dracula!
I was looking forward to seeing Dracula's Castle, even though I knew it was nothing like the movies and Vlad didn't actually live there. It's a monument to a source of a piece of classic literature as well as a historic symbol to one of the most interesting and influential people in Eastern European history. Vlad III (The Impaler) seems like such a fictional character and with his life being the source material for Bram Stoker's Dracula, it's hard to distinguish fact from fiction. To be honest I didn't read too much of the information posted in each room explaining and separating the two as I didn't want to ruin the illusion I've had since childhood. In my mind I walked through a castle of a real life vampire that Van Helsing defeated. The castle itself, in actuality not near as huge as described in the novel, was the setting for 'Dracula' so being there and walking through it as I learned more about it's connection to the real Vlad III was a great experience. I wonder what the townsfolk thought of this place back in the day, maybe they had their own stories of what went on in that place they would tell among each other before Bram Stoker's novel swept the world.


The next day after Leonie and I got to Brasov and did some evening exploring started early. We met up and made our way to the bus station that would take us down to Bran, it was a bit difficult getting there at first as we had to use a city bus to get across the town to the station and the bus routes are a bit confusing. We made it with only having to ask the locals a few times for reassurance that we were going the right way and on the right bus. Besides that we got to castle Bran without too much of an adventure. When the bus pulled up to the castle we could see the clearing in front was busy. There's a big market selling all kinds of shirts and souvenirs and snacks (even a haunted house!) at the base of the property that the line to the castle goes through. We walked around all the stalls and it was hard not to buy anything, especially a shirt, but somehow I held out and settled later on buying a Castle Bran patch to add to my collection. The castle tour itself was interesting, with some great views of the area from the top, but way too packed with other tourists. There were was really interesting rooms, like the room explaining the fact and fiction of Vlad III and the room with his old armour and weapons and most well known outfits, but there were so many people around that there were times where we had to wait forever to get a decent picture or wait a long time just to move to the next room or be able to read a sign. I'm glad I went with Leonie and got to see this place and I would absolutely love to go to their Halloween party, but I do think they need to monitor the amount of people they allow in at a time. I put together a video of the castle tour that you can see over on the Pandas' Odyssey YouTube Channel.   
If you're a fan of the music I use in my videos it's from my brother's band Phantom, give them a listen and a follow or grab their music at their Facebook Page if you like.
After such an awesome time exploring with a new friend it was time to head back to Bucharest, I had only come up to stay 2 nights, time enough to explore with Leonie. I had to head back and get my things ready, I was about to head off back to Heidelberg Germany for my very first BJJ Globetrotters Camp, which I wrote about in my 'Seminars & Camps' post. If you haven't read it before be sure to check it out, I did an interview with Christian Graugart about the camps and Globetrotters organization as well as my take on the camps and how awesome they are. My next article takes place after the camp when I returned to traveling around Eastern Europe, starting at Sofia Bulgaria.
Until next time,
see you on the mats!
OSSS!!
WAYS TO SUPPORT PANDA'S ODYSSEY!
Sign up to the Panda's Odyssey Patreon Account.
Buy Panda's Odyssey Patches at The Gi Hive.
Buy a shirt at Panda's Jiu-Jitsu Store.
Follow me and other traveling Jiu-Jitsueros at the BJJ Globetrotters blog section.
Subscribe to my YouTube Channel.
Check out my full photo albums for each article at my Flickr account.
Add me and follow along on most social media @pandasodyssey
https://www.bjjglobetrotters.com/wp-content/uploads/2018/02/20170818_150702-1.jpg
1080
1920
Robert Barker
https://www.bjjglobetrotters.com/wp-content/uploads/2016/11/BJJ-globetrotters-patch-logo-234x300.jpg
Robert Barker
2018-02-14 15:54:20
2018-02-14 15:54:20
Bucharest, Brasov and Castle Bran