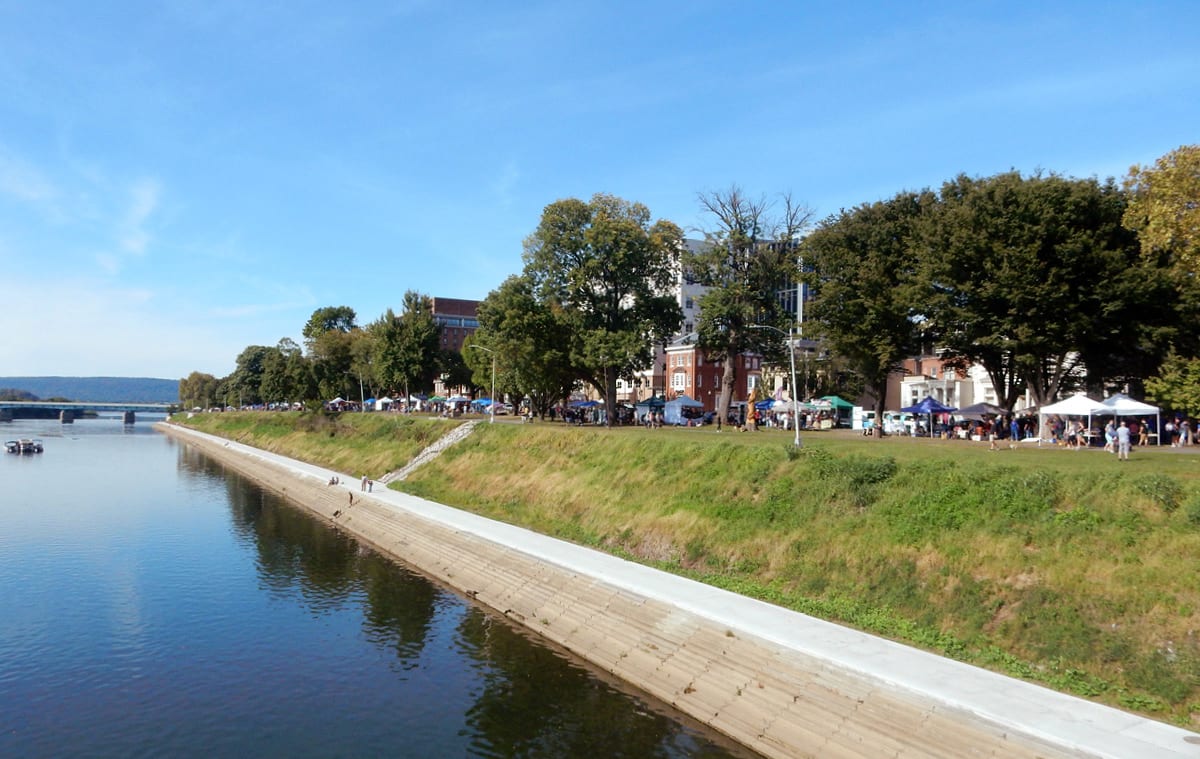 Back to the US! New York City & Harrisburg
East Coast Friends
With fall arriving in Europe (I hate the cold) and the first ever BJJ Globetrotter camp in Phoenix (my home town!) on the horizon for the upcoming month – it was time to head back to America! There was still some weeks before camp though, so I took a little detour on the way back from Spain to Arizona to visit a few friends along the way, and to see a few new US states!
One of my dearest and closest friends Rebecca had recently moved from Phoenix to Harrisburg (Pennsylvania) upon graduation from dental school, and had invited me to come visit and stay at her place. After a little searching, I was able to find a cheap flight from Spain to New York City (NYC), so we decided to meet there and stay overnight before taking a train back to Harrisburg, together.
I'd never been to NYC before, and it had been on my list of US cities to visit for quite some time now. As chance would have it, another good friend of mine, Jeemin (originally from Phoenix as well) now lived in NYC. Upon hearing we were planning this trip, she instantly very generously offered to host us and to take the day off to show us around!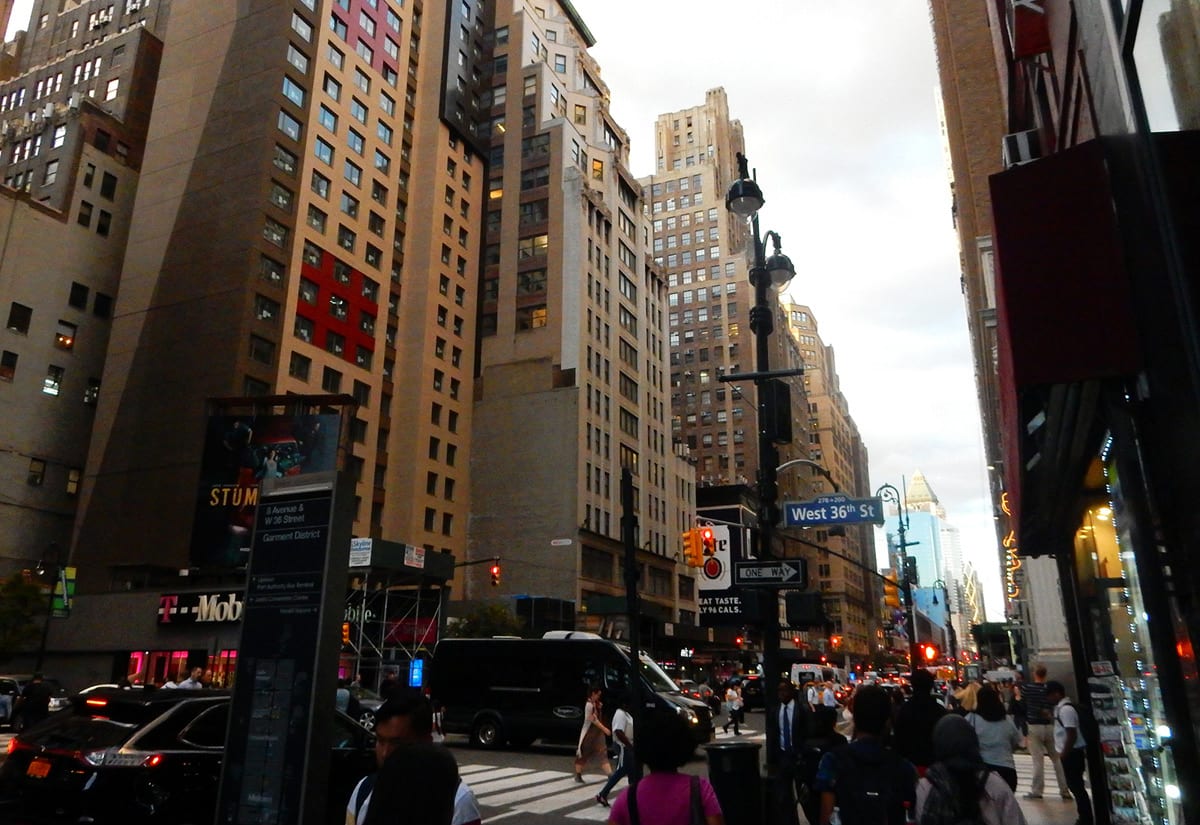 New York City Mini Trip!
I stayed in NYC one night, just enough to take in the ambiance and get a few impressions of this great American city I'd heard so much about. NYC did not disappoint! I can definitely understand why people fall in love with this place – it's one of the most lively, colorful, cultured and diverse cities I've ever been to, massive and modern with a rich history. The food is great with many very cute cafes and restaurants throughout, and the public transportation is excellent!
I didn't get the chance to train in NYC, which is a little unfortunate since there are many top gyms with very prestigious instructors in the area. But, since I was only in NYC one night (not even two full days), I opted to spend the short time being a tourist with friends instead. Below are a few of the specifics sites we had the opportunity to visit.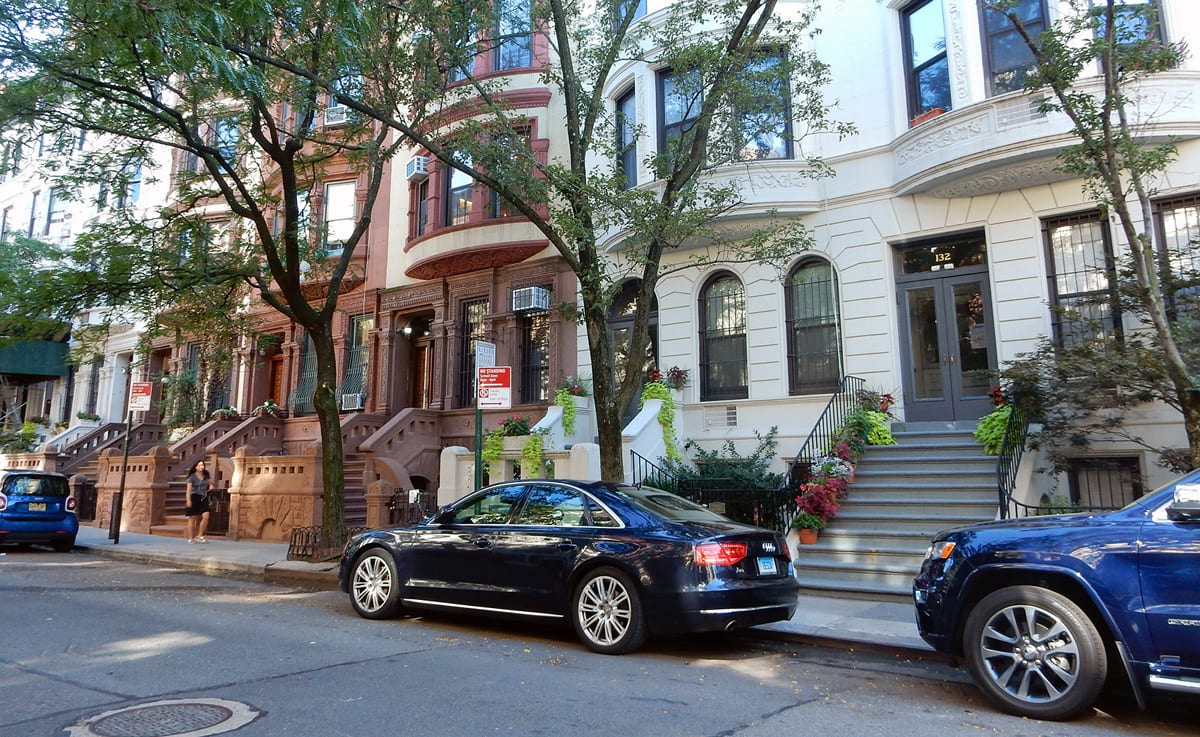 Luggage Storage
I was traveling with my usual full backpack plus suitcase. Wanting to make the most of our short time in NYC, it didn't make sense to go to Jeemin's apartment to drop off my luggage, nor did I want to carry it around all evening. So, we left it with one of the baggage storage places instead, which worked out really nicely. There are many of these throughout the city, which are actually regular businesses that very conveniently double up as luggage storage. A quick search revealed many in the area, I reserved one in advance. It was quick, easy, secure and cheap (about $11 to store luggage overnight). One word of caution – do double check the drop-off and pick-up times if arriving very early or very late, since these follow the regular business hours of the store and are closed at certain times.
9/11 Memorial
This is the location of where the twin towers used to stand. In the place of the buildings, there's now giant square holes going many meters down with water pouring over the edges into a pool at the bottom, with the names of the victims engraved on plaques along the edge. The memorial was unfortunately closed by the time we arrived late in the evening, and was also additionally temporarily closed for restoration to the plaques with names that week, so the lights were off and we couldn't get up close to the railing or peer over the edge. But, it was still pretty neat to see it from a distance, and to stand at the site where such a momentous event took place many years before. I was actually a little surprised at how small the perimeter indicating what used to be the base of the buildings were – I didn't imagine such tall buildings could possibly stand so high on such a small base.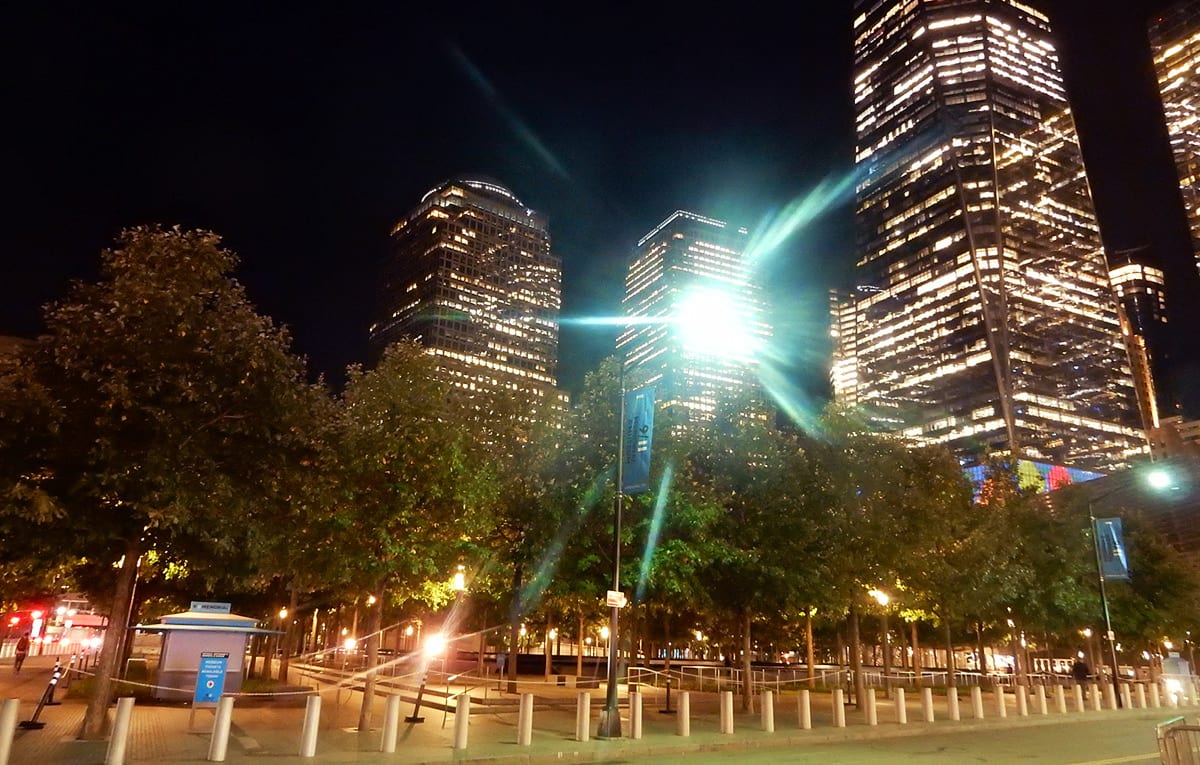 Times Square
This is a bustling plaza and pedestrian area in midtown Manhattan lined with businesses, clubs and restaurants, many of which don't open until evening. Massive bright billboards and towering buildings dominate the horizon and illuminate the plaza at night. It's the site of the world renowned New Year's Eve celebration where millions of viewers squeeze into the plaza to watch a countdown and ball drop.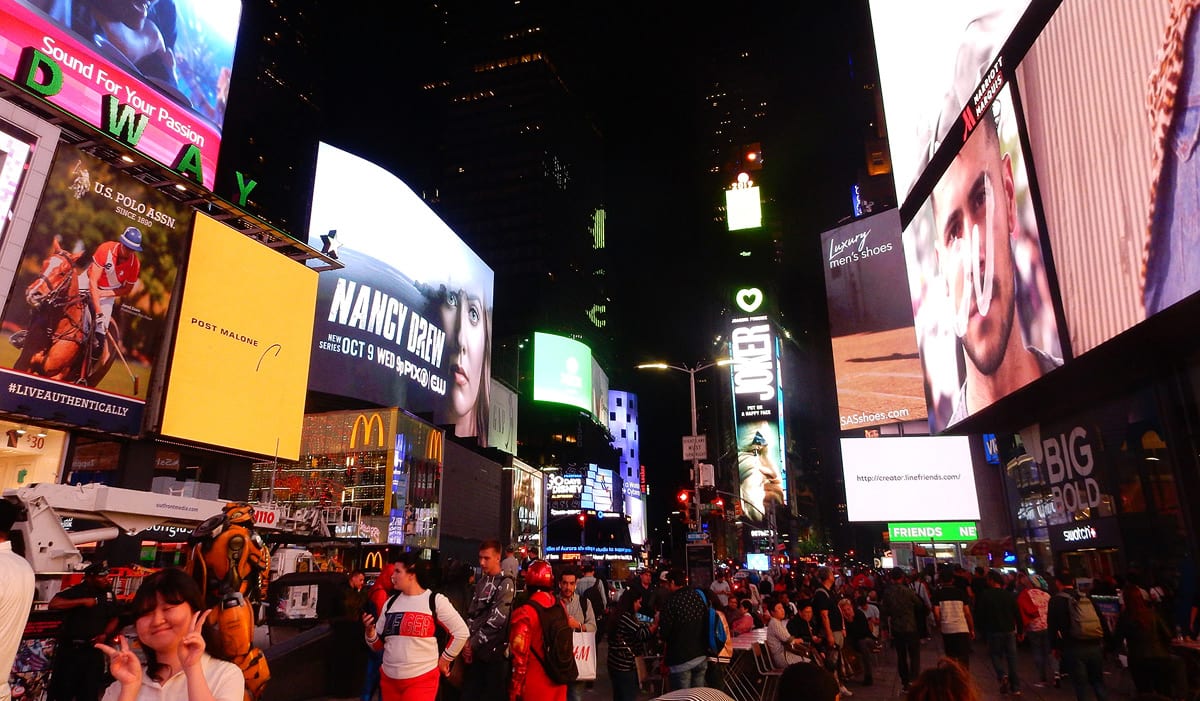 Central Park
This is a giant urban park in the middle of Manhattan borough, with numerous sculptures, nice landscaping and paths meandering throughout. It's about 0.5 miles wide by 2.5 miles long, with a lake in the center. It was far more beautiful than I expected.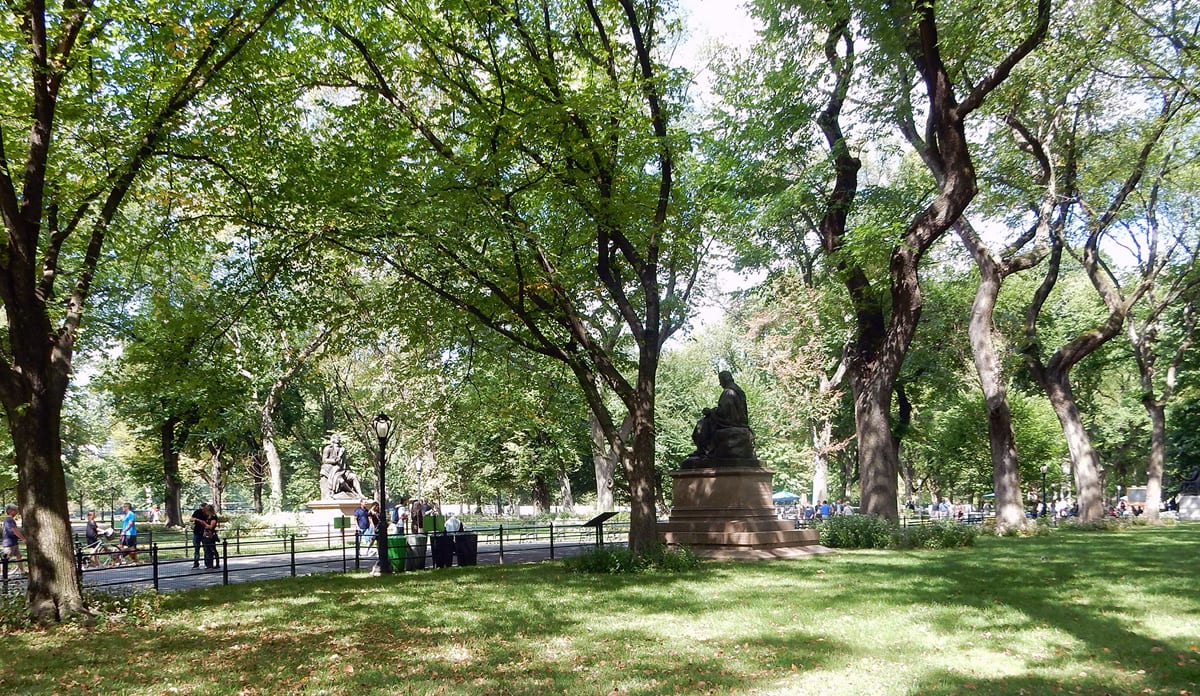 Bryant Park and Library
This area consists of a small lawn and majestic library built in the 1900's in Manhattan borough. You can enter for free and wander throughout the various rooms, the ornate architecture and decoration are quite beautiful! It's still a fully functional library with books you can request or check out. The library includes many grand high ceiling walkways, a few large stately study rooms with rows of tables (full of people reading and studying), and many old paintings throughout. The lawn outside has chairs and tables scattered about and cheerful relaxed ambiance, great for a picnic, hangout or coffee with friends. It was quite busy and lively when we visited.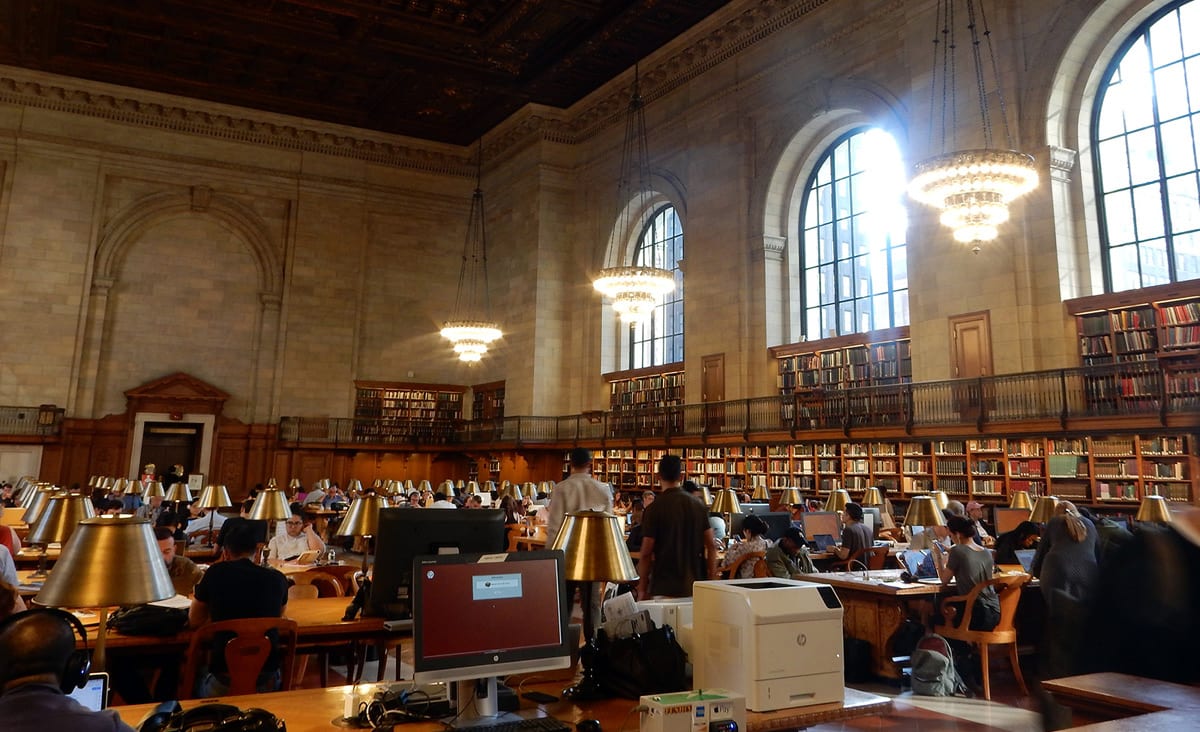 Harrisburg (Pennsylvania)
I stayed at Rebecca's place in Harrisburg for about 2.5 weeks in September-October, which felt very short and flew by much too quickly! We quickly fell back into a regular routine of working all day (me from my computer at home, Rebecca at her dental office), then hanging out together in the evenings and weekends. Overall, was a very relaxing and laid back couple of weeks!
Pennsylvania was one of the original 13 colonies US colonies, which you see represented on flags with the 13 stars arranged in a circle instead of the usual 50 stars in a grid. Harrisburg is the capital of Pennsylvania, despite being much smaller than at least 8 other cities in the state.It has a peaceful small-town vibe and is very green, with cute little neighborhoods and forested areas throughout. The Susquehanna River runs through the middle, crossed by a handful of bridges. The city center area is small and nice, with some interesting older buildings in a handful of different architectural styles. The weather while I was here was pretty mild – summertime warm with blue skies most days, with a few rainy days and cooler temps toward the end of the stay. A few of the trees were just starting to get gold and red leaves, though overall it still felt more like summer than autumn.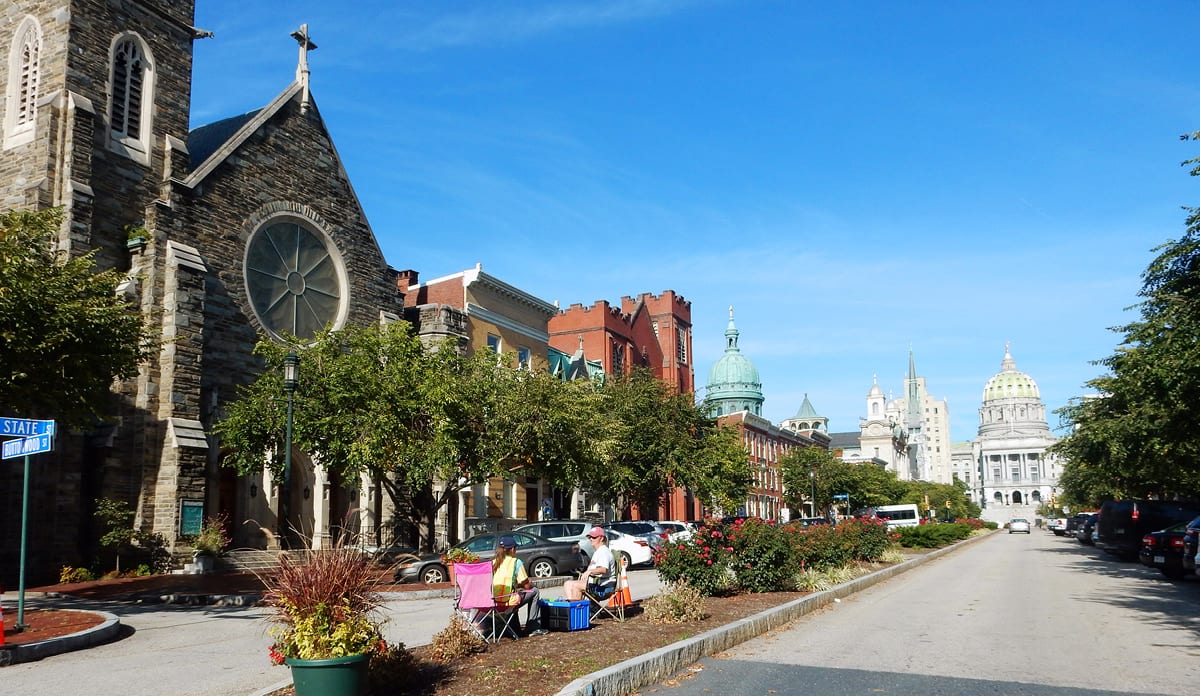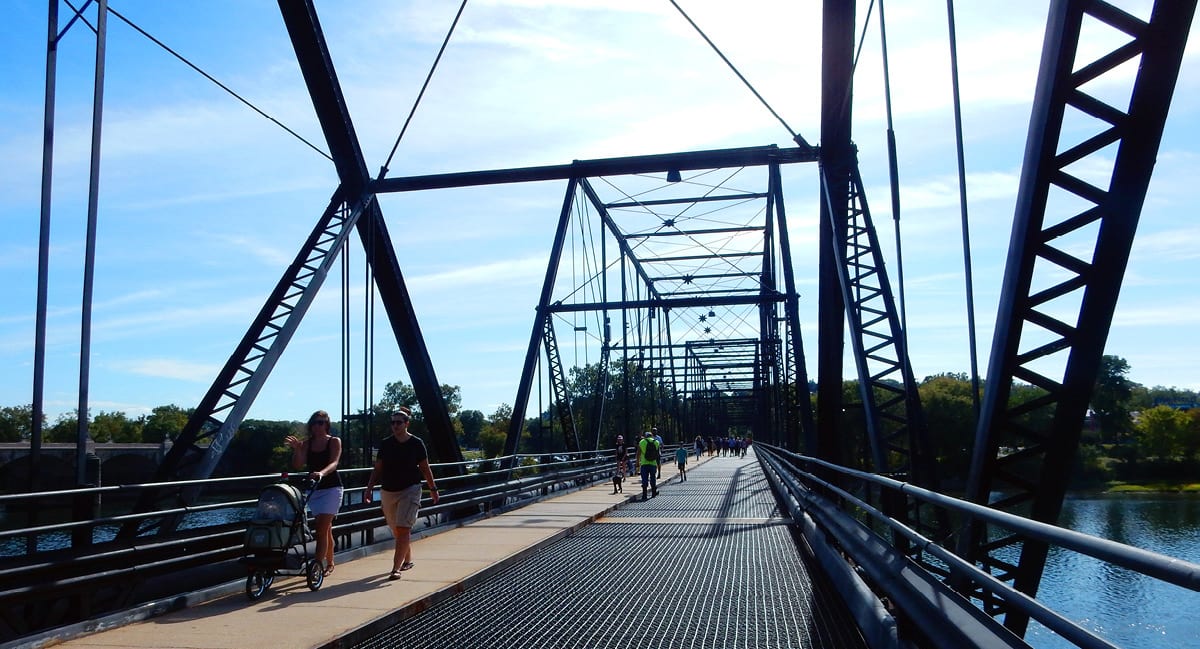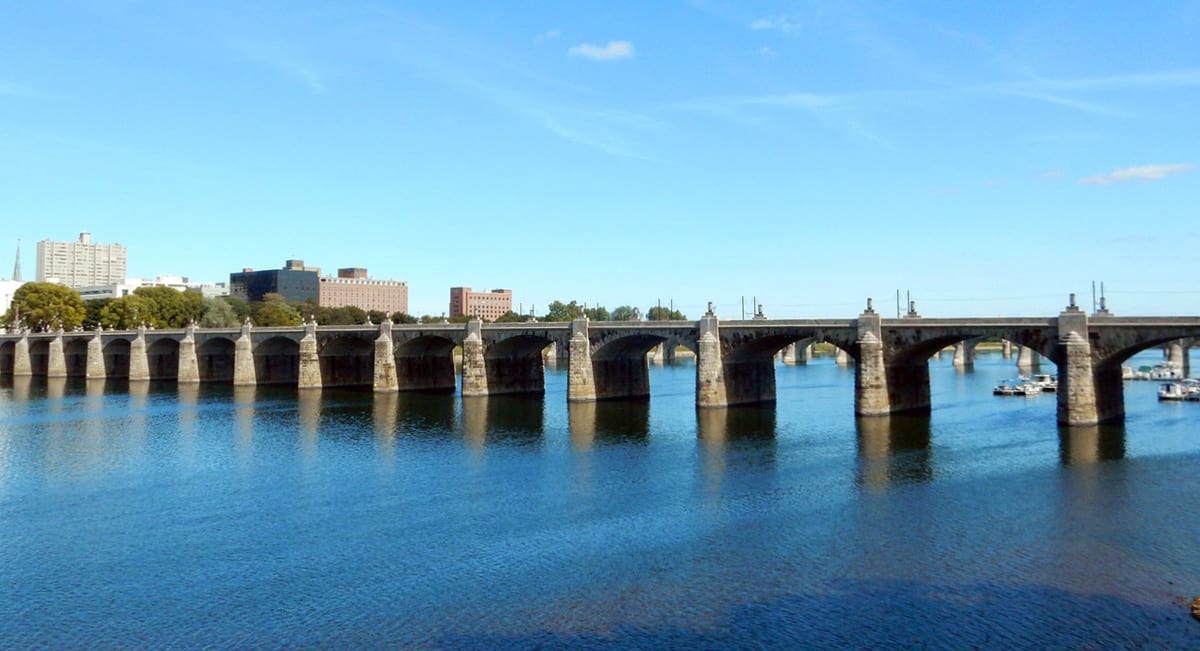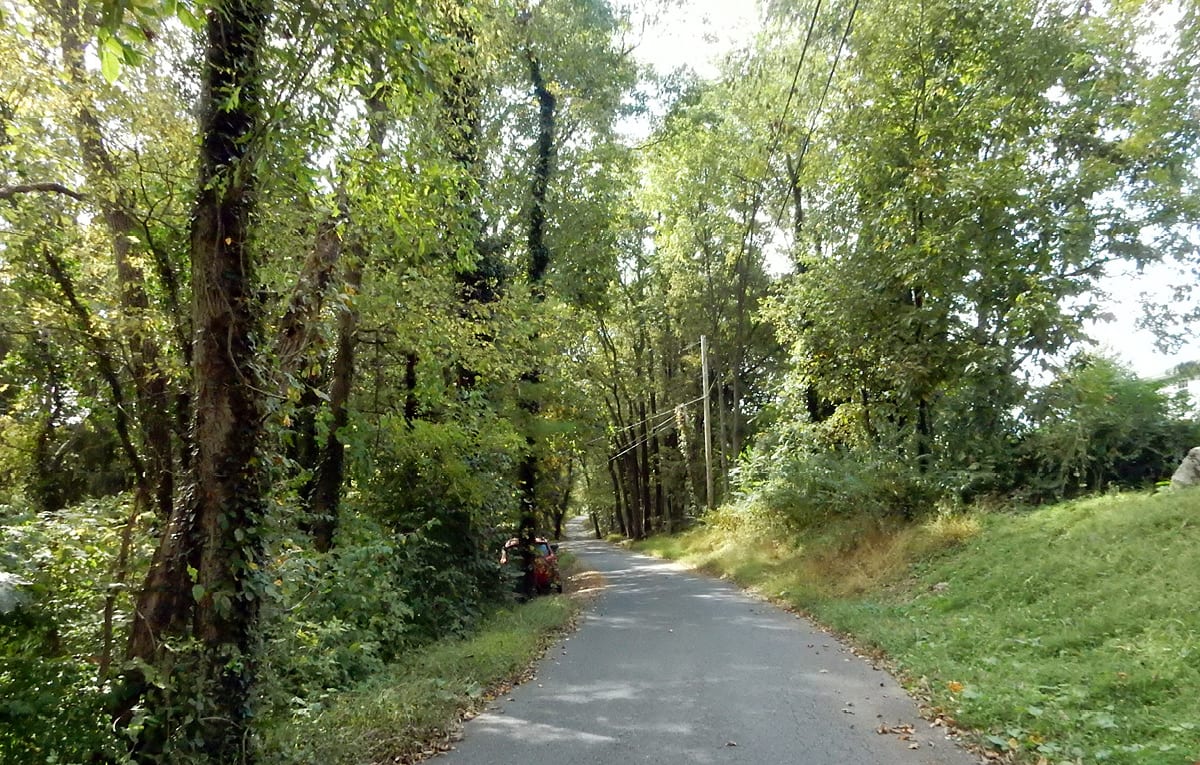 Transportation
Like most American cities, the public transportation is basically nonexistent. It's very difficult, inconvenient and time consuming to get around without having a car. In addition, Uber/Lyft rides are pretty expensive in USA. You can expect to pay $15 for a 15 minute car ride, with prices increasing during rush hour traffic times. Coming from SE Asia were Grab scooter taxi rides were just a couple dollars, the thought of paying these prices for short trips seemed a little outrageous.
The only place I really needed to go on a regular basis was BJJ training. My original plan was to purchase a cheap bike (I found many for sale for under $40 on Craigslist) and bike to the BJJ gym every day. This had seemed totally feasible looking at a map online, but after seeing the distance in person it really didn't seem like a practical plan anymore. Fortunately Rebecca, being the very wonderful friend that she is and understanding the importance of training almost daily for me, very generously offered to drive and pick me up from training every day! And, since we were doing things together the rest of the time, my own lack of car didn't really turn out to be a problem at all.
Troegs Hops Dash 5K in Hershey
Somewhere around the middle of the stay, Rebecca, Paul and myself participated in the Troegs 5K race, which was hosted by one of the local breweries in the nearby town of Hershey. The morning was unpleasantly chilly, but warmed up by the time we got moving and the race began. It was a pretty nice course in the countryside, going over a handful of mild hills and through some tree tunnels. This actually made me realize how much I sometimes enjoy running and rekindled my interest in getting into jogging regularly again.
Hershey is a small town named after humanitarian and philanthropist Milton Hershey, founder of today's Hershey chocolate empire. The town includes a Hershey's factory, a chocolate history museum, a theme park and has an overall chocolate theme. All the roads are named after chocolate related things, and the ends of the lamp posts are shaped like little Hershey kisses!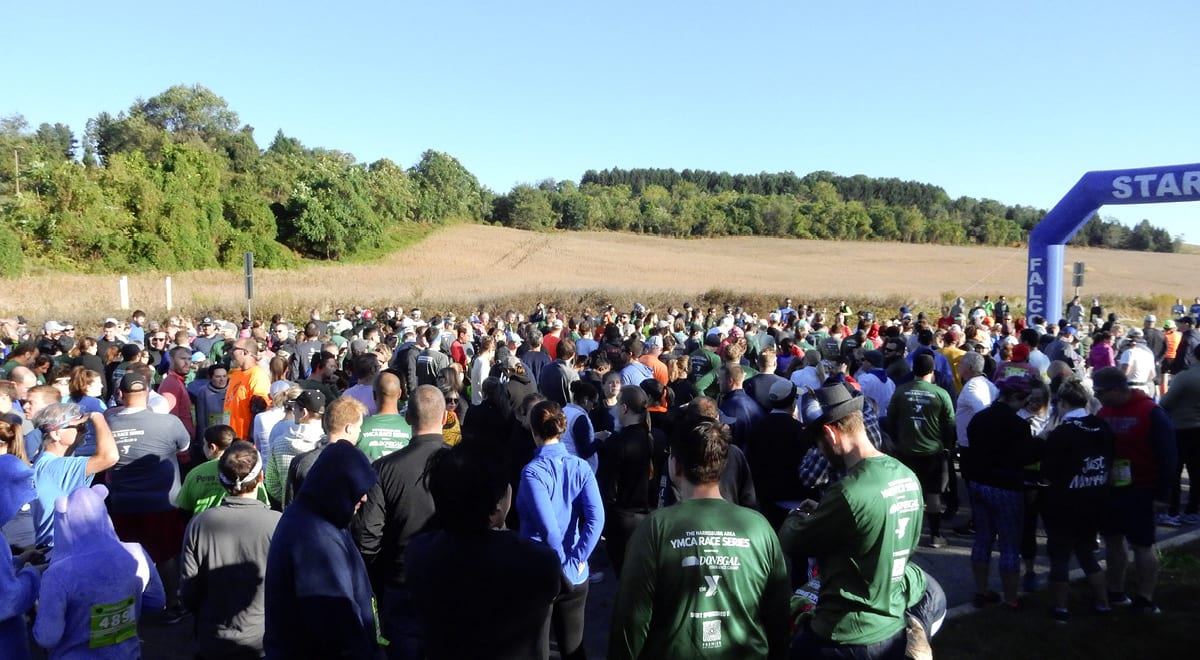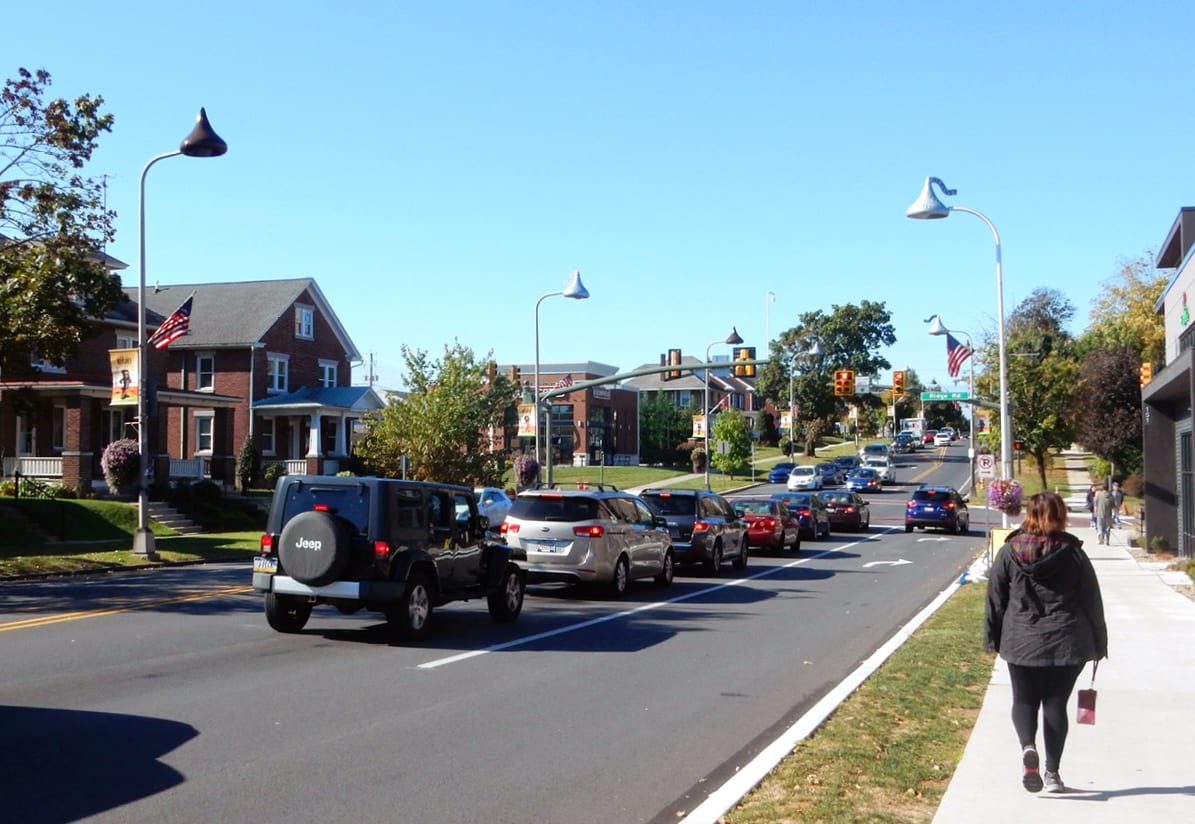 Boxing and Yoga
One Sunday morning, Rebecca took me to her boxing class at Title Boxing Club. There was no live sparring, but it did include wrapping hands, wearing boxing gloves, and practicing various combos against heavy bags for about an hour. And let me just say, I was NOT AT ALL prepared for what an intense workout this turned out to be! I have some chronic shoulder/elbow issues and was a little worried the repetitive punching motion would put too much strain on my shoulder/elbow, but it turned out to be no problem at all.
Boxing was followed by an hour of yoga right across the street hosted by Evergrain Brewing a brewery which every Sunday offers free yoga classes! The class was held inside the main restaurant area, with benches and chairs moved to the side. It was a very full class, including a nice handful of pretty standard yoga sequences. We stayed for a really good brunch breakfast at the brewery after. If I lived in this city, this boxing + yoga + brunch combo would definitely be my regularly Sunday routine!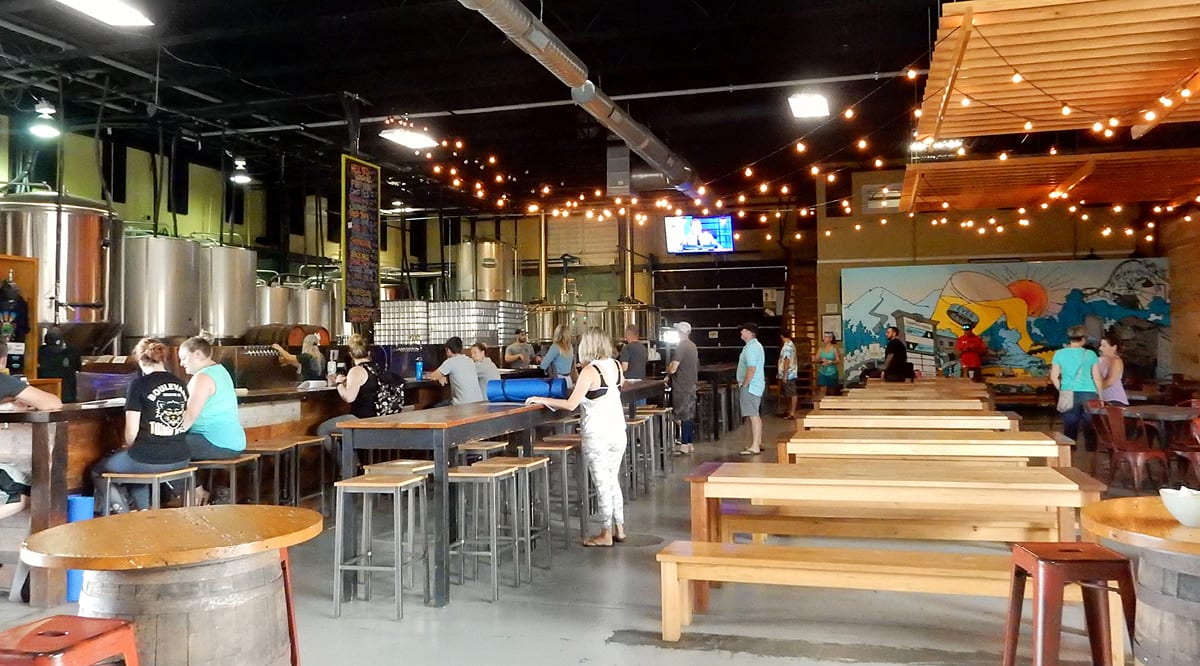 Training at Harrisburg BJJ And Judo
Harrisburg BJJ (Globetrotters affiliated!) became my home gym for the time I stayed in Harrisburg. Everything about this gym was excellent, and I really enjoyed my time training here!
Harrisburg BJJ offered a very full schedule with both gi and nogi classes many times throughout the day, as well as kid's classes, women's self defense, judo, kickboxing, and boxing classes. With about 500 members, most classes were pretty full all days I attended. It was a pleasure having so many different people of all levels to train and roll with! The gym was medium size, clean and well maintained, with high quality mats. They were in the middle of painting a large mural across the back wall, which even only half finished looked really nice! I attended the beginner's followed by advanced classes most weekdays as well as the open mats on Fridays. The ambiance was friendly and welcoming with many tough and very technical rolls – I felt instantly at home here!
Black belts Gregg Anderson (head instructor), David Brogan, Luis Rosa, Shaun Raber, Monica Brogan, and brown belt Bob Landry were the instructors while I was there, all of who were exceptional instructors and a pleasure to learn from, with clear and detail oriented explanations of the techniques. I would have loved to stay here much longer to continue training with this group!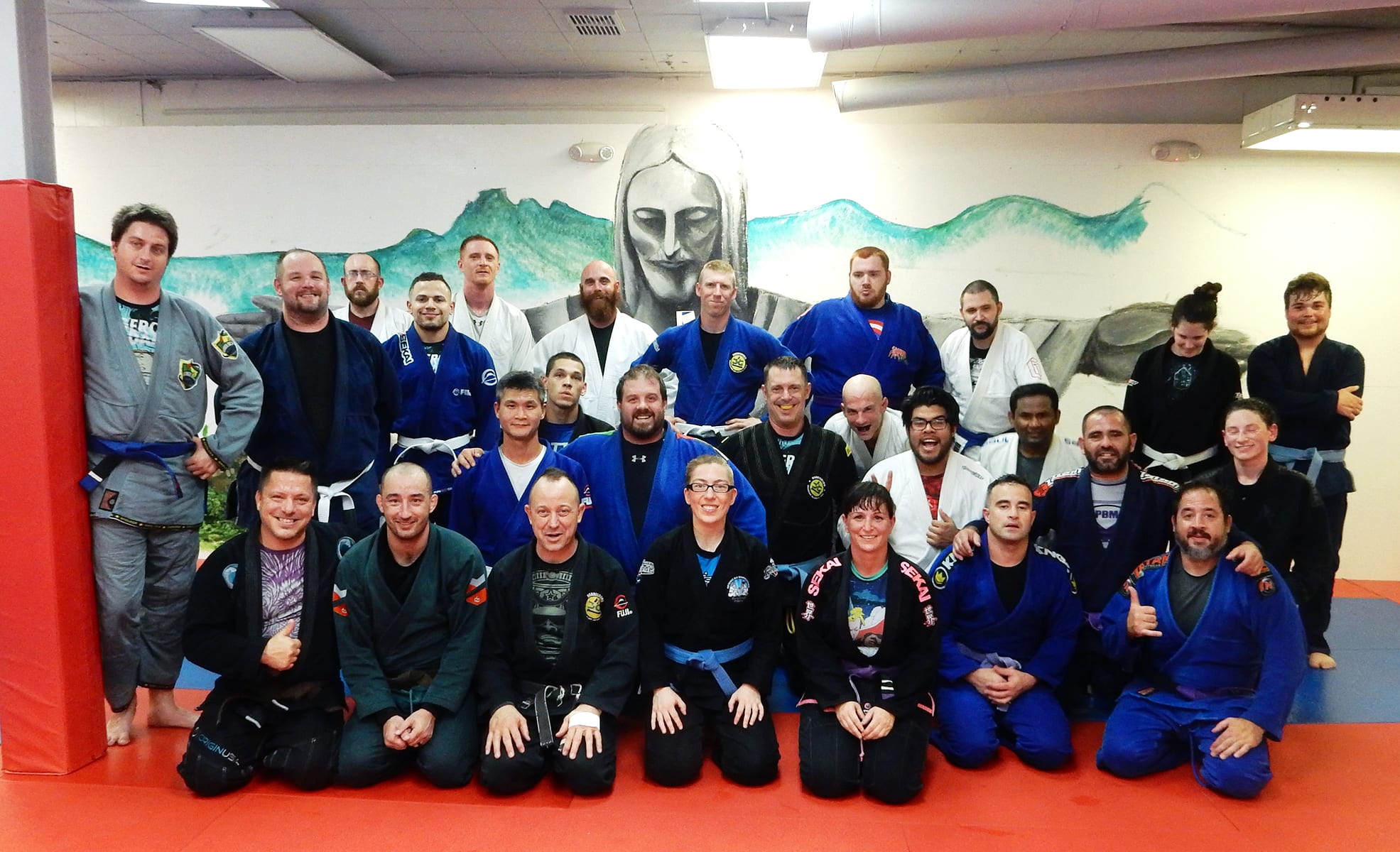 Reflection on 2019 Travels
With the end of Pennsylvania trip, it was finally time to head back to my desert home for the "winter", and for the upcoming BJJ Globetrotters Arizona Camp in Phoenix! Looking back on the last 8 months of travel, I'm amazed at how quickly time goes by – it feels like just yesterday that I was nervously boarding that first plane to Thailand!
Below are some statistics for the 2019 travel year!
232 days of travel since I left Phoenix
12 cities visited (10 of which were new)
7 different countries (4 countries and 2 US states of these were new)
15 new gyms visited
1 BJJ Globetrotter camp (with another coming up before the end of 2019!)
1 belt promotion (from white to blue!)
For the first time, I also completely circumnavigated the globe, leaving from the west and returning from the East! Looking at these numbers, they seem much too small to adequately encompass all that's happened in the last 8 months, the vast amounts of new experiences and millions of unforgettable little moments. Traveling to SE Asia represented a HUGE step for me as a traveler, as it was the furthest and most culturally different places I'd yet traveled to. Going there solo and planning to stay for many months was a huge step outside my comfort zone. After these many months of travel, I feel I've become considerably more confident, knowledgeable, and comfortable with this kind of long-term travel, and much less shy when it comes to meeting new people and interacting with strangers (some of whom don't always speak English). I've also greatly improved and streamlined my packing and unpacking techniques, and embraced the minimalist lifestyle, which I'd already been doing before but just not to this extreme.
After these last months of traveling SE Asia and parts of Europe, this is what I've learned.
People are amazingly kind and helpful everywhere.
Despite seemingly huge cultural differences, people are actually pretty similar all over the world, with the same basic hopes, fears, problems, and dreams.
Clean air is a wonderful thing and not available everywhere. Do not take it for granted!
Training BJJ transcends all languages and cultures! And is a great way to meet local people and connect over a shared interest.
With some careful planning and smart destination choices, it's entirely possible to budget travel the world for as little or considerably less than it would cost to live in the US. You do not need tons of money to travel!
In regards to BJJ, I feel like my skills have vastly improved over the last year! I now have a much better grasp of the fundamentals, and can absorb new techniques with much greater ease than was possible a year ago.

Thank You!
I'd just like to take a moment to express thanks to everyone who's been a part of my 2019 travels. Thanks Christian for sponsorship and blog space, and for creating the incredible community that is BJJ Globetrotters! Thanks to the many instructors and training partners who have welcomed me to train with their teams, for some great rolls and the knowledge you've shared. Thanks Vara for being part of that first big plunge into SE Asia, and for introducing me to Thailand! Thanks to my Belgian relatives for their endless hospitality and many wonderful meals – it is always a great pleasure to return and visit! Thanks Rebecca for letting me stay at your place for awhile, and for showing me around your beautiful town! Thanks to my parents for their unending support of my somewhat unconventional lifestyle. Lastly, thanks to everyone I've met along the way for your kindness, recommendations, gym invites, tips, encouraging words, insights and for sharing your cities and cultures with me!
Future Travels
Looking ahead to the upcoming months and the 2020 year, I plan to stay in Phoenix until at least Christmas but will undoubtedly continue traveling for a large part of 2020. While being a full time traveler is not sunshine and rainbows all the time, the experiences and memories gained make the challenges and difficult days well worthwhile. I can think of no better way to spend the upcoming year then continuing to slowly traveling the world, training BJJ all along the way! I'm already registered for Estonia Spring Camp and Summer Camp Germany, so will definitely be back in Europe around that time, and will undoubtedly be spending some time in Belgium visiting family again. Beyond that, there is no concrete plan yet – 2020 is full of possibilities! Cheers to the BJJ community and the ongoing adventure!
https://www.bjjglobetrotters.com/wp-content/uploads/2019/10/sabine-harrisburg-pennsylvania-usa-river.jpg
759
1200
Sabine
https://www.bjjglobetrotters.com/wp-content/uploads/2022/06/bjj-globetrotters-logo-header-1.png
Sabine
2019-10-14 19:18:36
2020-06-19 12:06:06
Back to the US! New York City & Harrisburg