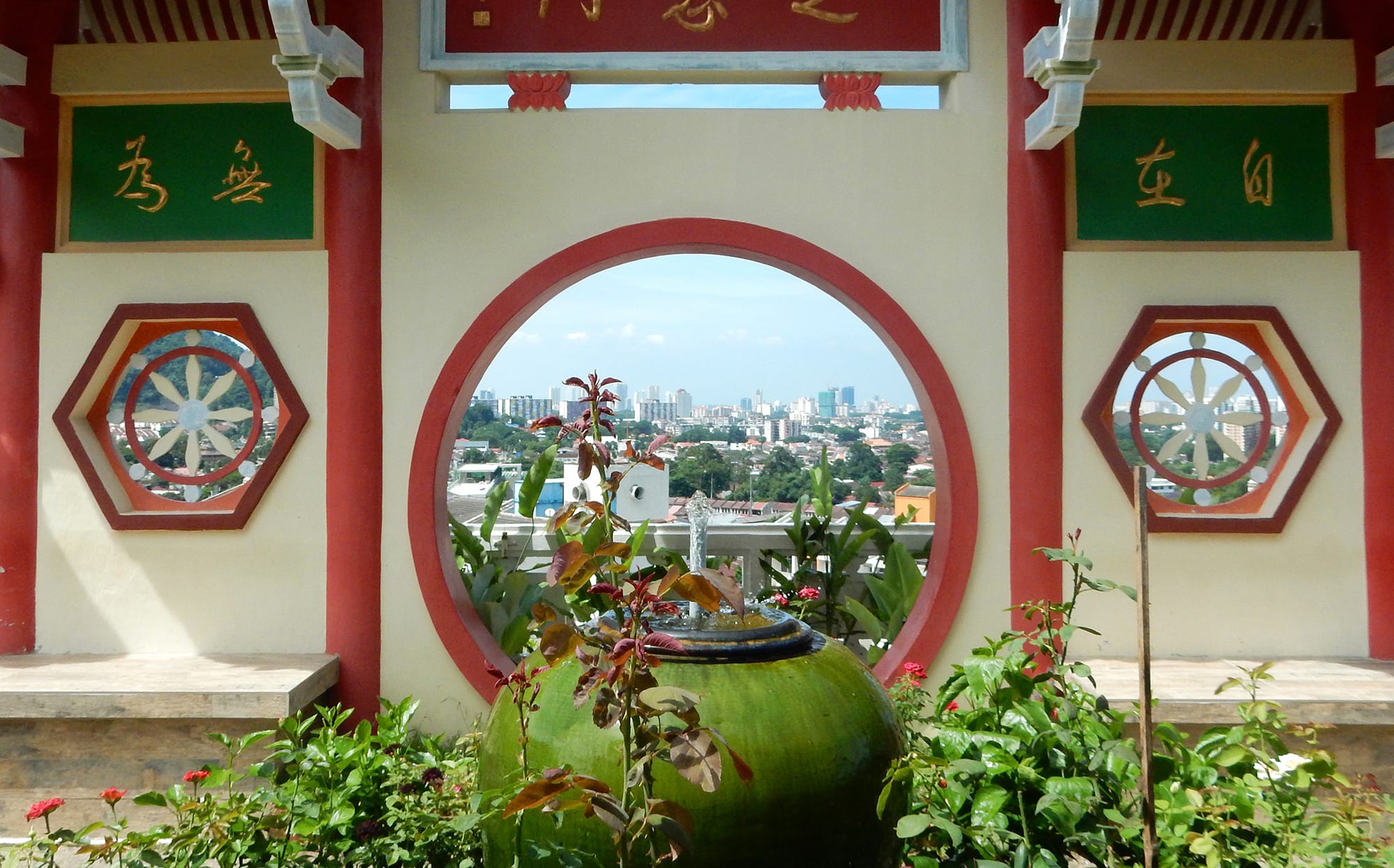 Traveling & Training in Penang, Malaysia
Reasons to go: Great food, very affordable (except for accommodations), modern big city convenience, much English spoken, great street art, temples of many different religions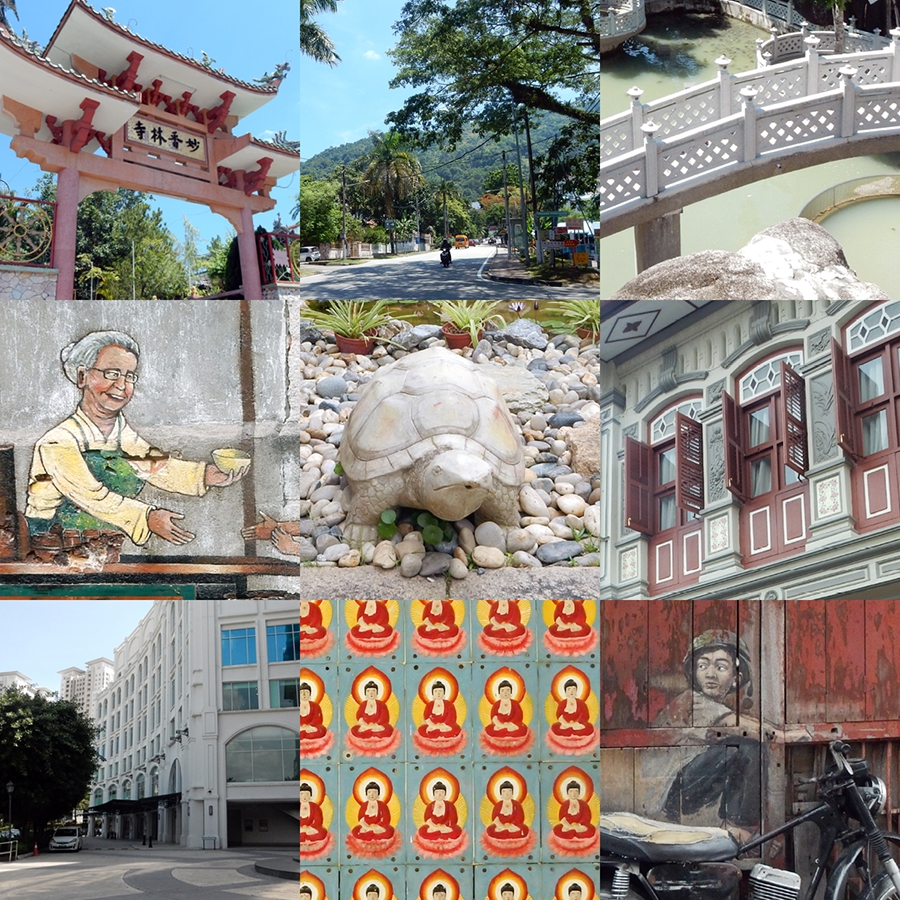 I'd been bouncing back and forth between Vietnam and Thailand for the last couple months, changing countries every time my 30-day visa expired, which was working out pretty well. One month, I found, was a good minimum amount of time to spend in a city, to give me enough time to get to know a place and to get an authentic sense of the flow of daily life. Also, despite having a very minimalist life (all of my things fit into one suitcase and one carry-on bag) – packing and moving ends up taking most of a day, plus transportation is an extra expense. So relocating wasn't something I wanted to be doing too frequently.
But, after connecting the dots between cities to end up certain places on certain dates and to take advantage of especially cheap fly dates, I found myself with a 2 week period between DaNang (Vietnam) and Bangkok (Thailand). As it very conveniently turned out, an old friend of mine from Phoenix was also traveling South East Asia at the moment and was interested in seeing Penang around that same time, so we decided to meet up for this part of the trip!
Travel Buddies!
I'd met Mike many years ago in Phoenix, before I'd began training BJJ, before I'd ever began seriously thinking about traveling the world. Mike had been one of my scuba diving instructors when I was completing a basic diving certification course there. In the time that had elapsed, he too had abandoned a fixed location life in favor of being a nomad and traveling abroad.
Penang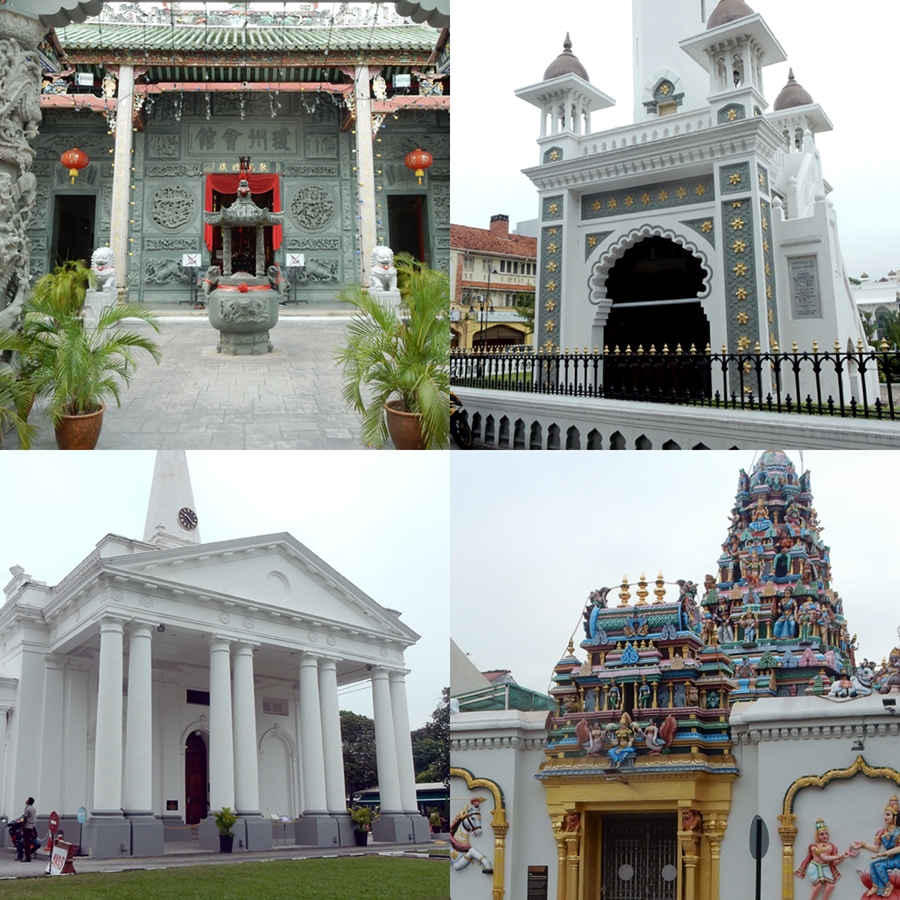 Penang is one of the Malaysian states, consisting of a big island off the western coast of Malaysia and plus an area on the mainland (connected by a handful of massive bridges). I stayed on the northern part of the island in Tanjung Tokong, which is a suburb of the capital Georgetown on the Island part of Penang. The cities and suburbs of Penang don't have clear separations, but rather transition to one another with no clear boundary distinctions.
Penang was different than my previous handful of cities in that it had a much more culturally diverse population. This influences the languages, religion, cuisine, architecture, and traditions of the city. The population is mostly a mix of Malays, Chinese, and Indians but also includes other ethnicities and a large community of expats. The official language is Malay, though many other languages are spoken as well. Most people speak English, ranging from basic communication skills to fully fluent (a leftover of British colonial rule). It's not unusual to see writing in Malay, Chinese and English. The main religions are Islam, Buddhism, and Hinduism, and a much smaller amount of Christianity.
Penang is a very bright, lively and colorful city. It's an interesting mix of ultra modern combined with more ancient elements. Giant skyscrapers dominate most of the skyline and you can easily find all the convenience items you'd expect from a big city. These aspects (plus all the English spoken) made it feel somewhat familiar to me, in the way that all larger modern cities do. Some parts of the city are very old, however, with residents still living and preserving a slower-paced, more traditional way of life. Penang would be yet another great beginner's SE Asian destination, for its mix of authentic traditional elements plus modern city convenience and good infrastructure.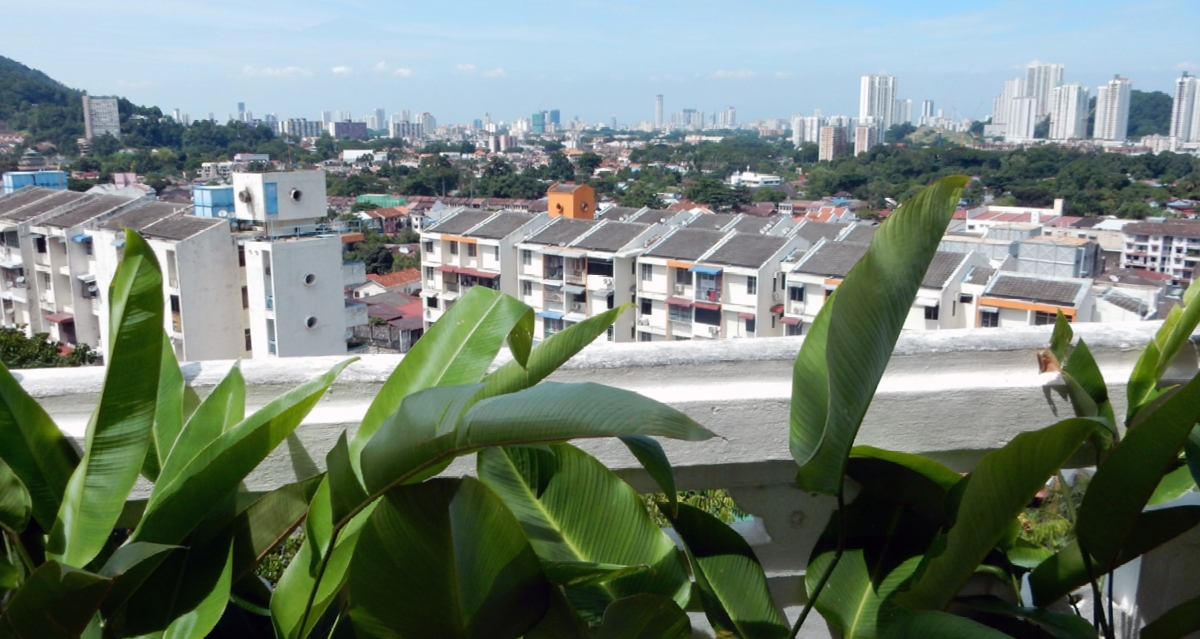 AirBnB, A Cautionary Tale
AirBnB is one of the companies I use most when looking for accommodations. Private rentals are often much cheaper and nicer than hotels, and I've had an overwhelmingly positive experience in the past. Out of perhaps 30 places which I've rented in the last 3 years, I've only ever asked for a refund on one (in Leuven, Belgium of all places, on account of being messy and dirty rather than unsafe).
So, in finding a place to stay in Penang, I did all my usual research and found some rentals that fit my criteria. Mike and I compared notes and booked an apartment through AirBnB which we both agreed looked nice. It should be said at this point that I rely strongly on ratings and past reviews choosing a place. Being a cautious traveler, I always look for a place which has a large number of reviews, and do spend some time carefully reading through them. The place we rented seemed fine – happy guests, no red flags.
It was not ok. Mike arrived in Penang 3 days before I did, so checked into the place solo. On the Grab ride over from the airport, his driver warned him that the area was very bad, to be careful walking around solo and not to go out at night. Upon arrival, the place was indeed in a pretty sketchy part of town. Getting to the apartment, Mike noticed three separate deadbolt locks on the door. Of all the rooms, only one of the power outlets actually functioned. The bedrooms did have AC but the rooms were poorly insulated and the rest of the apartment had no window panes – just open air holes where there should be glass or plastic or… something! The curtains were paper thin, doing almost nothing to block out the light. One of the beds had no frame but was simply a mattress on the floor. The apartment is also close to a mosque, so prayer starts pretty early and extremely loud without any way to actually close off the window holes. Also (most minor of the problems), the apartment listed having a microwave in amenities, which it did not.
Mike sends me pictures and explained the situation – our decision to find a different place is unanimous within minutes. Mike also messaged the property owner – who responds defensively and insists on meeting the next morning in person to discuss the situation before he cancels the booking. He agrees just to appease her but in the meantime, we're both researching new places to stay, looking into the refund policy, and ascertaining the new budget situation. Fortunately, I always keep a small "emergency" fund for situations just like this – safety is always more important than money! To our good fortune (because neither one of us paid any attention to this while completing the booking), this terrible apartment has a "Flexible" AirBnB refund policy, which means we'll receive about 70% of the cost of the initial booking, excluding the one night Mike stayed and the non-refundable AirBnB fees.
Mike meets with the property owner the next day, a lady who brought both of her parents along for some reason. Instead of apologizing or being sympathetic to the issues in any way, she (and her mother) continue to argue and try to persuade Mike not to cancel the reservation (though the father did seem somewhat sympathetic). On Mike's way out, he's harassed by some people who throw fireworks at him, then is threatened by a guy when trying to enter the elevator. As if more reasons to leave were needed!
Hearing all of this from Mike via text as he's in the taxi leaving, I felt immense relief that Mike was safe, and that we weren't going to be staying there. This also made me really appreciate how incredibly lucky I've been with accommodations up to this point, that all the rentals I've chosen were clean and safe in locations where I've felt completely at ease wandering around solo even in poorly lit areas late at night.
I truly baffled with how this terrible apartment received so many positive reviews. Perhaps it's that people are reluctant to leave negative reviews for fear the owner will retaliate and leave a poor score of them as a guest as well, which unfortunately leaves no warning for future travelers like myself who are heavily relying on honest peer reviews. While I'd like to say there was a lesson to be learned here, I don't feel like there's anything I could really have done differently.
In conclusion:
Photos posted on AirBnB can be misleading
You cannot entirely rely on the accuracy of AirBnB reviews (even when there are many)
Always check the refund policy before booking
Most important: Always maintain an emergency fund, with sufficient money to entirely cover the cost new lodging if needed.
New Accommodations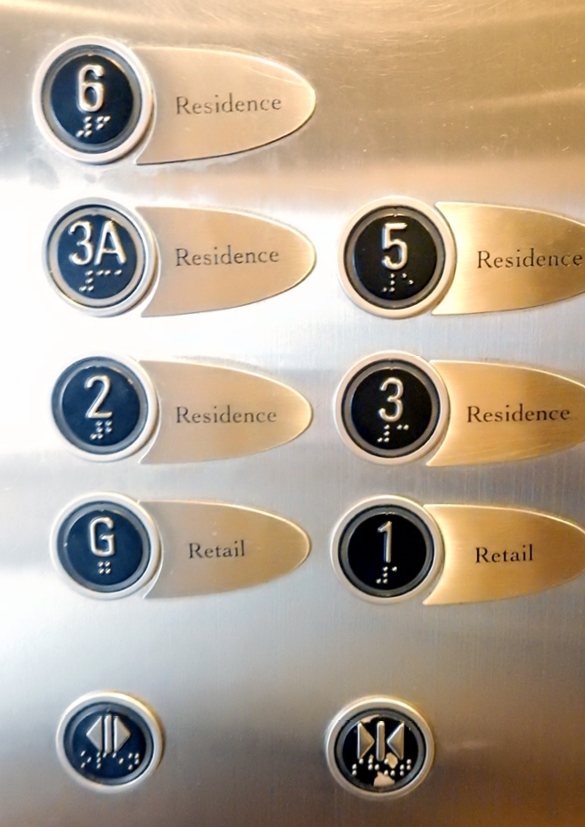 Despite this terrible experience with an AirBnB rental, we ended up booking a new place through AirBnB as well. The new place was on the north eastern part of the island, an extra modern and pretty wealthy part of town.
The new place was located in a massive luxury condo resort building. It included a beautiful pool with a great view, plus a small fitness room with some very basic equipment. The building was right on the ocean, with a yacht club out back and a handful of security guards in red barretts and tidy uniforms constantly strolling the premise. The immediate vicinity included an upscale mall with many nice restaurants and coffee shops on the ground floor, plus a huge Tesco mall just down the street (I ate at the food court here at least once most days). All in all, these were much better accommodations than the first, and much fancier than the places I'd typically stay in. Oddly, it cost about the same price as the original terrible rental.
One interesting thing: the number 4 is superstitiously unlucky here. This comes from the Chinese culture and superstition from the similarity that the number 4 has to the Chinese character for "death". In light of that, there is no 4th floor or 14th floor – instead there's floor 3a and 13a.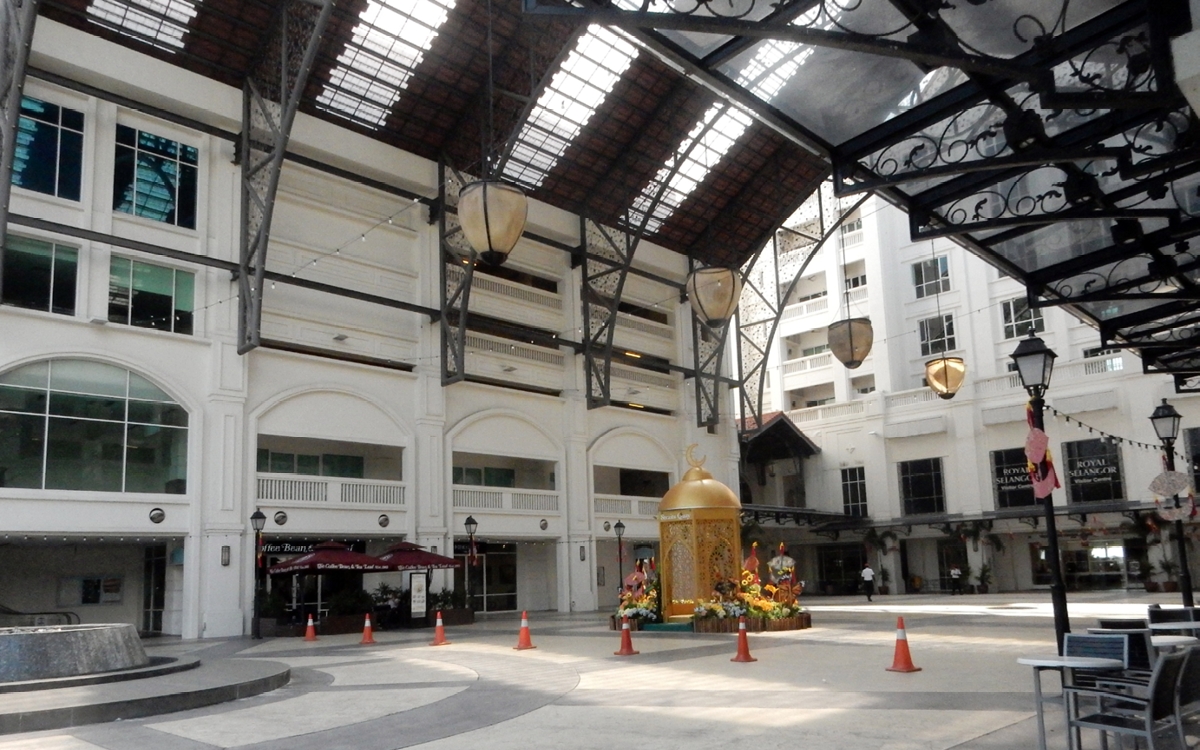 Food
One of the things Penang is best known for is food. In fact, it's often described as a "foodie's paradise". I didn't participate in any high end dining experiences (because I'm living the budget travel life) but overall did find a lot of the food to be quite good here, and very affordable! There was a big variety of food choices including many flavor combinations, veggies and spices that were unfamiliar to me. It was easy to get food from non Malaysian cultures such as American, Greek and Italian as well, and I had no trouble finding vegetarian meal options.
Transportation
Penang has far less scooters than Thailand or Vietnam. Grab is still very popular here and is an easy/cheap way to get places. It doesn't include the option to call a scooter taxi instead of a car taxi, however. There does seem to be a bus system with a couple main lines running throughout the island, though I didn't try using it myself. The roadways are very spacious and well maintained, and while there is some rush hour traffic congestion throughout parts of the city during peak hours, it's really not all that bad.
Penang Hill
This area, located on the outskirts of the Malaysian rainforest high up on a hill, consists of some educational rainforest experiences (the Habitat), tourist shops and food, a couple temples, some historical buildings and walking paths. It also offers some truly spectacular sweeping views of the surrounding hills and the city below. From Penang Hill, you can even see the Penang mainland in the distance crossed by two immense bridges. I hadn't realized previously just how close the mainland actually was!
There are a couple different ways to get to the top of Penang Hill. One is by funicular (a car which uses cables for leverage) from Lower Hill Station. This costs 30 ringgits ($7.25) both ways and is a pretty neat ride up, though it only takes about 5 minutes to get to the top. Make sure to keep the ticket card when you reach the top, as it's your ticket for the way down as well. There was a pretty long line when I arrived at 10:30 am, though the tram cars hold a lot of people so the line moved pretty quickly – I didn't end up waiting more than 15 minutes.
Another option to get to Penang Hill is to hike up from the Moon Gate, which starts from a different location in the city. I didn't hike this trail so can't offer any advice on it except what I was told, which is this: it's quite likely you'll encounter monkeys. They love food, so will smell and try to take any food that you have (sometimes quite aggressively). So, don't eat snacks on the trail, and keep an eye on small valuable items like cell phones and cameras as well.
In addition to these first two options, there also seems to be a (very steep) trail starting at Lower Hill Station ending at Penang Hill which loosely follows the funicular tracks up. There are funicular stops at increments along the tracks, so it might be possible to walk part way then take the funicular up the rest of the way (assuming you purchased a ticket in advance). But, I'm not sure how frequently the funicular stops, if at all. When I rode it to the top, it did not stop and pick up any passengers along the way, though I did see people walking up that trail.
At the summit, The Habitat also offers a handful of educational tours and experiences (for a price) such as a canopy walk and zip-line, which I didn't try.
I did walk The Habitat's Nature Trail, which is free and meanders through the forest for about 1.6 miles. There's a well maintained asphalt path the entire way and it's not too steep, so is very accessible to everyone. I did see some nice giant caterpillars, butterflies, and ants along the trail but unfortunately did not see any monkeys or other wildlife there.
Kek Lok Si Temple
This is a fairly new giant temple complex on a hill consisting of numerous temple buildings, many sculptures, a few pagodas, a pond filled with turtles, and many tourist shops. Most of it is free, though for 2 ringgits ($0.50) you can purchase a bundle of vegetable sticks to feed the turtles and there's an additional entrance fee of 2 ringgits ($0.50) partway up.
One interesting/unusual thing… from the base you can see what at first glance appears to be the abandoned site of a parking building, filled with dust-covered stacks of construction supplies and some rubble. I wandered in here for some entry level urban exploration, but to my surprise saw that there was actually a well used path leading up to a vegetarian restaurant and some gift shops before proceeding up to another level of the temple complex.
At the summit of the biggest hill stands a giant 120 foot tall bronze statue Kuan Yin, Goddess of Mercy, which is really truly impressive in scale. You can take a short cable car ride up there for 6 ringgits ($1.45) both ways, or just take the stairs up. The area near the base of the Kuan Yin statue has a few walkways and statues, more temples, more tourist shops and a small lake.
Clan Jetties
This area consists of a bunch of small wooden houses on stilts along jetties going out over the water, and is part of the Penang Heritage Trail. These settlements were built in the 19th century by Chinese immigrants who came to Penang for construction work, and are still functional homes. There are 6 jetties remaining today, each of which bears the clan name of the families who live there, each with its own temple on the jetty. Some residents have embraced tourism, setting up souvenirs and food shops along the jetties. I visited the Chew Jetty. It was pretty touristy but still totally worth a visit. There is no entrance fee to walk along the jetties.
Street Art
One of the things that Penang is especially well known for is street art. Most of the art pieces are clustered around the old city center, and are actually quite recently made. In 2008, Georgetown was declared a World Heritage by UNESCO. To celebrate and commemorate, they commissioned a bunch of artists to create outdoor artwork throughout the city in a project called "Mirrors of Georgetown", focusing depicting lives and people of the city.
The pieces fall into a couple main categories. The first is a series of 52 cartoons made of steel wire, created by 4 different artists. These tell the story of events, depict people at significant locations, and show scenes from everyday life in Georgetown. They include a short caption explaining the significance of the scene. The second type of art pieces are paintings, sometimes quite massive in scale, and sometimes incorporating physical objects close to the wall they're painted on. They often include a composition that lets the viewer put themselves in the scene as if they're interacting with the painted figures. These were created by artist Ernest Zacharevic. Many of these depict funny situations and really quite charming. Later, as part of the 2013 George Town Festival, "Lost Kittens Project 101" added another series of paintings by many different artists featuring cats, to bring awareness of and compassion for stray animals. In addition to these official pieces, there seems to be quite a few other pieces painted on the buildings around the old city center as well.
You can easily find maps online showing the location of all the major art pieces and suggesting walking routes to take to see the most. Unfortunately, many of the painted murals have already been weathered and damaged – the paint is fading and parts of the building beneath them are crumbling. In some ways, it adds more beauty and character to the pieces. But, it's also unfortunate to see such beautiful artwork slowly being destroyed.
Snake Temple
This site consists of a Buddhist temple in the Bayan Lepas area filled with pit vipers, which are fairly large, venomous snakes. The temple is filled with incense whoes sacred smoke supposedly keeps the snakes calm and prevents them from biting people. I didn't actually visit here myself because, despite my immense curiosity and desire to see a bunch of snakes, it honestly sounded like too much of an accident waiting to happen. I later read online that the snakes have actually been de-venomed, and that the monks just tell people otherwise (more thrilling, I suppose), but can't actually solidly confirm this with reputable sources. If they actually were de-venomed, I greatly regret not going!
Anyhow, Mike did go, and it sounded like such an interesting and unique experience that I thought I had to include it here!
Below is Mike's description of the visit:
"The temple is in an industrial and heavily developed area of Penang and is very easy to get to by Grab taxi. When you first walk into the temple, you notice right away the bamboo sculptures around an altar have several snakes on them. You can touch the snakes, but there are warning signs everywhere not to because of how poisonous the Wagler's Pit Vipers are. As you walk through the temple, which includes a walled-in snake breeding area, you begin to notice the snakes everywhere. In plants, in trees, on signs, on top of picture frames on the wall… everywhere! I began to get a little paranoid and started looking for snakes at every step. The snakes don't move much, and at first I was skeptical if they were even real so I spoke to one of the monks about it. He reached out and tickled one, causing it to slither away. Now I was even more paranoid knowing they really were all alive! In a room next to the main temple, there were snakes in glass cages, cobras and pythons – neither of which are native to Malaysia. You can get your picture taken with a python draped around your shoulders for about $10."
Training
I had the opportunity to train at three gyms in Penang, and had a great experience at all of them!
Flow BJJ (BJJ Globetrotters affiliated) was my "home gym" for these two weeks in Penang. The gym was small with no AC, but very clean and with elegant decoration, padded walls, a water cooler for refills, and good quality mats which were washed daily. Class was taught by brown belt Fitri Rosmin most days, which I greatly enjoyed. There was a well-balanced mix of drills, technique, and rolling, with techniques building upon what was learned the previous days in a logical progression. Fitri did an excellent job of answering questions and explaining key points more in-depth when I asked for clarification on anything. This was a really fun place to train with relaxed and easygoing vibe, with a lot of casual laughing and good natured jokes between members. Flow BJJ is very welcoming of travelers and seem to get visitors pretty regularly, as a couple others dropped in during the short time I was here.
I also took a detour to visit Budo Academy (also BJJ Globetrotters affiliated!) for a single time drop in. The class was taught by purple belt Nashriq and included lots of drilling towards the beginning, which really worked my cardio levels and which is something I could certainly use more of! My partner made it to the end of all the 1 minute rounds, but I have to admit I was slowing towards the end and struggling to finish the entire minute on a few of those drills! This gym also had no AC, but does have a pretty spacious mat space and water cooler for refills. One thing to note: the gym is located in what appears to be a residential neighborhood with no obvious signage, which was a little confusing to me at first. But, if you just look for the correct address number, it's easy to find.
I also stopped in twice to train with Team Armada. The gym was small but very nice and well maintained. It did have AC and included two separate training spaces, one of which included a handful of heavy bags to practice the striking sports as well. I was impressed with the instructor here, FS Cheng. Though technically still a blue belt, he had a way of simplifying and explaining BJJ which I found very intuitive, providing a basic framework for thinking into which all techniques could be placed. The way FS Cheng rolls, leveraging a deep understanding of the underlying mechanics of movement and implementing technique with precision and minimal force, is the kind of BJJ game I aspire to have myself. I asked him about his background and he did mention that he'd worked as an engineer in the past. Perhaps the highly structured and logical thinking needed there partially explains and carries over to his approach to BJJ. Being a programmer myself, maybe that's part of the reason this kind of instruction seems so intuitive to me.
I also learned that Penang Top Team has a giant open mat every Saturday, which includes a large attendance of students from other gyms in Penang. I didn't end up making it out here myself (since it was located on the opposite side of the island from where I was staying, and I honestly wasn't up for the long Grab ride there and back late at night), but it sounded really cool!
50 Gyms!

Flow BJJ marked the 50th gym I've trained at (check out the locations on Google Maps) on my very slow quest to train at 200 gyms around the world! Upon reflection, I've certainly learned a lot, met a lot of really great people, and had a really fun time along the way! I thought at some point that I might get burned out or that my enthusiasm to train would taper out, but the opposite is actually happening – the more I learn, the more motivated I am to go train and to continue improving my skills. Techniques are becoming easier, and I feel like I've made significant progress in understanding the underlying mechanics instead of just going through the motions. Giant thanks to everyone who welcomed me to come visit and train at their gym, to all the instructors and training partners who have shared their knowledge with me – it's been an incredible last 6 months!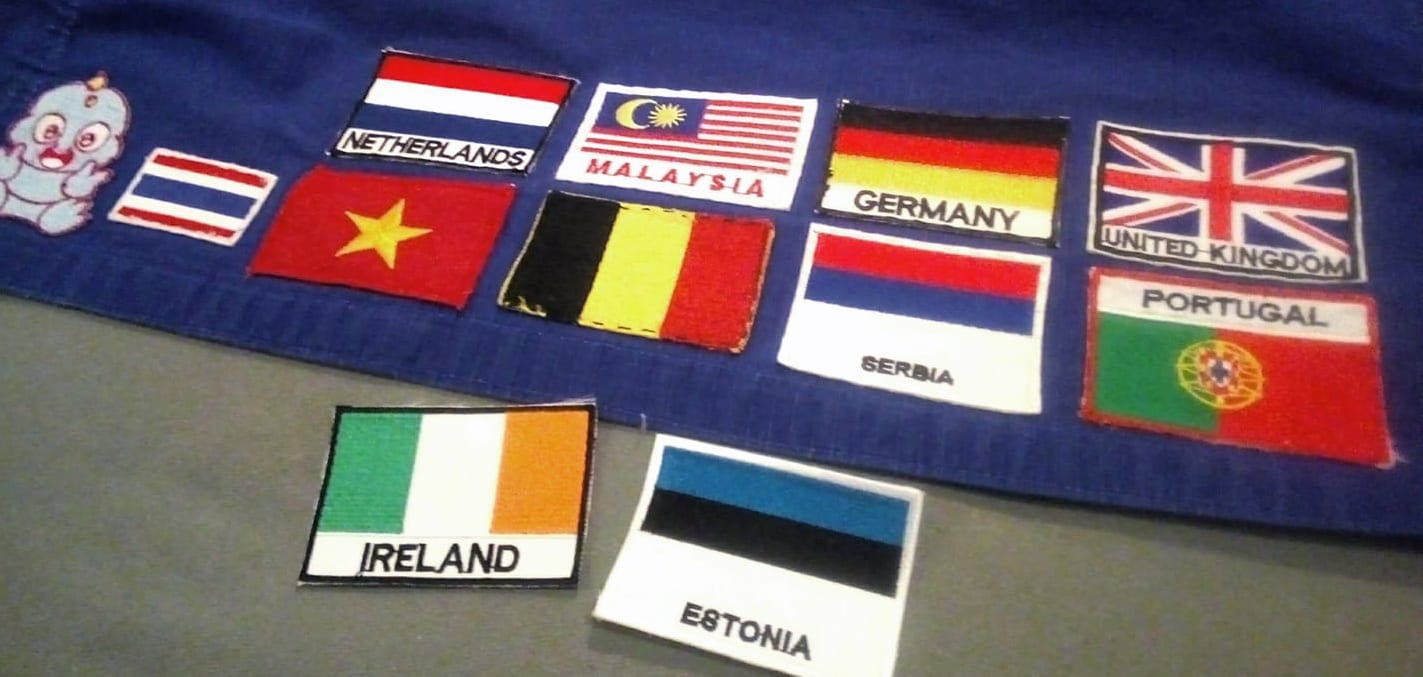 https://www.bjjglobetrotters.com/wp-content/uploads/2019/07/sabine-penang-malaysia-kek-lok-si-temple.jpg
1246
2000
Sabine
https://www.bjjglobetrotters.com/wp-content/uploads/2022/06/bjj-globetrotters-logo-header-1.png
Sabine
2019-07-05 17:03:19
2020-06-28 12:18:22
Traveling & Training in Penang, Malaysia